🔖
7
min read
To show their fanaticism, otakus from all over the globe must pilgrimage to Japan, the holiest site in all anime. Only true fans have visited Akihabara, the weeb capital and anime Mecca, and investigated potential real-life anime locations in Japan that have appeared in their favourite series. Anyone who enjoys anime has probably fantasised about being able to go into the fictional worlds they've utilised to forget about the hardships of real life.
Lucky for you, some of the most memorable anime series ever were based on real places in this beautiful nation. On your next vacation to Japan, check over these 10 real-life locations featured in actual anime!
1. Steins Gate – Akihabara
We couldn't have created this list by including Akihabara, the epicentre for gamers and anime fans. Steins Gate, one of the best and most-loved anime shows, is set in what is also known to locals as Akiba.
Once you exit Akihabara station, you are greeted by colourful buildings left and right, with many flashing billboards and tourists, akin to New York Times Square. Arcades, maid cafes, and 8-storey gaming and anime shops flood Akihabara's upbeat and quirky streets. Radio Kaikan, the building which houses the series' iconic time machine, is an actual building that fans of the show can see. You can spend an entire day walking through these streets, losing yourself in the many sights and sounds brought to you by Akiba.
2. Tokyo Revengers – Shibuya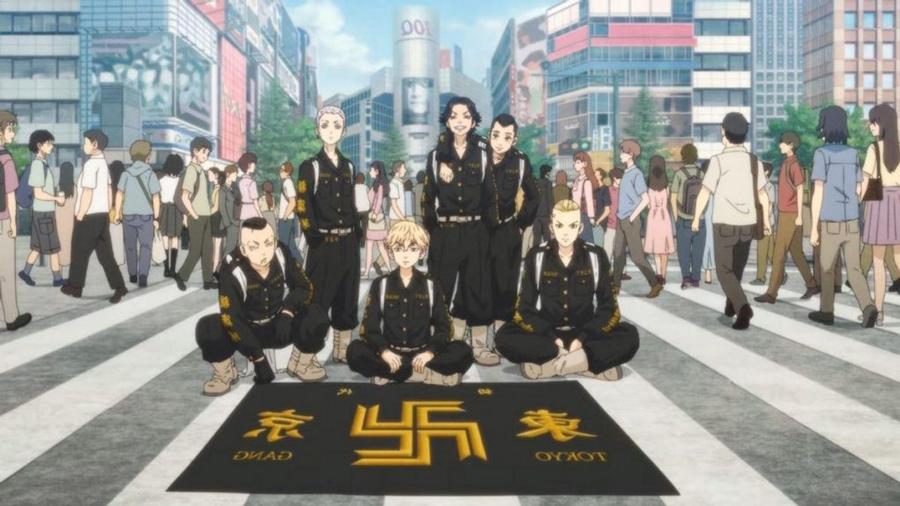 The home of the Toman, or Tokyo Manji Gang, Shibuya is the heart and soul of Tokyo. It is a place that is not only a core piece of an anime pilgrimage but a standard part of a Japanese itinerary. Coming out of the Shibuya station, you are welcomed by Hachiko's statue to hoards of commuters and tourists crossing the busy Shibuya crossing, a sight to behold and a wonder of the world where everyone crosses a street in all possible directions. Look around you to see shopping complexes and eateries left and right. The Shibuya 109 is the most well-known shopping centre in the neighbourhood, and the Shibuya Sky is a massive 360-degree open-air observation deck with views of the Tokyo metropolis.
This city is ruled by Draken, Baji, Mikey, and the rest of the Tokyo Manji Gang. Since Shibuya serves as a focal point for access to many of Japan's attractions, it's no wonder these gangs have made it their headquarters in the anime.
3. Your Name – Suga Shrine
The settings of Makoto Shinkai's works are so lifelike that they've become renowned in and of themselves. Since his anime are all based on real locales in Japan, he has a staff that travels all over the country taking photographs to serve as a reference. They are perfect carbon copies of real towns and tourist hotspots, down to the smallest detail.
One such location is the famous Suga Shrine and its stairs, where Mitsuha and Taki crossed paths in the film Your Name. Fans of Shinkai from all over the world would kill to find their way to the site, as it is one of the film's most iconic sequences.
4. Weathering With You – Kabukicho
Shinkai and his team brought the quirky town of Kabukicho to audiences everywhere with their 2019 anime, Weathering With You. Tourists go to Shinjuku because it is home to some of the most excellent ramen spots in Tokyo and the Golden Gai, a small, unique collection of tiny bars visitors love.
Kabukicho, a tiny entertainment area, is well-known for its adult-oriented nightlife due to its abundance of wacky cosplayers and unassuming attractions like robot restaurants and rock bars. This general area is where Mitsuha, Weathering With You's resident climate manipulator and "sunshine girl", resides, and the movie's plot takes place.
5. Bungo Stray Dogs – Yokohama
Yokohama is the second biggest city in Japan; it is recognised for many things, including the professional soccer team Yokohama FC (also known as Yokohama F. Marinos), a Ferris wheel, Yokohama Tires, and the famous local actor Yokohama Ryusei. The amusement park's Cosmo Clock 21 illuminates into a brilliant sphere at night and serves as a symbol of the city on which Bungo Stray Dogs is based.
Yokohama is home to Japan's biggest Chinatown, and it's also the primary setting for the anime Bungo Stray Dogs, whose characters are named after real-life Japanese authors. The program's premise is rich with real-world references, and the characters' abilities are based on genuine works of literature, so this city is a must-see for lovers of the show.
6. One Punch Man – Saitama's Apartment
One Punch Man is one of the funniest and craziest anime, with its main character, Saitama, one of the most famous protagonists. It's reached the point where people wonder if he's even the strongest anime character ever, being at the centre of debates around the topic. The debate about his power level doesn't come as too much of a surprise, as season one was a brilliant showing for the bald superhero from Setagaya City.
Saitama is adored in the anime communities, even though season 2 could not live up to the enormous expectations set by the first. This is why his home, an actual apartment in the peaceful village of Setagaya, is well-known despite not being a popular destination for visitors. You may see Saitama's modest flat to imagine hanging out and playing video games with Genos, Garou, and the rest of One Punch Man's cast. Let's hope that One Punch Man Season 3 restores the show to its rightful place as a fantastic programme.
7. Yuru Camp – Lake Motosu
Yuru Camp, also known as Laid Back Camp, is a charming slice-of-life advertisement showcasing the finest camping spots in Japan. It simplifies the idea of connecting with nature via camping by showing cute girls doing cute things. Activities, attractions, and dining options around the locations Rin, Nadeshiko, and the rest of the crew explore are detailed throughout the many sites the crew visit.
The best place they visited was Minobu, home to the Koan Camping Ground by Lake Motosu. This place is extraordinary because it does not have a splendid view of Mt. Fuji but a lake that reflects it perfectly at certain angles. At night, the moonlight sparkles off the mountain and the sea reflect the stars, putting the perfect finishing touch to their memorable camping trip. If you're in the mood for something out-of-the-ordinary in the great outdoors, you should certainly check out this, just one of the numerous camping locations Yuru Camp brings to its visitors.
8. K-On! – Toyosato Elementary School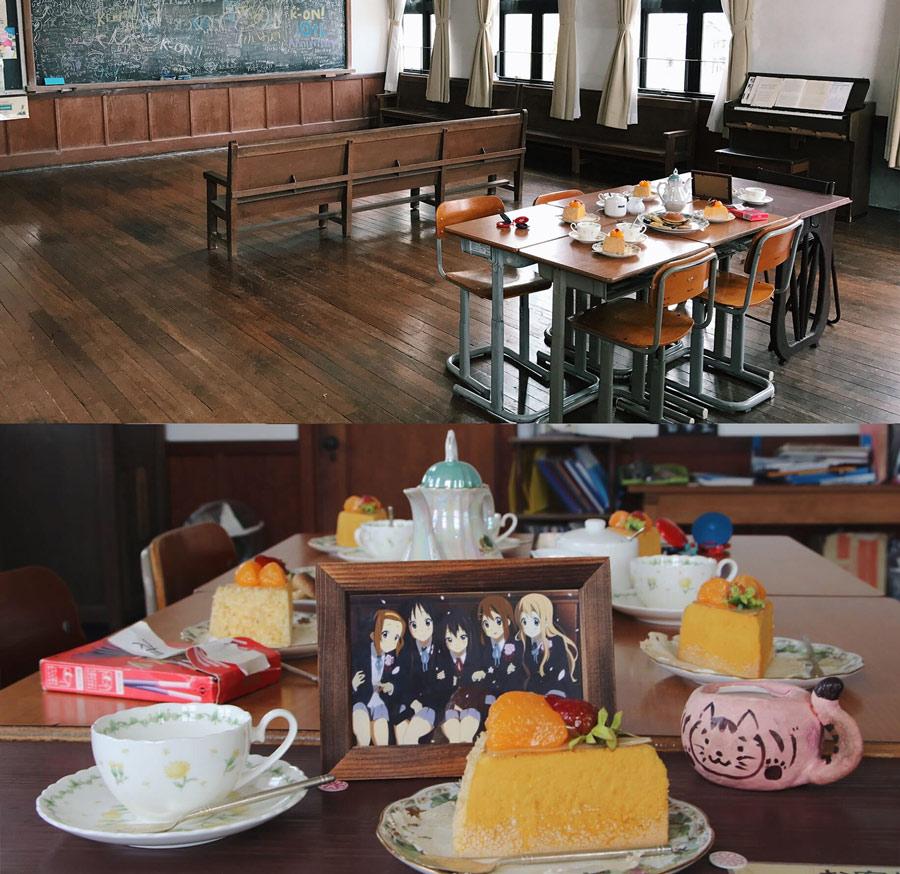 Another entry into the cute girls doing cute things genre is Toyosato Elementary School. It is the perfect place to see a traditional elementary school that you'd see in your typical school-based anime. K-On! fans will enjoy visiting the many areas where Yui, Mio, Mugi, and the band members first met each other to create the Light Music Club.
Within the school, they even pay ode to events from the anime when not in use, with fans recognising the hallways, stairs, tables, chalkboards, and even specifically coloured musical instruments that they use. Looking at the drawings and writings on the blackboards, you may conclude that the mischievous girls drew and wrote them while arranging their next big hit. The cherry on top is a group shot taken at their usual hangout spot, where they can make it seem like you were truly there.
9. Sword Art Online – Ginza
Every teenage boy wishes they were Kirito from Sword Art Online. Its widespread appeal is self-inserting yourself into the power-fantasy-themed isekai, living as an overpowered boy in a world of monsters and weaker players. Having many of the film's key sequences take place in Ginza, Japan's posh shopping and dining area must be a dream come true for Kirito and the show's many admirers.
Ginza is well-known as a shopping and eating destination due to its many boutiques, speciality shops, and restaurants. Whether it's ramen, poke, or sushi, Ginza is a great place to eat, like the characters in Sword Art Online. Did you know that the restaurant where Kirito and Seijiro first met, the Parlour Shiseido, exists in the neighbourhood? The interior is a replica of the real-life location, meaning you can pretend you are Kirito, eating the same food he did one a date of your dreams with your very own Asuna.
10. Higurashi – Shirakawa-Go
Finally, we visit Shirakawa-Go, a UNESCO World Heritage site located 350 kilometres beyond Tokyo in the Gifu Prefecture. The Higurashi: When They Cry series is set in a historic hamlet, a cluster of mountain settlements that will take you back to simpler times. Shirakawa-Go is a beautiful sight, a river valley filled with traditional farmhouses built by hand more than 250 years ago. These buildings have a look and feel that you'd expect to see only in fairytales.
The moment you step foot into Shirakawa-Go, you will feel like you are transported to another world, unaffected by the hustle and bustle of modern living. Thematically, it makes sense that Higurashi chose this as the backdrop for their plot, which deals with motifs of time travel. Make the trek to the outskirts of Japan to stand in the same spots where Rena, Kagome, and the rest of the elementary school students are in the memorable murder mystery whodunit narrative.
Which of these 10 real-life anime locations has caught your eye? The next time you book your tickets and plan your itinerary, mark these sites for your Anime pilgrimage! Remember: Are you a fan if you never visit these sites, even once in your life?