🔖
8
min read
With Japan reopening its borders to tourists comes an influx of weebs and Japanese culture enthusiasts. With an abundance of things to do and locations to visit, there is always one burning question on the minds of travellers: In which Japanese hotel do I stay?
A Japanese hotel comes in all shapes and sizes. Many quirky accommodations are available, whether a quick capsule or pod hotel, social hostel, or even Japanese hotels with robots. A couple more concerns are where the hotel's location is to access all the best parts of the city, as well as the price range of the said Japanese hotels.
Before you read our article on the top 10 Tokyo Attractions. This article contains Japan Nakama's comprehensive list of the best Japanese hotels for travellers worldwide. It will recommend three hotels from three categories at three different price points: Japanese capsule hotels, Japanese hostels, and traditional Japanese hotels.
Where to Stay: Japanese Capsule Hotels
Also known as Japanese pod hotels, this hotel style is perfect for solo travellers. It is literally as the name suggests: it is a small coffin-like "pod" that fits only your body and your bag. Communal showers are on every floor and used to freshen up; depending on the capsule hotel, the sleeping and shower areas can be split by gender. Some Japanese capsule hotels are also only usable for a certain amount of time, say 8-10 hours, which limits it as a place to sleep and freshen up to be out and about to maximise the trip.
1.) Manga Art Hotel Tokyo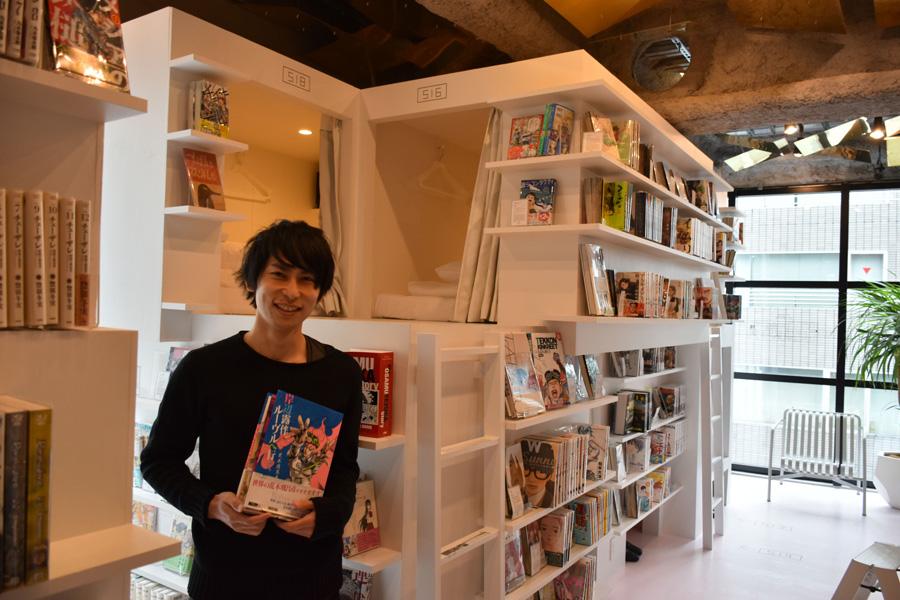 The weeb's dream, this capsule hotel is only a 15-minute walk from the anime capital of the world, Akihabara, and has over 5,000 free manga to browse. After spending a day out seeing the city's anime and gaming establishments, you can enjoy the rest of your evening reading your favourite manga series to bed. You even have the option to purchase various manga from their shelves if they catch your eye! At £16 a night, this is a no-brainer if you're an enjoyer of this side of Japanese culture. 
On the back of a concept that splits 9-hours into one hour of showering, seven hours of sleeping, and another hour of getting ready for the day, Nine Hours Otemachi is the type of capsule hotel for the out-and-about traveller. It's the place you would book to strictly sleep, recharge, and go out to experience city life. Its sleek aeroplane cabin-like pods are unique and unlike any other; there are built-in sockets to charge your phones and gadgets as you rest to seize the next day. At also £16 a night, this is the perfect capsule hotel if you strictly need a bed to stay through the night for a no-frills experience.
3.) The Millenials Shibuya
Located at the heart of the bustling city of Shibuya, this Japanese capsule hotel is one of the more excellent ways to have this unique experience. Not only is it located only 4-minutes away from the world-renown Shibuya crossing and Hachiko statue, but its amenities are also as luxurious as can be. Their patented innovative pods have the following technology: Built-in alarms that will wake you up by raising the bed, larger space overall to move around the capsule and store luggage underneath, and most importantly, a cinematic experience projected into the wall that you face within the pod. You can also rent an Instax camera, a Nintendo Famicom, and charging cables for all the devices your £50-a-night self can afford. It's quite a hefty price, but an experience unlike any other. 
Where to Stay: Japanese Hostels
Hostels are described as communal rooms in a bunkbed style for multiple travellers. So, just like capsule hotels, you are booking a bed but sharing it in a room full of usually six beds with strangers worldwide. There are typically three main kinds of hostels available to travel abroad: Cheap hostels, party or social hostels, and activity hostels.
Cheap hostels are perfect for the traveller on a budget, with some spots costing as little as £ 22 per night. Social hostels are for outgoing travellers looking to meet others who've come from different parts of the world. Here, there are usually gatherings held at night where you can mingle with others who've come to stay at that hostel. Lastly, activity hostels are a more tame version of party hostels, with activities ranging from sushi making to karaoke nights to barbecue afternoons for guests to meet and greet one another.
An advantage to these places is that travellers who go to these specific hostels are like-minded because they are there to experience the city and meet others.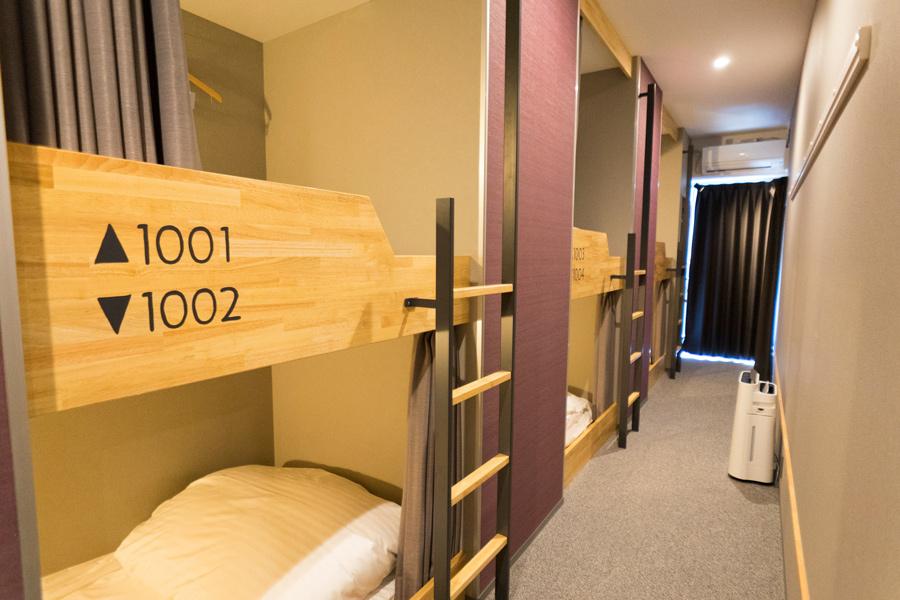 Imano Tokyo Ginza Hostel might be the most popular social hostel in Tokyo. Located in upscale Ginza, where you can access fancy boutiques, izakayas, sushi bars, and the famous Tsukiji fish market, his hostel has a fantastic location. They hold events nightly for travellers from all around the world, such as happy hour and yakitori nights, and even have a dedicated floor that you could go to mingle with others. On this shared floor also comes a shared kitchen, where you can cook your own meals.
The dorm rooms come in 4 or 6 beds; if you come in a group of the same number, you can just rent an entire room for you and your company. As a solo traveller, there is great value to be had, as a bed in a shared room costs only £13 a night. Four and Six bed dorm rooms can be rented at £52 and £73, respectively, making it a great value option for you and your group. 
A cheap, barebones Japanese hostel priced at only £10, this place is perfect for the traveller looking to save money and meet a few people along the way. This hostel has a standard dormitory room with free-to-use amenities such as WiFi, a small kitchen, and a laundry room. A slight concern is that the for-share rooms are only for 2-guests of the same gender, so this is just a forewarning for any guests who might find that kind of intimacy awkward. Some may enjoy that detail, building a connection with a single traveller, especially if they feel extra lonely.
Conveniently located only 3-5 minutes from a couple of train stations, &And Hostel Minamisenju is accessible and a great way to explore different parts of Tokyo without breaking the bank. Oh, complimentary coffee in the pantry and soap in the showers make it an extra budget-friendly option.
When the name of your Japanese hostel has the word "bar lounge" attached to its name, you know exactly what you signed up for. If you're looking for a place to drink with other travellers, this is the place for you. An open bar with bartenders and an atmospheric party with great nightly music cater to those who choose this hostel. Staying at this hostel provides you with an avenue to make many new friends; staying here for a few nights is recommended; hopefully, you'll be able to go around Tokyo with a new group if that interests you.
8-person mixed dorm rooms are the popular rooms to stay at, giving it a more international feel with how public its room-sharing is. It fits the overall vibe of the hostel, with its fun nights with guests worldwide. A bed in this dorm room costs £19-a-night, making it a pretty socially-charged package for those craving that experience. Just pray you aren't on the second floor, or you'll hear everything happening during the parties.
Where to Stay: Japanese Hotels
These are the traditional hotels, usually big-named chains that have branches around the world. Private rooms, breakfast buffets, room service, and housekeeping are the main selling points that come with the usually-premium price of these rooms.
Sotetsu Fresa Inn Nihombashi-Ningyocho
As essential as a Japanese business hotel is, Sotetsu Fresa Inn offers small double bedrooms, perfect for you and your friend (or partner). They provide the bare necessities for those searching for a private room at a very affordable price. The rooms are clean, as they offer room service every morning, with their rooms equipped with air purifiers. Amenities are also available in the lobby, as this Japanese budget hotel provides you with everything you need.
It's also in a great location, only a 3-5 minute walk away from metro stations to see the city. Located in the heart of Tokyo, it's a short commute away from popular locales such as Harajuku, Shinjuku, and Roppongi. At £27-a-night, this is an excellent option for a travelling duo looking for a quiet place to stay in the city.
Although slightly off-centre, Tobu Hotel might be the Japanese hotel with the most value for money. Being a 4-star hotel with rooms priced at some 2 or even 1-star rate, it's posh and elegant with a marvellous view of the Tokyo Sky Tree. It's one of those hotels with a vast lobby, high ceiling, and buffet fit for picky travellers. It's a perfect place to stay for someone and their small family, especially since it's also nearer Tokyo Disneyland. On top of that, convenience stores and ATMs are conveniently located outside the hotel's doors, providing everything you need for your stay.
With rooms for four starting at £119, they aren't the most budget-friendly option for those looking to save some coin, but it's well worth it for what you are paying for. Hopefully, you get a room with a direct view of the Sky Tree, which makes for an incredible sight to celebrate your nights in the city.
Now, if you're looking to enjoy the best in Tokyo, have too much money, invest in crypto, or all of the above, how about we have a look at the luxurious £1000-a-night room Aman Tokyo has to offer. What allows this 5-star Japanese hotel to charge that amount, you wonder? Their rooms provide a modern take on traditional zen-themed interiors. Silkscreens with a relaxing nature motif lace their elegant rooms, which have various views of top spots in the city. Overlooking sights like the Imperial Palace Gardens, you will feel like an emperor seeing his people in the town. 
If that doesn't cut you, they also offer £2700-a-night rooms, which provide a panoramic view of the bustling city of Tokyo. Positioned in the corner of the building, it also has a private hot spring which overlooks the beautiful city lights of the busy streets of Tokyo. Large windows surround you, letting in ample light as you enjoy your morning coffee; this is an experience fit for your kingly needs. 
These are only a few places to stay for travellers of all shapes, sizes, and budgets. Whether it is to meet new people, explore the city with your friends, or live like an emperor in Tokyo, there are plenty of ways to enjoy your stay in the beautiful town. Which of these Japanese hotels do you plan to stay in during your next visit to the land of the rising sun?