🔖
6
min read
When it comes to Japanese tea, green tea, or 'matcha uji cha', is unrivalled. Exporting $196 million worth of tea in 2021, the world seems to love it just as much as the Japanese do. But where does your knowledge of tea end? There are endless other teas, from kombucha to genmaicha to ume tea and sakura cha. In this blog, we'll explore just a handful of the unique teas Japan cultivates. We'll look at their names, how they're produced, and what makes them special, and hopefully by the end of this article you'll be convinced that you have many more types of Japanese tea to try out than just good old matcha!
But what good is this article without the chance to taste it for yourself? Every tea listed in this blog is available right here in the Japan Nakama store, courtesy of Shizuoka and Kyoto based tea experts, Chikiriya Tea House. So if a tea catches your eye, you don't have to go anywhere to find it… How convenient!
Before we take a look at some different types of Japanese tea, we need a basic understanding of the significance of them within Japan. 
Traditionally 'Japanese' green tea actually emerged sometime after tea was first introduced around the 8th century by Chinese Buddhist monks. Almost immediately, tea became a hit, and by the 12th century, it was a nationwide success. Matcha's origins are also traced back to around this period. Soon after, the world-renowned Japanese tea ceremony emerged. It was around the 18th century when distinctively 'Japanese' tea began arising, as before this most tea flavours were generic ones imported from China. This is when types of Japanese green tea, notably uji, started being cultivated due to the development of sencha, a new style of green tea.
So what makes tea such a significant part of Japanese culture? Tea ceremonies were generally only attended by Zen monks and high-ranking officials. Thus, for a long time, tea was considered sacred simply because so few could experience the ceremonial drinking of it. Moving past the hierarchical limitations, tea and tea rituals became collectively appreciated as a chance to be at peace with oneself and focus entirely on the perfectionist process of preparing, pouring and enjoying this rich drink.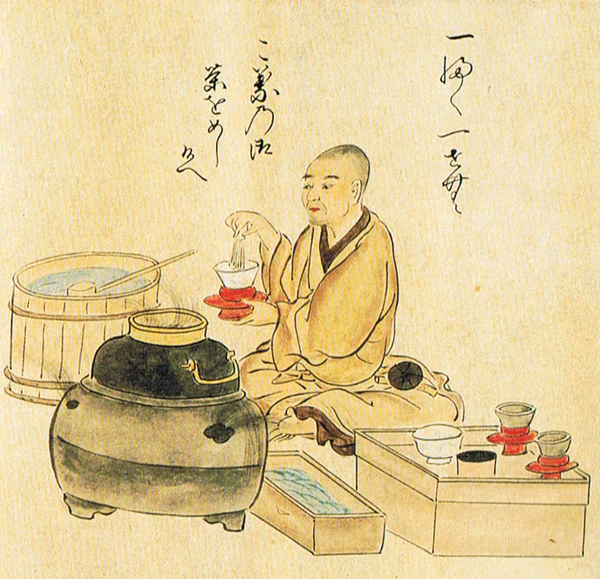 And here we are today. Hundreds of years later, locals and tourists alike are still captivated by these ceremonies, and the history of Japanese tea lives on. With new developments such as matcha green tea packets and sakura cha joining the cohort of teas, let's break down some of the authentic Japanese green teas, fruit teas and more that we have to offer!
1. Uji Matcha Powder; Japanese Green Tea
Ok, I know I said we'll explore some unique teas, but it isn't fair to ignore our reigning champion… Matcha! For those who are unfamiliar with the process, matcha is created by steaming and drying shade-grown green tea leaves, before de-veining and grinding them. It's a fairly tedious process, but the difference between green tea leaves and matcha itself is that it has a much deeper and stronger flavour as you are technically drinking the leaves, rather than infusing their flavour. You also get a deep matcha colour, rather than a pale hue. Kyoto matcha is generally regarded as the best.
Types of Japanese Tea
Before we continue on, I should explain some of the names: 'uji' is a broad term for green tea. The three green teas uji encompasses are Matcha, Sencha and Gyokuro. These are the main green teas. Oh, and 'uji' is actually a city in Kyoto prefecture, it's just that it is best known for high-quality leaves, so we say uji!
2. Karigane Genmaicha; Rice Infused Japanese Tea
Next up is genmaicha. This is a uniquely flavoured tea produced by combining sencha karigane with roasted brown rice kernels. That's right, rice kernels! This creates a subtly sweet and refreshing flavour. For this reason, many people enjoy iced genmaicha, which is a perfectly acceptable way to enjoy this tea! Genmaicha is a loose-leaf tea, and the benefits of genmaicha include improved blood circulation and a boost in antioxidant defences.
3. Kyoto Uji Sencha; Japanese Green Tea
As the name suggests, this sophisticated tea is grown in Kyoto – finally a tea deserving of the name 'uji'! Since it is grown to an incredibly high standard, this is a perfectly balanced loose-leaf tea. Sencha tea benefits include reducing bad cholesterol, antibacterial properties and improved anti-inflammatory responses. The sencha benefits don't end there, but for the sake of time, you get the idea! Sencha brewing is also a skill in itself, as the umami can differ slightly depending on how you prepare it.
4. Hojicha Moegi; Deep Roasted Japanese Tea
Hojicha tea is rather unique, as it is actually produced by roasting the leaves over charcoal. As you would imagine, this creates an incredibly deep umami. In the case of this hojicha, the lightness still remains though, making hojicha milk tea incredibly popular – you may even see this as an option in boba stores.
Types of Japanese Tea; Kombucha
5. Sakura Kombucha; Symbolic Japanese Tea
Well here's something new and exciting! This sakura cha is the perfect blend of kombu (kelp) and cherry tree. Imagine a light sakura petal floating in the breeze. That is the delight of this delicate drink dancing on your tongue. Set apart from the seemingly more 'mature' types of Japanese tea we've seen so far, this kombucha is not one to miss.
6. Yuzu Kombucha; Punchy Japanese Tea
Another kombucha, this slightly more powerful blend of yuzu and kombu will certainly give you a kick. With a tartness infused thanks to the citrus fruit, this Japanese fruit tea is great for waking yourself up or making the taste buds tingle. Yuzu tea, like sakura cha, is quite special in that it has a surprisingly deep umami, yet a light feel to it.
7. Ume Kombucha; Fragrant Japanese Tea
Alright, this is the final Japanese fruit tea kombucha! It would have been criminal to ignore ume tea when searching for the best Japanese fruit teas! Once again, kombu is blended with high quality plum to create an elegant flavouring that you can't produce any other way. I should have also mentioned that all of the kombu used in Chikiriya's blends, including this ume kombucha, comes from Hokkaido. Well, now you know that kelp will be fresh!
8. Uji Matcha Almonds; Green Tea Coating
I know what you're thinking: 'Almonds?' While technically not another Japanese tea, these Matcha almonds are covered in the freshest uji powder. Not only is this snack a unique treat to the senses; a toasty inner almond coated with rich matcha, but it also goes incredibly well with subtler teas like the ume kombucha above.
Well that's a wrap on the unique types of Japanese tea you just have to try for yourself. Whether it's for your own wabi sabi tea ceremony or for an enjoyable drink before bed, make sure you get your hands on any of the teas above that caught your eye!
If you've made your choices, click any of the images above to add the tea to your basket. If you're planning on grabbing your Japanese tea another time, you can still check out our → Japan Nakama store ← and see what else it has to offer! Once you've checked out, you could check out this video below on green tea cultivation: