🔖
31
min read
We all love anime. Some of us pride ourselves on watching the most obscure shows imaginable. The more obscure, the truer the fan that you are so to speak. However, is there a comprehensive list of mainstream anime that needs to be watched before you shuffle off into the afterlife? Here are my recommendations for some of the most popular anime to watch before you die.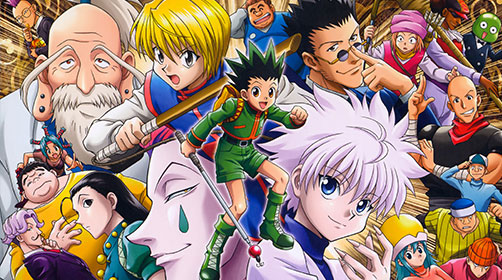 Plot
Hunter X Hunter follows the journey of Gon; a young boy who had been told from birth that his parents were dead. However, upon learning that this wasn't entirely true, Gon sets out to take the Hunter Exam, achieve the coveted title of 'Hunter', and hopefully, gain insight into his father's whereabouts.
Genre
Naruto. Bleach. One Piece. Dragonball. The big three (plus one) lived together in harmony. Then, everything changed when One Piece writers revealed it was only halfway through the story after more than 700 episodes. Only Hunter X Hunter, a subverter of all Shounen tropes, could stop them, but when the world needed them most, they went on hiatus.
Contender for the greatest action anime of all time, Hunter X Hunter is what fully realised Shounen look at with envy and what baby Shounen wants to grow up to be. It seems the author knew the dangers of oversaturation. That eating too much cake would inevitably lead to a lifetime of diabetes. This is the only reason I can fathom why Hunter X Hunter has been plagued with numerous hiatuses over the years.
Background
The original series debuted in 1999 and was my first jaunt into the world of Gon and his pals. However, to achieve a more polished and refined animation style; the series was remade from scratch in 2011 (titled as such; Hunter X Hunter 2011) and even continues past the point where the original ended (though remaining faithful to the manga). For those squares with real-life responsibilities who can't spend ten hours a day watching both seasons, the 2011 version is worth devoting your time to. 
Memorable Moment
One of my favourite moments of this series is an arduous fight between our protagonist Gon and an assailant known as Genthru Bomber. Be sure to check out our article for more on why this moment just sells the show for me.
Plot
In a world rife with superhumans, the strength of a person's unique power or "quirk" can determine their livelihood. Midoriya Izuku, a die-hard fan of all things superhero, discovers one day that he is quirk-less and will be doomed to a life of normalcy.
This is until a chance encounter with the number one superhero All Might, which leads to Izuku being chosen as his successor and becoming imbued with his powers. Now, he trains at UA, a specialist school designed for up-and-coming superheroes, in hopes of one day becoming the best.
Genre
My Hero Academia is a love letter to all those who grew up binging Shounen anime. As the big three faded into finality (barring One Piece of course but fifteen shots to the brain couldn't stop that freight train moving), they handed off the symbolic reins to My Hero Academia, in hopes that it could inspire a new generation. It's not the most unique anime you will ever watch. Parts of it may have you questioning as to whether or not this is just a more polished Naruto rerun.
The gang's all here! We've got:
Background
Yet, this lack of subtlety is so endearing that we as an audience can't help but be entranced. Yes, it's a typical Shounen. An action-heavy. Fight-scene-heavy. Impassioned-speech-heavy. Bandages-are-magic-heavy. Discussing-friendship-in-a-way-that-leads-you-to believe-it's-some-kind-of-strength-enhancing-steroid-heavy kind of storyline.
However, it strays just enough from the beaten path to blossom into something both unique yet charmingly familiar.  Quite frankly, I challenge any avid anime addict to watch this scene without getting goosebumps.
Memorable Moment
This fight scene in its entirety just encapsulates the spirit of My Hero Academia and Shounen in general. This being: balls to the wall spectacle. You sit through the context and the monologues and are rewarded with a badass fight scene to cap off the story thus far.
Recently concluding its third season with a fourth soon to be underway, it's not too late to dive in and recapture the genre that kickstarted many of our journeys with anime.
Plot
Luffy, a man instilled with the power of rubber due to his consumption of a Devil Fruit, sails the seas with his crewmates in hopes of discovering rumoured treasure and becoming the Pirate King.
Genre
Starting this show, now more than ever can be a daunting task. If you have to click to page fifteen just to get to episode one, or open Wikipedia every time you take a break to recall where you stopped, it can be off-putting, to say the least.
"I know I was somewhere between episode twenty and two-hundred and twenty. Hmm…"

You – Ten Years Ago
However, there is a reason why this show's manga variant is the highest selling series of all time. This is a bucket list anime and one of the kings of Shounen. While its competitors (namely; Bleach and Naruto) have fallen in the harsh Winter, One Piece stands firm – a proud oak that's going to take a literal lightning bolt from Enel himself to topple over.
Background
It's one that just has to be watched for nothing more than its impact on the anime industry. The compelling story is just gravy. Try not to look at the length of the show as a detriment but as a bonus. With such great action and interesting characters, you'll be spoilt for choice with the amount you get to sit through.
Just be sure to take regular bathroom breaks, drink lots of water and hook yourself up to a catheter if you don't have the energy to make it to the fridge.
Memorable Moment
In a series as long as this, everyone is going to have their favourite moment. For me, however, everything that makes One Piece epic; watching the lives of these absolute titans of combat play out, is entirely realised in this short scene. Ladies and gentlemen, I give you; The Walk to Arlong Park.
Plot
The story of a studious student, Light Yagami, who one day happens upon a book with the power to kill any whose name is written within its pages. Light decides to use his newfound discovery to purge the world of criminality. Will he be found out before he accomplishes his goal?
Genre
Death Note is my go-to anime recommendation for people who don't watch anime. It has a mystery thriller plot that lends itself to so many forms of media, that you have a plethora of options to choose from.
If you want to watch an anime with your friend who hates the medium, stick on the live-action movies, the TV series, or even the musical (we don't talk about the Netflix adaptation). It has such a compelling storyline that will keep you glued to your seat until the very end.
Background
Death Note actually has a rather entertaining English dub as well for those not looking to read a slew of subtitles. Who could forget the dramatic undertaking Light undergoes to satiate his otherworldly hunger? Those damn potato chips have had it too good for too long now! 
I'll Take A Potato Chip...
Memorable Moment
Death Note is an anime for the ages and one of the first that springs to mind when branching outside your Shounen comfort zone. Although, be prepared for even more monologuing than even the lengthiest episode of Dragon Ball.
5. Full Metal Alchemist Brotherhood
Plot
The story follows brothers Edward and Alphonse Elric who, after a disastrous attempt at reviving their deceased mother through a method known as alchemy, are left missing parts of or their entire body respectively. They set out in search of a way to restore their original forms.
Genre
There is a reason why this anime is widely considered to be the greatest of all time. A perfect cocktail of compelling storylines, varied and unique characters, and some of the greatest opening theme songs around. When I think, 'anime', I think Full Metal Alchemist.
Categorising this into a specific genre is difficult. Slapping 'adventure fiction' on the cover just doesn't do it justice in my opinion. It is the antithesis of anime and should be recognised as such.
Background
Like Hunter X Hunter, this show has two series available for watching. The original follows the manga to a certain point before diverging and telling its own story. For those looking for the true Full Metal Alchemist experience, Brotherhood should be your go-to choice.
Memorable Moment
This show is packed with so many moments but for my money, you just can't go wrong with the absolute decimation of Envy. After the death of his closest friend resulting in one of the most gut-punching scenes ever witnessed in anime, Roy Mustang sets out to seek his revenge.
What follows is an enraged assault on one of the perpetrators that led to the previously mentioned murder.
A glorious spectacle into the combination of story-driven action. I can't think of a better scene that helps define this series.
Sorry? What was that? A talking dog?
Get out.
Plot
Undisputed strongest man alive Saitama has grown weary of his enemies' attempts to defeat him. Being able to defeat any challenger with only one punch, he seeks a worthy opponent, able to help him recapture a sense of adversity.
Genre
Requiring a little more knowledge as to the clichés that plague most modern action anime, One Punch Man retaliates with its own unique blend of satire and comedy. One-Punch Man is a story akin to no other. In a world where characters spend multiple episodes powering up their finishing blows, monologuing endlessly about the need for friendship in attaining power, One Punch Man stands alone; diverging from the trends that hamper its Shounen brethren.
Taking a much more barebones approach to its story; what would happen if a protagonist could defeat any enemy he faced down with a single punch? It wouldn't make for a very interesting story now, would it?
That is where genius writing comes into play. Our protagonist, despite being the unmatched, strongest human being on the planet, is unrecognised by the public due to his inability to take being a hero seriously.
Someone who is a self-proclaimed 'hero for fun', cannot hope to compete with the flashy and extravagant styles of many of the other heroes inhabiting his world. As such, his apathy sees Saitama in the lower rankings of the hero food chain. Attempting to work his way to the top, he and his partner Genos (a cyborg who acknowledges Saitama's power and wishes to study under him) undergo a series of battles to raise their standings in society and search for someone who can give Saitama a run for his money.
Background
The anime itself sends a beautiful message about the ideology of heroism. Strength is irrelevant in the face of true adversity. All that is important is the strength of one's conviction. To tackle any problem no matter the stakes. The Deep-Sea King arc and specifically Mumen Rider's entrance brought a tear to my eye.
Mumen Rider Vs. The Deep Sea King
Such an inspiring message goes hand in hand with the show's initial creation. One Punch man initially debuted as a webcomic by author ONE. However, the following image should be telling as to why it did not have a breakout success as you might first assume.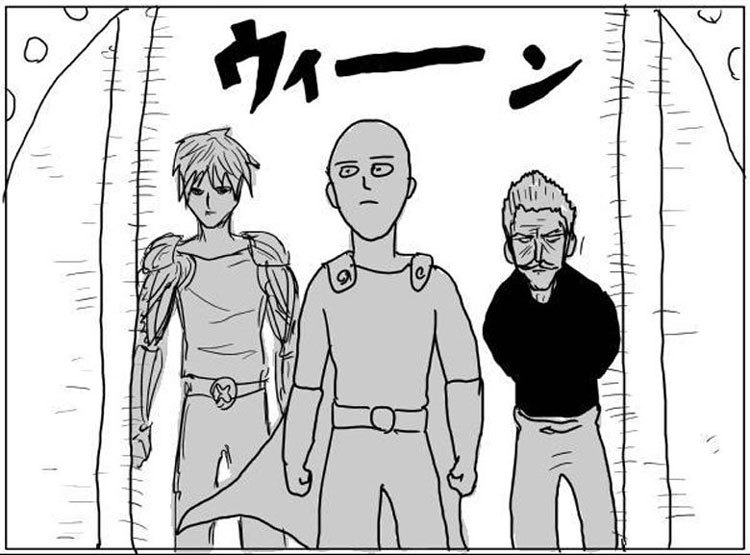 Not one to give up so easily, ONE released his project into the wild. It would not be until ONE partnered with a different mangaka, that the series would explode into the flashy phenomenon that we have today.
Memorable Moment
We had always known of Saitama's power. It's made evident from the very first episode. However, up until now, it had only been used as a punchline. This scene shows Genos, and we as viewers, uncovering the true devastating force of Saitama's punch.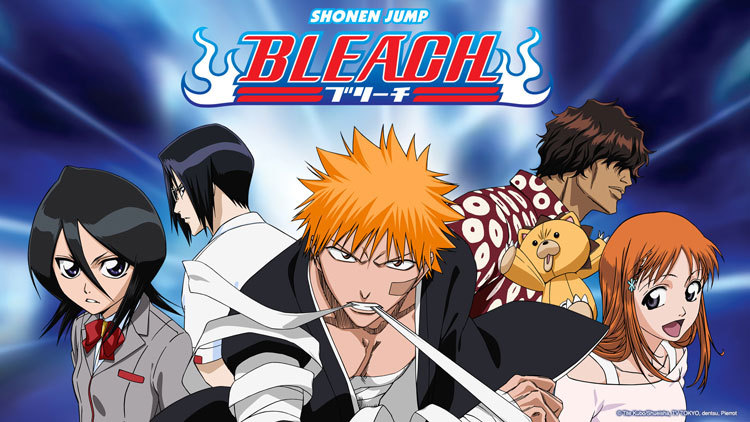 Plot
Another member of the big three yet probably the least talked about, Bleach details the life of Kurosaki Ichigo; a student with the ability to perceive spirits. Upon being attacked by a Hollow (a large monster), Ichigo takes on the powers of a Shinigami (Soul Reaper) from another Shinigami – Kuchiki Rukia.
Genre
Aside from the usual anime served up on early morning cartoon channels during the 90s (Pokemon, Yu-Gi-Oh, etc) Bleach was the first anime series I ever watched.
And what a welcome it was.
My first debacle in the world of Shounen. Flashing lights, crazy powers, and awesome fight scenes.
Background
Bleach is the smallest with regards to episode number out of the big three. This is then amplified by the fact that it's bedeviled by a number that is anime exclusive (otherwise known as 'filler') which deviates from the manga entirely. Maybe I'm misremembering but I could swear that every other arc in this anime was filler.
Saving Rukia Arc, BOOM; Bount arc. Arrancar and Espada Arc, BOOM; Rurichiyo arc, Espada part two, BOOM; fighting…the Zanpakuto…because…logic?
There are some highlights. Fillers can be done right in special cases (see Katekyo Hitman Reborn) and the Zanpakuto Rebellion arc, in particular, was fairly interesting but feel free to do your research and skip the stories that don't attract you.
Memorable Moment
Once again, for a look at my favourite moment, check out 8 Epic Tearjerker Anime Moments to see why Ichigo rescuing Rukia still sends shivers down my spine.
8. Neon Genesis Evangelion
Plot
Neon Genesis follows the life of Shinji Ikari when one day, he is summoned by his estranged father and told from this point onward he will be piloting a large Evangelion bio-machine, to fend off a wave of invading enemies, known as Angels.
Genre
While at first glance, this would appear to be your run-of-the-mill, everyday mech anime; there is so much bubbling beneath the surface that when the characters weren't off mech-suiting up, I fooled myself into thinking that this was solely a piece of psychological fiction.
When not operating their Evangelion, the teenage pilots wrestle with the pressure that comes from being at such a young age yet burdened with such responsibility. Neon Genesis is a masterclass in successfully blending action with the plot.
Background
One of the symbols of Japanese anime, this show has spawned countless movies, memorabilia, video games, and more.
Memorable Moment
Not an action-heavy scene and not a destructive rampage throughout the streets of Japan. One of my favourite moments is this small interaction between two of our main characters.
Yes, Neon Genesis features heavy mech battles but it shouldn't be forgotten that children are piloting these behemoths. Children with feelings, urges, fears, and more. They get bored when there is nothing to do and they get embarrassed when they are teased. Behind the war, there is a compelling character-driven narrative behind this show and I think this scene is a great example of that.
9. Demon Slayer (Kimetsu no Yaiba)
Plot
Tanjiro, a perfectly normal boy who sells coal for a living, returns one day to find his family has been murdered by a demon. Leaving only his sister Nezuko alive, yet transformed into a dangerous half-demon herself, the two set off on a quest to find the demon who killed their family and, hopefully, return Nezuko to being a human.
Genre
One of the most recent entries on this list, no one expected Kimetsu no Yaiba to leave such a lasting impact on the anime industry. While not as thought-provoking as something like Neon Genesis, Kimestu no Yaiba throws its hat into the ring of Shounen adventure and makes it clear that it isn't here to play games. With absolutely gorgeous and fluid animation, this show is a must-watch for any fan of the big three, or more recent shows such as My Hero Academia or Black Clover.
Background
One of the symbols of Japanese anime, this show has spawned countless movies, memorabilia, video games, and more.
Memorable Moment
Rather than choosing one key moment that made the series for me, take a look at this short compilation for a look at why this animation just oozes style.
Plot
The story of a young aspiring ninja. Imbued with the power of a demon fox, Naruto has long been ostracised from society. Now, he seeks to become recognised by his peers in hopes of one day becoming his village's leader, otherwise known as the Hokage.
Genre
Naruto and its sequel Shippuden, are Shounen through and through. Sprawling worlds, countless side characters, and crazy powers are all that are on the menu for this show. There are moments of heartache and romance but these are few and far between. Gear up for a nonstop cavalcade of fighting and action as you power through some of the greatest storylines and most forgettable fillers that anime has to offer.
Background
A bit of advice from one binger to another. From episodes 143 to 219 of the original series, there are nonstop filler episodes until the sequel, Shippuden, begins. Do yourself a favour and just skip ahead. I watched them all. They were bad. It was a harrowing experience.
I understand the necessity for fillers, allowing time for the manga to distance itself from the anime, but fillers in general just aren't the same experience. Stories about flashbacks, mermaids and so far; those are still only Naruto's storylines. Seriously,
How long did it take them to get off that damn boat!?
Memorable Moment
While both series have so many great fight scenes, I believe this scene from the original series highlights what makes Naruto so special.
Fans had been teased with an ultimate Naruto and Sasuke showdown from the beginning of the show. Finally, after witnessing so many other great fights versus the Sound Five, all the build-up comes to a roaring climax. Naruto is great at setting things up to be toppled over at a later date. Then, when they finally decide to give you what you want, they do so in spectacular fashion in a way that made the wait all the more satisfying.
For those not ready to leave the land of Konoha just yet, Boruto is still going strong, releasing episodes weekly. Join Boruto's father's son on his misadventures with an entirely new cast of characters.
Plot
Fairly episodic in nature, this show follows the lives of four unlikely teammates (five if you count Ein and we always count good boys on this website), as they travel across space.
Genre
The term, 'space western' doesn't get thrown around all too much nowadays with regards to anime. However, whenever the genre is mentioned in conversation, this is the anime that should come to mind.
It's amazing just how timeless these characters and this story can be some twenty years down the line. While the lack of polish pales in comparison to much modern-day anime, that grit only adds to the overall experience in my opinion, when you remember the genre that we are dealing with.
Background
Cowboy Bebop has garnered incredible amounts of fame and has gone on to win several science-fiction awards at that. Many people cite this anime as the greatest of all time and describe it as an entry into the world of anime in general. While I personally do not agree with either of those statements, Cowboy Bebop deserves the praise it has received over the years and will go down in history as one of the greatest anime of all time.
Memorable Moment
I really like this barroom brawl scene just because it gives a perfect portrayal of our protagonist, Spike. As a bar fight erupts behind him, he nonchalantly continues about his day until he is compelled to take action. What follows is a display of the true power of someone who, upon first glance, appears no more different than you or I.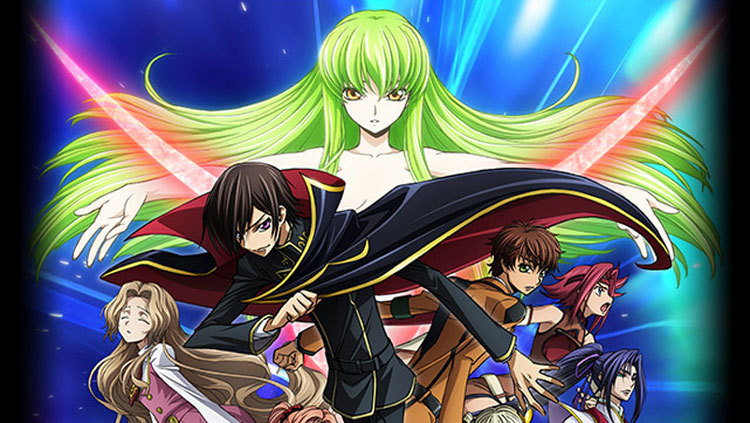 Plot
Japan has been conquered by the nation of Britannia. Former Japanese citizens have been reclassified as Elevens occupying their once-proud homeland (renamed to Area 11).
The former prince of Britannia Lelouch discovers a mysterious girl on the run from the law. After being granted the power to enact an irrefutable command using a power known as Geass, Lelouch sets out on a quest for revenge against his father, the king, for abandoning both him and his ailing sister.
Genre
This isn't your average mech rodeo. While I think many would be quick to write this off as a mech anime and nothing more, the true beauty of the story comes in its plot. The cunning characters, the scheming, the deception; all reminiscent of a certain book-loving, potato chip devouring genius we have all grown to love over the years.
Background
Somewhat of an unspoken rivalry, I believe. The Death Note fans stand in one corner, shouting abuse at the use of mechs in a psychological thriller, while the Code Geass stans question how using a book as the driving force of the plot is any less ridiculous.
Gun to my head, I have to move all of my chips onto Code Geass. While Death Note is a masterpiece no doubt, something about this anime just puts it in another league.
Memorable Moment
I love this moment. This show defines the well-known trope of 'all according to keikaku (plan)'. No matter what goes wrong in the lives of Lelouch or any protagonist similar to him, rest assured that he had anticipated this fault occurring and is still inherently in a winning position when you look at the big picture. He will always be at least ten steps ahead of all his adversaries.
Plot
The story follows the adventures of a guild of magic users known as Fairy Tail. Lucy, an aspiring magic user, meets Natsu, a hot-headed fire mage who invites her into his guild. Through many trials and tribulations, the group overcomes all hardships through trust and friendship.
Genre
I'm sure you can already guess the genre of this series after reading the plot description. Another Shounen and similar in a sense to Hunter X Hunter. Not in overall storytelling or animation but in the way it has always stood on the sidelines, while the big three conducted round after round of Double Dutch, biding its time to make that pounce and join in the fray.
Background
This show is nice. Every time I watch this show I can't help but feel all fuzzy inside. One of the true leaders in comedy Shounen, Fairy Tail pulls no punches with regards to its jokes. Anime like Naruto and Bleach have jokes to break up the tension but that's all they are – a break from the tension. Fairy Tail jokes, however, make up a large percentage of this show's overall enjoyment. Don't get me wrong, there are serious moments aplenty and great fight scenes to boot. Yet, no Shounen has managed to tickle my funny bone quite in the way that Fairy Tail has.
Memorable Moment
The Jiggle Butt Gang. The Jiggle Butt Gang!
Fillers aside, one of my favourite moments in this series was the humbling lesson Natsu was taught by his mentor, Gildarts. In a world where Shounen protagonists aren't allowed to bat an eyelid as they bulldoze their way through an onslaught of foot soldiers, it was nice to see Fairy Tail shift this paradigm on its axis, leaving its protagonist a quivering mess in the face of real power.
Fairy Tail has always been a god-killer in my eyes. Skittering along on the periphery, while the big three paraded about; peacocking their lengthy run times and multiple movie adaptations. While Fairy Tail was never in such limelight, it was always just outside of the running for potential best Shounen and moments like this that differentiate it from its competitors, distinguish why.
I still have nightmares about their jiggling buttocks to this very day…
14. Attack on Titan (Shingeki no Kyojin)
Plot
Long has the populace been protected from the titans (colossal monsters) thanks to a large wall keeping them at bay. Once this stronghold is breached, however, the titans invade and wreak havoc on humanity. Eren Jaeger is determined to wipe out all titans from existence and save mankind.
Genre
Attack on Titan is a Shounen mixed with thriller elements or elements of dark fantasy. Taking one look at the titans should give you a sense as to why that is but many of the episodes find themselves devoted to not only fighting the titans out in the open, but often running from them, creating plans with which to combat them, or simply cowering in fear due to their sheer number.
Background
Attack on Titan is up to its third season at the moment with a fourth and final slated to be released very soon. If you aren't up to date as of yet, be sure to catch up as soon as you can to be able to witness the thrilling conclusion once it starts to unfold.
Memorable Moment
My favourite moment from this series comes in the very first episode. The sense of dread that we as an audience are met with upon seeing the dreaded colossal titan rear his ugly head from over the protective wall just encapsulates the sense of fear that runs ever-present throughout this series as a whole.
Plot
After becoming trapped in VR, where death in the game results in death in the real world as well, young swordsman Kirito sets out to beat the game and escape back into reality.
Genre
Wait, wait, wait! Before you close the tab and report the article for being verbally abusive, please hear me out.
Sword art online is something to behold. Never before have I seen an anime divide a community in the way this show has managed to do. Not so much in recent years perhaps. Alicization, while not perfect, is a quality show. However, when this show's first, second (ALO), and arguably third season (GGO) was released, it was like the Crips and the Bloods roamed the streets once more.
On the one hand, you had those praising the action, praising the characters, and all-around loving their experience in this world. On the other, you had those criticising its genericity, complaining about another cliché Shounen, that couldn't hold a candle to its predecessors.
What do I think? Having witnessed such a war being waged between like-minded individuals has led me to the conclusion that; it doesn't matter what I think and It doesn't matter what anyone else thinks either.
Give it a watch and decide for yourself. Just get your trigger fingers ready for whenever you have to type up that scathing retort to combat your enemies in the YouTube comments section.
Background
Originally based on a light novel of the same name. Definitely worth a read for those looking for a more in-depth view of the world of SAO.
A new season is scheduled to be released ('SAO Progressive'), which is set to return to the original world of SAO and develop on several of the stories we missed during its initial running. It's set to be a great time and now more than ever is the best time to get into this show.
Memorable Moment
Two moments spring to mind when I recollect this show's original series. The first took me by surprise. As someone who has not read the light novels, I didn't expect someone to confess their love in my sword swinging, shouting out your special move's name as you land the killing blow, "sTaRbUrSt StrEaM", action-adventure series. Yet, here we have Kirito baring his heart out after defeating an enemy.
I thought it was lovely. In the same way that modern Shounen anime need to find something to differentiate themselves from the mountains of shows that came before them. Introducing some aspects of romance is, sure enough, a way to intrigue fans who might be experiencing their first brushes with the genre.
I mean…when your character is literally this overpowered:
You need to make all the moves you can to give your story some stakes…
Plot
After being attacked by a cannibalistic monster known as a ghoul and suffering severe injuries, he awakes to discover that he has undergone organ transplant surgery with the said ghoul. Now, with the taste for human flesh growing inside him, he soon realises just what he has become.
Genre
Taking elements from dark fantasy and horror, Tokyo Ghoul is an anime that wasn't made for young children. Scenes of graphic violence are par for the course in this anime and when the dish of choice is human flesh, you can imagine just how messy these scenes can get.
Background
Talk about a slow burner, I was ready to drop this show after a few episodes. Perhaps my patience levels need to be looked into but after persevering to the very end, I can without a shadow of a doubt say that the final scene in the final episode of the first scene, made it all worth it.
Memorable Moment
As just mentioned, my favourite scene is as follows. Look away if you don't want the ending of the first season to be spoiled.
Having been fairly disappointed with the story's progression up until this point, this scene made me realise that Tokyo Ghoul was here to tell a story and didn't care about my desire for immediate satisfaction. It was going to take its sweet time doing what it did and I can only apologise for my over-eagerness.
Plot
In a world of fantasy, hunting goblins and chasing fairies is the norm. However, when a young priestess encounters her first interaction with the overbearing goblins that lurk throughout this world's dungeons, she comes to realise that perhaps this wasn't the fairy tale world she was expecting.
After being rescued by a man clad in armor, his face masked in its entirety, the two join forces and seek to rid the planet of the goblin race.
Genre
Goblin Slayer is a strange case where it subverts fantasy tropes and molds them into mounds of darkness. The world is cheery and bright throughout the day, what one would expect from an early episode of Fairy Tail perhaps. However, as soon as night falls and the goblins make their appearance, the tone shifts drastically as blood and sexual violence become commonplace.
Background
Some viewers may be interested to know that this show was originally a collection of ASCII art paired with dialogue, that was posted to an online text board in October 2012. It was eventually rewritten in the form of a light novel before being picked up for an anime adaptation.
Memorable Moment
I love the first appearance of Goblin Slayer himself for several reasons. This odd coupling truly exemplifies what this show is trying to do.
In one corner, you have the bloodied priestess representing the fairy tale we all thought we were going to receive. Our once naïve thoughts have been battered and bruised before unveiling the true direction this story intends to take.
Goblin Slayer in all his glory effortlessly defeats the horde of enemies before gesturing to our still quaking bodies. He offers us his name as an invitation to join him on this journey should we wish to proceed and leave behind our sensibilities.
Goblin Slayer First Appearance
18. Dragon Ball Z (Cell Saga)
Plot
The popular sequel to the original Dragon Ball, this series takes place five years later, with Goku now a fully-fledged adult. This particular saga revolves around an imperfect Cell attempting to reach its perfect form and our heroes' attempts to prevent it.
Genre
The grandfather of all Shounen, this show spawned a generation of anime that tried to emulate its style and inspired countless creators to get to work at making their own anime. While it suffers from several outdated concepts (namely, powering up for fifty-five episodes straight) it will live on in history as one of the greatest Shounen of all time.
Background
DBZ has a lot of episodes. A lot of episodes. Inferring that you have some familiarity with the series and aren't looking to devote too much time to watching everything, the Cell saga (a 3 part saga involving the character Cell and his quest to attain his perfect form), is my recommendation for a must-watch series of episodes.
Memorable Moment
While I would love to include "even…further…beyond! AHHHHHHHHHHH!" on this list, for my favourite moment in the Cell Saga specifically, It would have to be this truly epic moment of Gohan achieving SSJ2 for the very first time.
This scene is what these shows are all about. Building up impossible threats and having our characters achieve impossibly strong levels of power with which to combat them is truly a masterpiece of a scene. With lots of shouting.
Plot
The story follows aspiring students who wish to achieve the rank of demon hunter. All students are divided into groupings where one subset (known as demon weapons) has the ability to transform into traditional weapons and the other subset (known as Meisters) wields them.
Genre
While incorporating many dark fantasy elements into its appearance, the story is fairly lighthearted in all honesty. Jokes are found in abundance throughout this show and while the action scenes hit hard and fast, you never have to wait too long for a good hearty laugh.
Background
Having one of the most unique, engaging, and colourful art styles I have ever seen in anime, it contrasts greatly with the ominous setting that our characters occupy. It does a great job of supporting serious fights with light-hearted comedy through its use of colour.
Memorable Moment
A contender for (if not decidedly) my favourite fight scene of all time, I have to give it to Black Star vs. Mifune Round 2.
Yes, the entire fight.
Black Star Vs. Mifune (Round 2)
Just an absolutely incredible combination of fluid animation, amazing music, and great character usage; the fiery Black Star is met with an enemy he cannot defeat but even more so, who is actually a nice person. Soul Eater has always prided itself on its aesthetic and this scene showcases exactly why that is.
Truly a masterpiece.
20. Future Diary (Mirai Nikki)
Plot
A Battle Royale or last man standing game being played by twelve different individuals, each with their own diaries that can predict the future to some degree. The winner will become the heir to the God of Time and Space, taking up his throne as master of the universe once he perishes.
Genre
This show is a psychological thriller and pushing the romance aspect onto it is the same as advocating the Joker and Harley Quinn's relationship. The romance plays an integral role in the story, allowing us to uncover the personalities of our two leads, Yukiteru and Yuno, but this is not a romance story and you should look away if that is what you were looking for.
Background
Mirai Nikki is a show that always wants to keep the audience guessing. Setting up so many mysteries, plot holes, and red herrings to always keep the viewer in the backseat. My advice is to not go out looking for the twists and allow yourself to be deceived as to the writer originally intended.
Yuno herself, while not the first, definitely added to the universality of the 'yandere' type of character. A character with so much love to give that they become obsessed with their partner, often acting out in fits of violence or aggression.
Memorable Moment
My favourite moment comes later in the season. After learning some crucial information about Yukiteru's circumstances, Akise attempts to reveal said knowledge. This turns out to be quite troublesome when his throat has been sliced, rendering him unable to voice any of his thoughts.
We as the viewer are unaware of anything at this point and as an almost defeated Akise stumbles toward Yukiteru, Yuno is in hot pursuit. After literally beheading him, he finally manages to show Yukiteru a typed message. We cannot see it. The episode ends. The following episode airs next week. I hate my life.
Endings like this where you can't click the next episode fast enough are what make Mirai Nikki and plot twist anime great. The desire to keep watching is what stops these shows from peaking too early and Mirai Nikki does not disappoint in any regard.
Plot
After a young woman falls in love with a wolfman, she is forced to raise their offspring alone. Half-human and half-wolf, the children enjoy both aspects of their unique characters. However, living two halves of separate lives becomes taxing for the young children. When it comes time to make a decision, which life will they choose?
Genre
Wolf Children is a beautiful piece of fantasy fiction. I use the term, 'fantasy' here very loosely, as for the most part, the movie simply details this family's everyday life. Going to school, completing household chores, transforming into the body of a beast to traverse the rocky mountain landscapes. You know, the usual.
Background
The show has wonderful messages of love and acceptance that are truly heart-warming to see play out. Anyone in need of a serious heartstring plucking should give this movie a watch.
Trailer
Due to movies having a significantly shorter runtime than that of an ongoing series, I felt that including a large chunk of any movie would sour the overall experience. Instead, why not check out the trailer for the movie which includes bite-size snippets that you can enjoy.
2. Studio Ghibli Collection
Background
If you are a Martian, blissfully unaware of the stranglehold daddy Miyazaki's authoritarian grip has over our community, he is the famed director of Studio Ghibli; a company known for pumping out some of the most revered animated movies of our time.
Rather than recommend a specific movie from Ghibli's extensive library – I urge every one of you to steadily make your way through the collection. There will be highs (my personal favourites being Princess Mononoke and Ponyo). There will be…less than highs (looking at you, Tales from Earthsea). But I cannot in good conscience claim that my personal favourite is the one that should be watched above all others.
Should you ever find yourself visiting Japan, be sure to look up the Ghibli museum located in an area known as Mitaka. Tickets sell out fast but should you be lucky enough to snag one, you'll be able to stroll through the hallways of the museum learning new lore, information on the director, and even be able to watch screenings of short unseen cinematics.
Trailer
Have a look at the trailer for Spirited Away, one of the most popular Ghibli movies of all time.
Plot
Having discovered that they are magically linked in some way, two teenagers undergo a series of Freaky Friday-Esque body-swapping shenanigans until ultimately, they decide to meet in person.
Genre
While containing several magical or fantasy elements, at its core, this is a romance movie.
Background
This is one of the rare animated movies that garnered so much attention that it actually aired in several western movie theatres as well.
Being set in modern-day Japan, people often make the pilgrimage to take photoshoots at the fabled gorge or famous set of steps.
Plot
After a hearing-impaired student is tormented mercilessly during her younger years, she is left with no other option than to transfer schools. Years later, one of the bullies reconnects with her and begins to try and make up for the way he used to treat her.
Genre
A Silent Voice is a drama-heavy romance story. Dealing with such delicate material leads to a lack of jokes compared to other entries on this list but this wasn't a story designed for such things. This is a beautiful story of growth and acceptance that should be viewed with the utmost respect.
Background
One of the most fascinating things about this movie is that the English dubbed version actually stars deaf voice actress Lexi Cowden in the role of her counterpart Shoukou Nishimiya. For those unaware of the struggles faced by deaf people or those interested in learning more, this is a great place to start.
Trailer
5. The Girl Who Leapt Through Time
Plot
Upon discovering that she has been blessed with the ability to 'time-leap' – essentially travel back in time to redo mistakes, high school student Makoto Konno begins scheming for how to best use this newfound power to her advantage. However, she may soon come to learn that it is not only her life that she affects by doing this.
Genre
Another romance; I know, I know you can call it bias but when Japan makes an anime romance movie, they do it right, ok? To be fair to this film, it falls under many different genres. Comedy, action, and the inclusion of time travel even emanates slight science fiction vibes as well.
Background
 This movie can almost be seen as a loose sequel to the original novel which debuted in 1967 only all of the characters' names have been adjusted and the plot altered significantly. The basic premise of a time-traveling girl using this power to solve her problems however remains the same.
Trailer
The Girl Who Leapt Through Time Trailer
Plot
???
Genre
??????
Background
Seriously though, classifying the Monogatari series as a whole is a task in and of itself. Unlike nothing I have ever witnessed before, the story follows Koyomi Araragi, a human turned vampire, as he uses his powers to help his ailing peers who have become possessed by evil spirits.
Doesn't sound too difficult to understand, does it? The only problem is, most of the time, this plot is entirely benched in favour of extended dialogues between the characters. If you don't like talking and lots of it, stay well away.
The dialogue in this show is so natural and free-flowing, it's almost reminiscent of a Tarantino film in that regard. I would recommend this show to anyone who loves a well-crafted conversation.
The show itself is fairly difficult to watch as well (both the content and in which order). With many of the jokes revolving around Japanese history, Japanese culture, and Japanese wordplay, for us westerners; the punchlines are lost in translation.
Depending on the person who subbed your particular version and whether they were kind enough to cover the screen in a wall of text explaining the joke and how it could be perceived in English, it's best to just move past it.
Besides, with the speed at which those subtitles will be flying on screen, you won't have a chance to blink let alone understand the humour.
Hope you brought your reading glasses.
Feel free to read the novels as well. Many episodes of the show reference the novels and it only adds to the hilarity.
Memorable Moment
So many to choose from but I personally love the tongue twister performed by black Hanekawa.
The exaggerated nature of Araragi, the multiple art styles, and the clever use of Japanese wordplay, just encapsulates how unique of an experience this show is.
The less said about the toothbrush scene, the better.
2. Student Council's Discretion (Seitokai no Ichizon)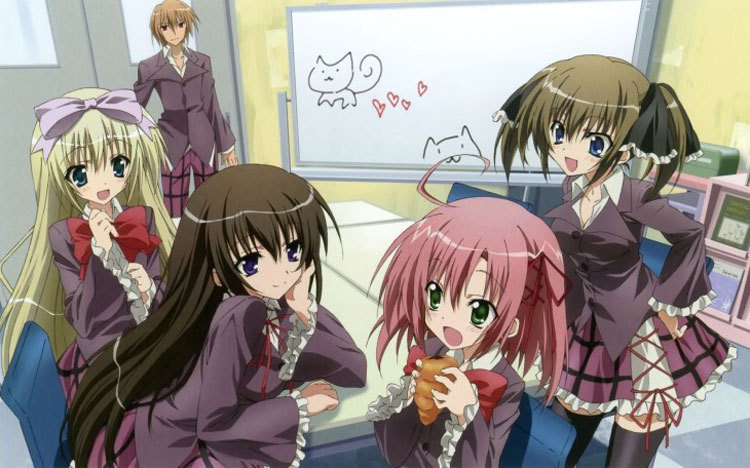 Plot
The story follows Sugisaki Ken, the fifth member of his school's student council, as he attempts to attain a harem (a polygamous relationship) with his remaining four peers.
Genre
Sometimes, you don't want to watch an action scene. You've grown weary of people's heads exploding, people being stabbed with katana, people trying to eat each other. Sometimes, you just want to watch a nice slice-of-life anime, with some likable characters and light jokes.
When that's the case, look no further than my personal favourite slice of life anime – Student Council's Discretion or Seitokai no Ichizon.
Background
Originally a series of light novels, the show received its very own anime and even the characters themselves are in awe. They constantly break the fourth wall, noting that they are inside an anime and make no effort to take themselves seriously. However, where this should be all fine and dandy, it is the final few episodes that truly elevated this show for me – breaking free from the usual tropes that slice-of-life romance comedy anime fall victim to.
Memorable Moment
For my favourite moments of this series, I have two. The first shows the gang attempting to create a realistic play.
The outlandish acting, subversion of dramatic clichés, imaginative animation. These are all the things that Seitokai no Ichizon nails during its two-season (plus OVA) run.
I eluded to this earlier but the final episode of series one just blew me away. This moment made me realise just how different Seitokai no Ichizon was trying to be. In a slice-of-life comedy romance world where relationships are never allowed to come to fruition, Seitokai no Ichizon rebels. It makes a stand for the story it wants to tell. Be careful though. If you don't want to have the ending of season one spoiled, look away.
Plot
Average high school student Shu, one day finds himself dragged into the middle of a war after being granted the 'power of the king'; a special ability that allows for the extraction of voids (weapons found in a person's psyche yet given corporeal form). He is now tasked with helping bring an end to the ongoing war.
Genre
'Code Geass Lite'. It's actually quite jarring just how these two plots play out almost entirely the same. A war involving mechs, a superpowered student becoming absorbed by his power. For those who just couldn't get enough of Code Geass, this should help tide you over until a new release.
Background
One of the greatest aspects of this show is the absolute killer soundtrack. The first opening was sung by the famous Japanese band Supercell, with the second by Egoist. With great tracks blaring out during every episode, it is hard not to become entranced. 
Memorable Moment
If you couldn't already tell, I'm a sucker for playing music over a dramatic scene. Shu Rescuing Inori and proceeding to wreck face just makes me shiver.
Plot
Adapted from the visual novel of the same name, Steins;Gate follows the journey of self-proclaimed mad scientist Okabe Rintaro who discovers one day that his microwave has the ability to conduct time travel.
Genre
The show primarily focuses on science fiction elements with genius storytelling and an overarching plot. Intermittent bursts of other genres such as romance creep up occasionally but if you're looking for a tried and true story about time travel and nothing else, you don't have to look further than this.
Background
A well-known piece of trivia about this anime is that it's set entirely in Akihabara; Japan's prime location for all things otaku. Because of this, characters are often seen interacting with several foreigners, attending maid cafes, and using Gachapon toy machines.
A sequel aired recently known as Steins;Gate 0 which only adds to the overall quality of the franchise.
Memorable Moment
It had to be, didn't it? It just had to be:
Related in no way to the overall plot of the series, this scene will forever live in infamy among Steins;Gate fans, and anime fans alike. The exaggerated, overconfident Okaba portrayed here should give you the perfect idea of what kind of protagonist you're going to be stuck with for twenty-five episodes should you give this series a watch.
5. Into the Forest of Fireflies' Light (Hotarubi no Mori e)
Plot
While visiting relatives in the countryside, a young girl named Hotaru accidentally wanders into a forest teaming with spirits until she is rescued by a human-like spirit called Gin. Gin warns Hotaru that if he is ever touched by a human, he will disappear. The two grow ever closer as Hotaru continues to visit her family every Summer.
Genre
If I were to recommend one movie to you other than those mentioned; something that perhaps you have not even heard of before, it would have to be this one. A very short love story clocking in at only 45 minutes
Background
Originally a one-shot Shoujo manga of the same name, the movie adaptation was created following the manga's success. Despite being relatively short, the movie was well received and even went on to win several awards both in Japan and abroad.
Trailer
As before, due to the length of the feature, showing you an extended moment would effectively be spoiling a large chunk of the run time. My recommendation is to just set 45 minutes aside one day and watch the entire movie in one shot, similar to the nature in which it was created.
Hotarubi no Mori e Trailer
I think that will do, wouldn't you agree? Any longer and we'll diverge away from recommendations for newcomers and delve into my more obscure favourites.
"I think you should watch Gantz because it's really cool and Kei Kuruno is super swell."
Let's be sure that this list can retain at least a modicum of dignity even if it is nothing more than an elongated fanboy squeal.
Those looking for something new to watch, I hope this list helped you find something new to get your teeth into, or at least gave you the push you needed to start something you had been putting off.
This list barely even scratches the surface of what the anime world has to offer so feel free to let me know your most recommended anime that needs to be seen before you're spirited away down below.
Oh, and one final thing…
Senjougahara is and will always be the best girl and if anyone disagrees with me they should send me their address so they can plead their opinions to Mr. Nine Iron.