🔖
4
min read
Ever had such an incredible trip that you would relive it most days if you could? Imagine if you could step back to that place in your imagination – to reminisce about past travels or even to dream about future trips. As travel restrictions around the world have kept many of us at home this year and unable to enjoy adventures, many of us will have to find other ways to explore. And, opening Daydreaming in Japan – a colouring & travel adventure book by Denise Rashidi is like flicking through floating memories that create a flashback to one of my favourite countries.
Denise is an illustrator and photographer born and raised near Frankfurt, Germany. She spent most of her youth drawing, playing video games, and watching anime, which eventually led her to go to art school to pursue a professional career in her passion. 
We caught up with Denise for a chat about her work which so beautifully captures Japan in pastel sunset shades & candyfloss colours, delicate drawings that embody the culture, architecture, and nature and that manages to bring to a page the unique atmosphere – leaving us hooked from page to page and certainly daydreaming for a trip back soon…
What is your affinity with and experience of Japan?
DH: I grew up right in the 90s anime "hype" era and instantly fell in love with series' like Dragon Ball and Sailor Moon. At some point, I got curious to learn about where these beloved shows come from and it became a goal of mine to visit and travel through Japan. It was only a matter of time – a few years ago I finally got to visit and instantly fell in love with the architecture, the food and everything around it.
How has your experience of Japan and Japanese culture impacted your life (if it has)?
DH: It definitely has. I grew up in a mixed household, so I am used to being around at least three different cultures. I've always been a curious person and I want to learn as much as I can. Travelling always felt natural to me and Japan is famous for being beautiful. I love how clean the streets are, how easy it is to get a simple and delicious meal at a konbini and how well the train system connects the entire country.
I am also a big foodie, and I will try anything in Japan. I found so many amazing dishes which I absolutely love and the people there are always so kind and eager to share them with me. I take these positive experiences with me everywhere I go.
How has Japanese art (or aesthetics, etc.) influenced your work and helped to create your signature 'neon pastel' art style? 
DH: Absolutely! I have made art inspired by anime all my life, but it wasn't until I first went to Japan that I truly found my direction in art. Drawing anything but characters and people used to intimidate me, now it makes me feel fulfilled. Learning about different cultures and seeing architecture that I wasn't familiar with made me see everything in a different light. 
Growing up in Europe made me "used" to the way our streets look. I think as an artist, it's important to try and find inspiration in unfamiliar things. It makes you appreciate and learn about that place in a completely new way, and at the same time, it also makes you appreciate where you come from.
Your artworks portray Japan so beautifully, tell us a little more about your work, the kinds of art you create and the connection to the country?
DH: I mainly focus on illustration and photography. The beautiful scenery in the 90s Sailor Moon anime initially got me into trying out pastel colours in an otherwise "realistic" setting, and that blend eventually became my signature art style. I use it in both my illustration and photography, although these days I work with any colour palette I like at that moment. People often associate nostalgia with feeling sad, but I want to create the kind of nostalgia that you enjoy feeling.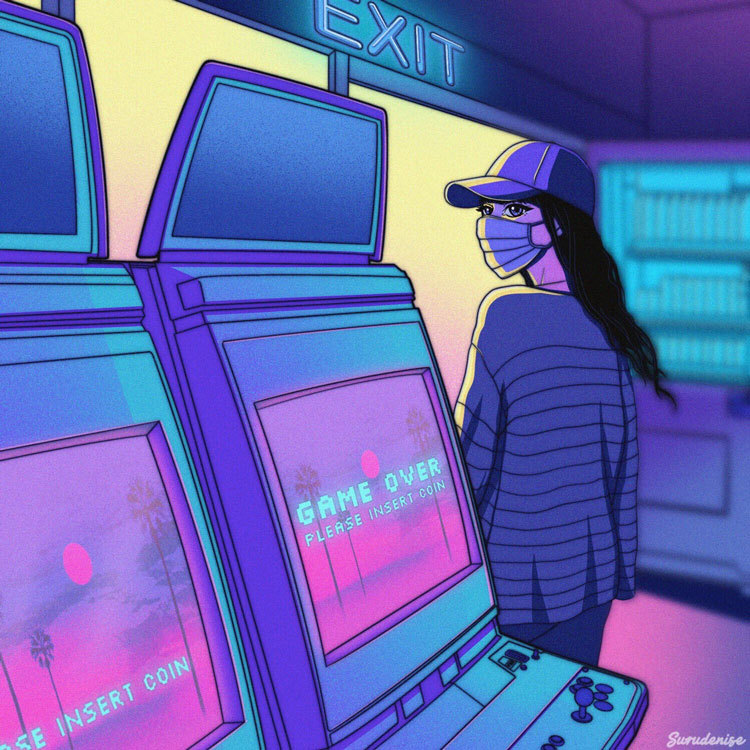 How did you get into creating art, and what inspires you?
DH: I'm one of those people that has always made art. My mom will usually tell people that she used to come into my room to bring me food and turn on the light because I would draw all day until it got so dark that I almost couldn't see anything. I was always extremely focused on creating my own world. I never really saw myself becoming an artist because it simply seemed like an impossible thing to achieve, but I still kept at it because it was the only thing that ever truly felt natural to me.
Your new colouring book is called 'Daydreaming in Japan', can you tell us a bit more about why you chose this title and what you want people to get from it?
DH: My teachers in school always used to label me as a "daydreamer" because I never paid attention in class and would doodle on absolutely everything. Mentally I was just always somewhere else and creating my own fantasies. 
I always had the idea for a colouring book, but I never quite got around to doing it. This year has been difficult for everyone, so my goal was to find a way to make people feel how I always felt as a student in the class. Escape reality and build your own worlds, at least just for a little bit. Relax after a long day and travel with me. I feel like the title "Daydreaming in Japan" captures that well.
A lot of your artwork captures the wonderfully rich detail on the streets or cities of Japan, if you had to choose one, what's your favourite Japanese scene or place?
That's a very difficult question for me to answer because I constantly discover new places I fall in love with. At the moment it is probably Enoshima Island and the beautiful views of Mount Fuji you can get from there. I also just really love the ocean, so I have all my favourite things combined in one place. 
Daydreaming in Japan combines travel and creativity so well – two things that are great tools for self-care and inspiration, providing a unique journey through Japan through illustrations which you can add to make come alive.