🔖
5
min read
Japan's Studio Ghibli Theme Park has finally opened in Aichi Prefecture! Through the attraction, guests can enter the idyllic worlds created by Hayao Miyazaki.
While there are no dark rides or roller coasters, the park more than makes up for it in immersion and a wonderful natural experience with sustainability in mind.
"It is a park, not an amusement park. The whole idea was to harmonize with and improve the existing park and its nature." It is a "hybrid park" built around existing public space, in order to minimize harm to the environment. Talk about sustainability!
In fact, Studio Ghibli's films often touch on nature and environmentalism, with the films often featuring lush grasslands and verdant forests. Ghibli's films are also known for their warm, comforting and indulgent depictions of food – where cuisine functions as a character of its own and a beautiful cinematic element that draws the viewer in.
You'll be happy to know that the theme park has both nature and food in spades! Securing tickets for the Ghibli Museum can be a challenge due to its immense popularity. It's recommended to book well in advance to ensure a spot on your desired date.
Here are the best things to do in Japan's Studio so that you can include it in your next visit to Japan! 
1. Explore Ghibli's Grand Warehouse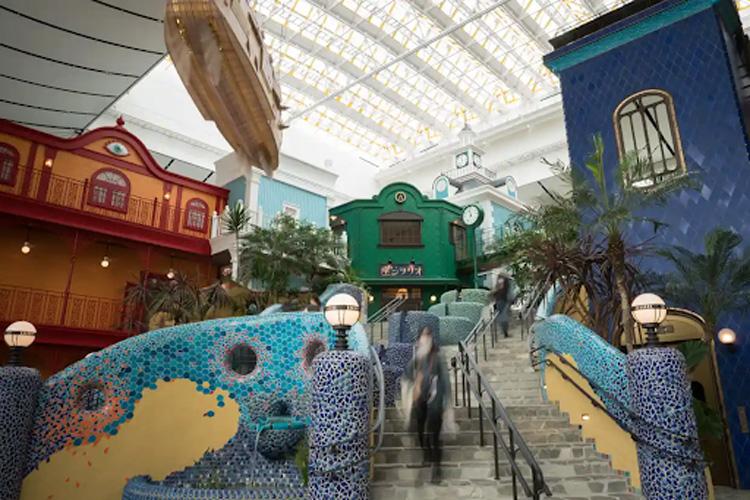 The park's main attraction is Ghibli's Grand Warehouse, a large mega exhibit filled with set pieces that recreate iconic moments from the films.
For  example, you can visit the Sky Garden from Studio Ghibli's first film: "Castle in the Sky" and take in the splendor of the iconic airship from in all its steampunk glory! 
You can also ride the waves with Ponyo, from the film of the same name – as she rushes to meet her foster family. 
This recreation of the office in "From Up on Poppy Hill" is lived-in and homey, yet gorgeous in its details. Enjoy all this and more in Ghibli's Grand Warehouse!
2. Ride the train with No Face
Stumble into the Spirit World through a perfect recreation of the iconic scene from Spirited Away! From the velvety train seats to the packages and handrails, this set piece will make you feel like you are traveling through the world of Spirited Away with the lovable No Face!
In fact, it is considered one of the best scenes in all of film history! Considering that it won Best Animated Picture and is the most famous animated film from Japan, it is no surprise that this scene was recreated for the theme park. 
Watch this video essay to find out why:
3. Visit Transcontinental Flight Cafe
Transcontinental Flight Cafe is one of the restaurants in the theme park. It serves several types of sandwiches such as BLT or ham and cheese pictured above! The meals come with little flags that contain scenes from the movies, drawn by Miyazaki himself.
For dessert, delicious fruit and banana chocolate dessert cream sandwiches are available!
Hayao Miyazaki's son Goro has a favorite treat from the menu – the Neopolitan pasta sandwich. Considering he is the lead planner for the park, it definitely sounds like a must-try! 
Unfortunately, the cafe does not make the exact foods from the films. So if you're looking to eat the bacon and egg breakfast from "Howl's Moving Castle" or the scrumptious egg ramen from "Ponyo," you'll need to go elsewhere. 
Thankfully, an izakaya chain called Donan Norin Suisanbu serves perfect recreations of Studio Ghibli Food. Just like the theme park, it is also located in the Aichi Prefecture. Sweet!
4. Visit the Food Exhibit
You can count on the Studio Ghibli Theme Park to have an exhibit on food! Inside Ghibli's Grand Warehouse is an exhibit entitled "Taberu wo kaku," which means "Drawing Eating." This is an expanded version of the food exhibit viewable in the Ghibli Museum in Tokyo!
Look at those gorgeous eggs, pancakes, and chocolate cakes with melting butter and garnish! Studio Ghibli's mouthwatering replica dishes from the films are on full display here. 
For more Studio Ghibli food content, check out this video below, featuring all of the foods across the films.
Through swathes of trees and shrubbery, you will see the entrance to Dondoko Forest! The area is largely themed around the adorable creatures in "My Neighbor Totoro," one of Studio Ghibli's most famous and comforting films.
Here, acorns line the walking paths where guests walk on as they enter the magical forest featured in the movie. Little soot sprites and small easter eggs are also visible, so watch out for all the hidden details!
Yes, there is a life-sized Catbus in the Dondoko Forest section of the park! 
Those who have tried it have reported it as their favorite experience, such as this group of friends on YouTube channel ShotasPOV who declare it has "the softest seats!"
Make sure to look out for this sign so that you don't miss the Cat Bus!
7. Hunt for Soot Sprites in Satsuki and Mei's House
Step into the shoes of "My Neighbor Totoro's" protagonists Satsuki and Mei as you enter their house and look for pesky soot sprites!
The park's life-sized recreation of the girls' house is perfect: down to the adorable Totoro-themed clothes and its nostalgic whimsical aesthetic. 
Dondoko Forest also has Omamori to protect you from bad luck! Make sure to stop by the souvenir shop if you want to bring home some keepsakes from your trip here.
There are plenty of other souvenirs to watch out for in the park, such as vintage candy (rarely being sold nowadays) to little toy capsules from gachapon machines.
9. Watch animations in the warehouse
If you need a break from exploring, just find the large yellow building that says "Cinema Orion." Inside, you can enter the video exhibition room and watch animated short films by Studio Ghibli!
10. Visit the Hill of Youth
The Hill of Youth is the theme park's third land, which contains European-style brick buildings and a steampunk-esque elevator tower from "Castle in the Sky."
Three of the park's lands are currently open for visits, but there are two more currently in development: Mononoke Village and a seaside town based on Kiki's Delivery Service! More reasons to revisit this whimsical park in the future. 
We hope you enjoyed this list as much as we enjoyed making it. 
SOURCES: 
https://soranews24.com/2022/10/31/the-ghibli-theme-parks-food-looks-good-enough-to-be-a-reason-to-visit-all-by-itself%E3%80%90photos%E3%80%91/
https://www.washingtonpost.com/world/2022/10/13/studio-ghibli-anime-park-japan/
https://livejapan.com/en/in-tokyo/in-pref-other/in-pref-aichi/article-a0005193/