🔖
3
min read
Next up in our Why I Love Japan series, which seeks to draw attention to some of our favourite artists, photographers, and creatives; all of who have a distinct interest in, and whose work is influenced by, Japan, we're excited to introduce Amélie Ravalec. A photographer and documentary filmmaker, Amélie's photobook, Japan Visions, gives a distinct and dynamic insight into her experience of Japan, as well as her interpretation of Japanese photography styles.
"There are many great bookstores and record stores where I found plenty of amazing art and photo books and rare records you can't find anywhere else."
What is your affinity with and experience of Japan?
I've had an interest in Japan for a long time. I'd originally planned to go in 2011 but then Fukushima happened. I finally went for the first time in 2017 where I travelled to Tokyo, Kyoto and Hakone and made a photo book out of it. I really loved Japan, there are so many aspects of it I enjoyed. There are many great bookstores and record stores where I found plenty of amazing art and photo books and rare records you can't find anywhere else. Japan is also visually fascinating, you can see weird and beautiful things everywhere you look, which is what I tried to capture in my book. I also love Japanese gardens and onsens, and the attention to detail they put in everything they do.
Has Japanese art influenced your work? If so, are there any particular artists or collections that you'd recommend other people check out?
A few years ago, I discovered Japanese photography, starting with Moriyama and the Provoke photographers of the 60s. I felt really drawn to their black and white, grainy and dark photographs which is an aesthetic I've always enjoyed. think the Japanese have really mastered the photobook as an object. The way their books are designed, most often with full-page photographs, without all the white empty space you find in most Western art books, the quality of the paper, the editing work… I also find that they don't tend to over intellectualise their work and often let the photos speak for itself, which I enjoy. Their tradition of great photobooks is still really strong today, with recent works such as Giancarlo Shibayama's book the Shibayamas.
From Japanese photography, I went on to discover Terayama Shiuji's work, which I find fascinating. Terayama was hugely prolific, working as a writer, filmmaker and playwright. He also did this photo book called La Photothèque Imaginaire de Shuji Terayama: Les Gens de la Famille Chien-Dieu, which is one of my favourite. I love Japanese graphic designers from the 60's onwards with artists such as Tadanori Yokoo and Awazu Kiyoshi and I'm also fascinated by Butoh. There are so many aspects of Japanese culture I love.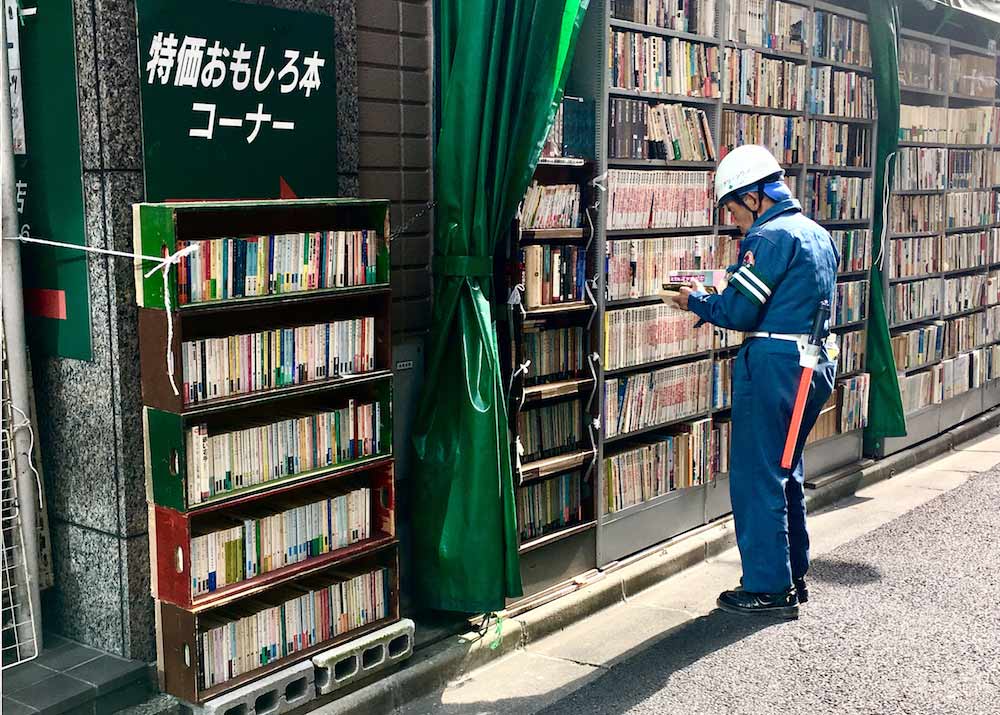 Can you tell me little more about your work, the inspiration behind it and it's connection to Japan?
Japan Visions is my first photo book. I've never worked as a photographer before or even particularly enjoyed taking photos, however when I went to Japan I somehow felt inspired to photograph everything (as opposed to filming, which is what I'd usually do). I think all the photo books I looked at in recent years inspired me to create my own, and as a film editor, I was also very drawn to the editing process of the book: which pictures to put with each other, what format to choose, etc. I also work as a colourist (colour retouching films and videos) so this inspired my work on the book as I wanted the photos to be edited to follow the order of a chromatic wheel.
What are you working on at the moment?
I'm an independent documentary filmmaker. I previously directed and produced two music documentaries, Industrial Soundtrack For The Urban Decay and Paris/Berlin: 20 Years Of Underground Techno. I'm currently finishing my third one, Art & Mind, which explores the connections between art, madness and the creative impulse spanning 500 years of art history. The film will be out in 2019.