🔖
7
min read
Of the four main islands that form the majority of Japan, Shikoku, the smallest island of the bunch, is largely unexplored in comparison to its neighbours. Shikoku is a part of Japan that has been historically more secluded than the rest of the country. However, in turn, this island has a much more rural landscape; it's home to serene coastlines, deep imposing valleys, and pristine waterways that have remained relatively unchanged, and is an environment that you might truly call idyllic.
Alongside this, is the benefit of preserving local tradition and culture. No matter where you find yourself in Shikoku there is a deeper connection to tradition than perhaps elsewhere in Japan even in its developing cities across its four prefectures. Therefore the island of Shikoku can feel like a world away from anywhere else and is a perfect getaway location.
Hopefully I've whetted your appetite for a trip to Shikoku.
To cement it even further let me introduce 12 things you should definitely see, do, and experience in Shikoku Japan.
Dogo Onsen is a hot spring resort that has existed in some form or another for at least 1000 years. It is the oldest known resort of its kind in Japan and is top of the list of things to do in Matsuyama City.
There are worse things to do than spending an evening soaking in the warm onsen waters and relaxing in dedicated tatami rooms with traditional snacks and drinks. Afterwards spend time walking the immediate vicinity in a traditional Yukata where numerous other onsens and ryokans populate the area.
While you will have already bathed the body, your mind will bathe amongst the site's historic charm and character that you cannot help but be in awe of. The architecture is second to none in terms of being uniquely Japanese in style and is a sightseeing spot in its own right.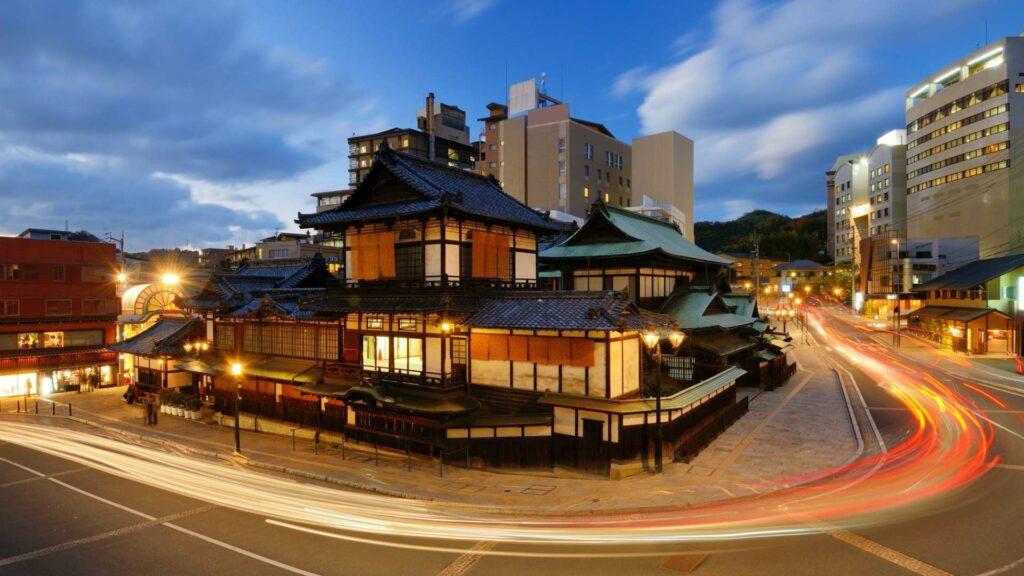 2. Zipline across the Shimanto river
Towards the southern end of Kochi Prefecture is the 120 mile long Shimanto river. Amongst the flowing waterway surrounded by picturesque hillsides is an unobtrusive setup allowing the chance to zipline across this beautiful landscape.
The experience will allow you to see the Shimanto river from both up close and from the air. Starting with a short trip by boat across the river to reach the starting point, you then ascend a short wooden platform giving great views up and down the surrounding valley before hurtling your way back across in a thrilling finale.
Although tucked out the way, the zipline is accessible by a local train which stops at Tōkawa Station on the Yodo line which JR Shikoku operates.
3. Gaze upon the Seto inland sea
While being an island has the benefit of an eventual 360 degree coastline, the northern portion looks across Japan's Seto Inland Sea and is often regarded as one of the most spectacular landscapes of the entire country.
With a northern coastline that stretches for approximately 190 miles; there are a lot of points where you can appreciate its beauty; however, there are a couple of points that may prove to be particularly special.
You can find the first two in the small city of Imabari: one being the Kurushima Straight Observatory that sits near the to the water's edge: the other being slighter further inland with a fantastic vantage point named the Chikamiyama Observatory. Towards the eastern end of the coastline there is also the Aji Ryuozan Park boasting unrestricted views from an already beautiful spot.
4. Explore Matsuyama Castle
In the heart of Matsuyama City, the capital of Ehime Prefecture, lies the spectacular Matsuyama Castle.
Sitting on an elevated bluff that overlooks the city, Matsuyama Castle dominates the area with its impressively imposing presence. Rather than a single structure, the site is a complex of gates, towers, walls, and keeps of which several are original dating back to its completion in the early 1600's.
Japanese castles are always an impressive site for those who enjoy viewing Japanese architecture and this one doesn't disappoint in that regard. It's also a location that is home to a number of Cherry Blossoms and is known to be a fantastic viewing spot in the spring.
The castle and its grounds are freely accessible to enter and explore, with a number of exhibits on display within its walls showcasing its history.
5. Climb the path to Todoroki Falls
After all the talk of natural scenery it would be a shame not to witness it — a trip to Todoroki falls gives you that chance.
On the east side of Shikoku island, within the bounds of Tokushima prefecture is a walking trail that leads to a valley of majestic waterfalls. Todoroki falls is actually the largest waterfall on the entire island which is accompanied by several other smaller editions.
This one-mile long walking route also encompasses a number of shrines, torii gates and bridges that creates a somewhat mystical environment amongst the lingering water spray.
The town of Kaiyo is the closest hub to begin your journey from, and the falls actually has a bus stop a short distance from the beginning which could prove to be convenient.
6. Visit Shikoku Mura/village
Over in the city of Takamatsu, the Shikoku mura, or Shikoku village, is an open-air museum showcasing Japanese architectural styles.
Here you can find various buildings and structures that date back to the Edo period to the present day, and highlights architectural features and characteristics. Taking a stroll around the site that spans 50,000 square metres across its entirety can be enjoyable in itself, as you enter and observe these immaculately preserved remnants of a different era.
7. Be at ease in the Ritsurin Garden
If you are looking for somewhere truly idyllic without venturing too far, a trip to Ritsurin Garden should be an absolute certainty.
This public garden is another spot that sits amongst the bustling city of Takamatsu, however, once inside, all traces of city life vanishes completely. This immaculately curated garden has everything from bridges to teahouses, and a network of ponds and streams so vast that you can partake in boat rides.
One of the most impressive features is actually its use of 'borrowed landscape' in which the forested hillside beyond the garden makes the space feel so much bigger and more isolated than it truly is and provides a stunning backdrop to the entire area.
In the north-easterly prefecture of Kagawa, you should certainly try the regional speciality of Sanuki udon. Compared to other varieties, Sanuki noodles are even thicker with a chewy texture while the broth is made from dry sardines.
But why stop at just trying this local cuisine when you can take part in making it?
In the smaller city of Mitoyo, a short distance from Takamatsu, is a place known as Udon House. Here you can spend up to two days learning the in's and out's of udon; visiting the farms that produce the ingredients; and of course indulge yourself in local and personally made udon dishes.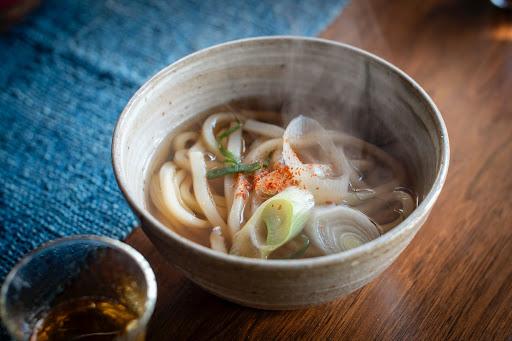 Mount Ishizuchi is the highest peak on Shikoku island and climbing it is a popular activity that you can perform.
At 1982 metres high, this activity isn't for the faint of heart; that being said, you'll find no better view across the prefecture should you make it to the summit. The journey to the peak makes use of rocky trails and even near vertical ascents that require chains to pull yourself up; although there is an alternate, longer route that may prove to be much safer.
10. Raft along the Yoshino River
If you are looking for something a little more active, then rafting is something you can find in Shikoku too.
There is a portion of the Yoshino River in the west part of Tokushima Prefecture that is perfect for rafting; both white water and calmer sections for those wishing for a gentle boating experience. The corresponding section of the river which is about 8 miles long has numerous organisations dotted up and down this single stretch of water.
Conveniently, the Dosan line of the JR network has stops all along the route as well.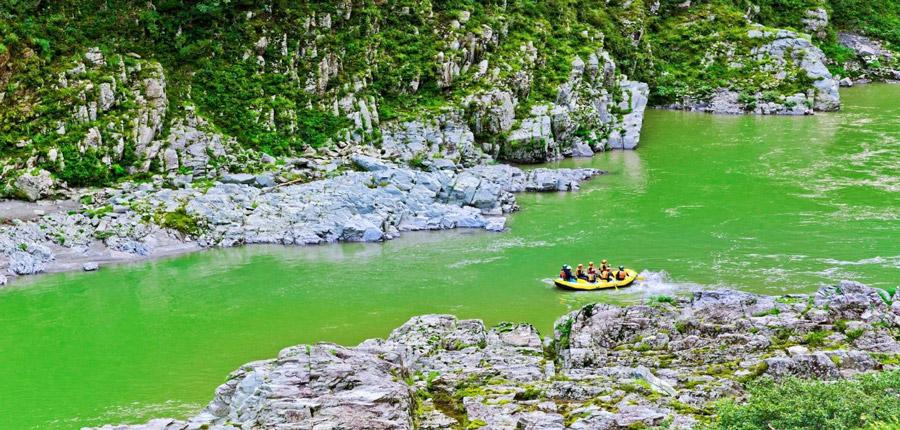 11. Experience the Nakatsu Gorge
With Shikoku's vast untamed landscape, it should be no surprise that there is another walking trail waiting to be discovered — this time it's the Nakatsu Gorge in west Kochi Prefecture.
This short walking route, although more remote, feels less so when you are there. Its a popular tourist spot and as such numerous facilities have popped up nearby. The route itself takes you alongside clear blue streams and between narrow rock formations that loom large overhead.
There are man-made paths and bridges here unlike before, which allows you to focus more on the scenery and maybe less on the work required to reach the destination. The final point along the route is the rewarding view of a delicate waterfall.
12. Start the 88 temple pilgrimage
You may have noticed that up to this point that no shrines, temples or anything of the sort have appeared. In truth, Shikoku island is home to well over 100 of these types of sacred sites, and visiting some is definitely recommended. However, here there is a somewhat unique way to appreciate their existence.
Shokoku is home to something called the 88 Temple Pilgrimage which involves following in the footsteps of the famous Buddhist monk Kōbō Daishi. It is believed these are places he spent time and trained during his life.
While some will perform the pilgrimage for religious reasons, for many others it's a fantastic way to see everything that Shikoku has to offer. The route snakes round the entire island through all the major cities and some fantastic sightseeing spots. The temples themselves are also great sightseeing spots in their own right with great architectural features and stunning scenery.
By the time that you finish you will have seen most of what the island of Shikoku has to offer and feel a great sense of satisfaction, even in a non-religious sense.