🔖
5
min read
When we think back on the Japanese fashion subcultures of the 1990s, we are transported back to 1997, when youth culture flourished through the adoption of Harajuku Fashion and street style which were a wonderful representation of what it was like to freely express oneself through fashion. Inspired by the famous Fruits Magazine tribute Instagram account, which features amazing archives of Fruits Magazine photographs, we wanted to honour the great monthly Japanese street fashion magazine.
When visiting Tokyo, it's impossible not to notice the many streetwear styles that are worn. This is known as Harajuku Fashion, and it is a popular streetwear trend in Harajuku. Harajuku is well-known for its Kawaii fashion and Japanese fashion subcultures such as Lolita, Gyuru, Decora, and many others. His streetwear style has been around since the 1980s and resonates with Generation X and Millennial babies. 
The popularity of Harajuku fashion and street style-inspired Shoichi Aoki, a Japanese street fashion photographer, to shoot a series of photos of fashionable youngsters for a magazine. Shoichi Aoki founded Fruits Magazine in 1997, which became the holy grail and a source of inspiration for many fashionistas. Unfortunately, manufacturing ceased in 2017, with  Aoki believing there to be no more stylish individuals to shoot in Tokyo.
Fruits Magazine flip through
A Tour around Harajuku Fashion Street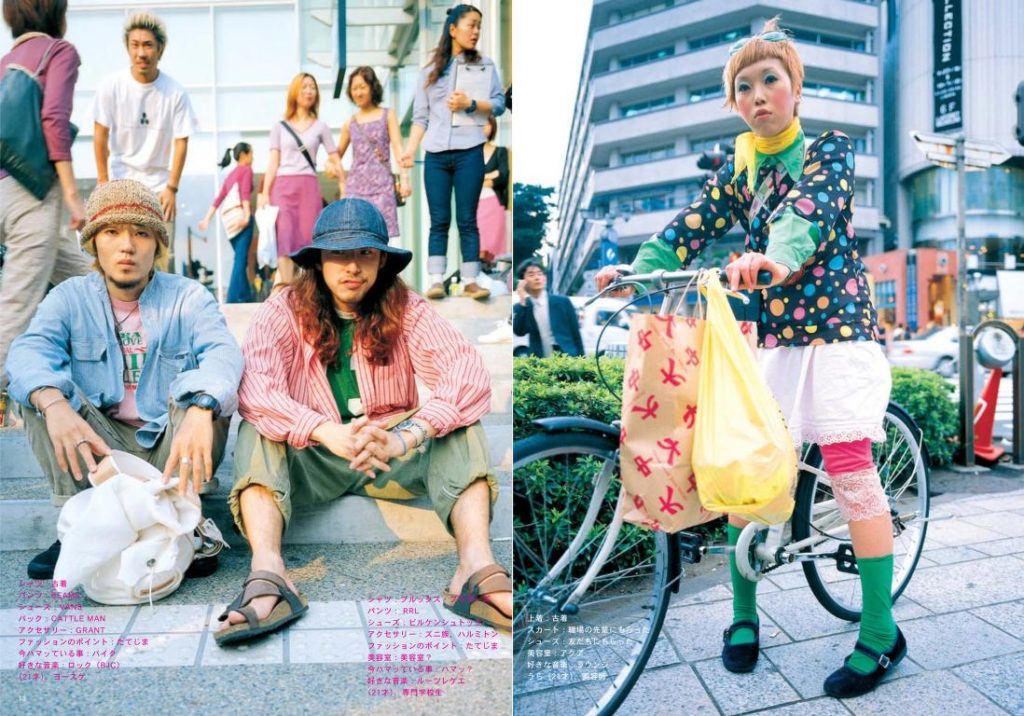 These series of photos are collections from the various volumes of Fruits Magazine. Shoichi Aoki captured moments of young street fashion in Harajuku's Fashion street Takeshita Dori (Takeshita Street), many of which reflect the various lifestyles and fashion subcultures of Harajuku.
Tokyo Street Fashion in 2021
For those unfamiliar with Harajuku fashion, "How did fashion evolve here?"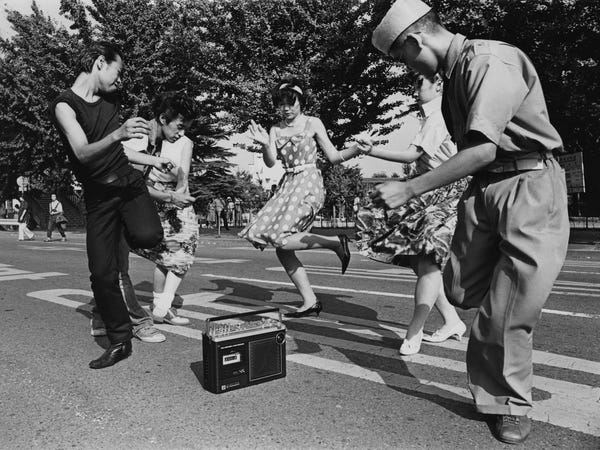 Humble beginnings and the American Influence
Actually, this streetwear style dates back to the post-World War II period, when Washington Heights, a housing for the United States troops, was established in Harajuku's Yoyogi Park. This resulted in the growth and incorporation of the American style in Japanese shops and restaurants in the surrounding area. The culture evolved as more landmarks, companies, and shops sprouted in Harajuku, establishing its distinctiveness and exoticness compared to other districts in Tokyo.
A Fashion District & Harajuku Tribes
This attracted photographers and designers who were drawn to this unique style. Harajuku became renowned for its special atmosphere as it developed into a more globally influential neighborhood. Harajuku's popularity also grew among designers and models who wished to live there, transforming the Harajuku area into a fashion district. As a result, more individuals from the middle and upper classes migrated to Harajuku. In 1966, a Harajuku tribal trend known as Harajuku-zoku developed, which was defined by college students from the middle social strata who donned ivy, continental, and mods as a fashion statement.
Not only that, but they have been seen driving about Harajuku in sports vehicles! Literally, enjoying life to the fullest. Moving on, the Izanagi Keiki emerged as another Harajuku tribe, and they produced a totally different environment packed with loud music and sports car racing that drew in a lot of young people.
Hokosha Tengoku: A Pedestrian Paradise
However, the Harajuku tribes departed in 1967, and the buzz in the Harajuku area subsided for the next 6 or 7 years. Individuals in Japan began to realise in the 1970s that some people didn't want to work for big corporations and would rather establish their own. This developed a trend in which many young designers would remain in Harajuku and start the "Mansion Maker" clothing shop, which quickly became popular due to their clothes fashion style.
As tiny shops began to appear on Takeshita Street, a fashion magazine featuring these types of apparel stores, with a special emphasis on Harajuku and its streetwear aesthetic, was established. These publications drew the attention of many young people to Harajuku and Takeshita Street.
Not only that, but in 1977, a Pedestrian Paradise named Hokosha Tengoku opened in Harajuku, allowing the district's young culture to thrive. The Pedestrian Paradise was held on Sundays when a section of Harajuku Road was blocked to allow young people in Japan to congregate. This drew a lot of young individuals who liked to dress up and show off their unique streetwear style, cute costumes, and Harajuku clothes. This was a way of life for them! All of this gave popularity to the Takeshita and Harajuku streets, which became recognised for their Harajuku clothes and young lifestyle.
The Decline of Harajuku Fashion
Unfortunately, all fads and fashions ultimately fade when new ideas join the scene and outweigh their attraction among young people. Harajuku fashion started to wane in the early twenty-first century, as fast fashion companies like UNIQLO gained popularity. With the present generation's fashion tastes shifting toward fast fashion, especially when it came to being price conscious about the clothing they bought. 
The decline may be attributed in part to the discontinuation of the Hokosha Tengoku, which offered a venue for young people to develop their sense of fashion style. Without it, some young people in Japan lost their sense of freedom and the lifestyle that they wanted to show others. 
This appeared to be the end of Harajuku fashion, but not for the older generation of Harajuku young culture. The spirit of Harajuku Fashion and its ethos lives on in many individuals who continue to dress in Japanese fashion subcultures like Lolita or Gothic fashion. Even now, many individuals cosplay and express themselves via Harajuku fashion and adorable clothes.
Shoichi Aoki and Decora Fashion
In one of his interviews, the founder of Fruits Magazine stated that the first two years of Fruits Magazine were what attracted him to the Harajuku neighbourhood and fashion. He mentioned his fascination with Decora, one of Japan's fashion subcultures. Decora Fashion was characterised by individuals wearing brightly coloured clothes and other ornaments on their heads and bodies. 
Decora was also seen as a juvenile style, with popular cartoon characters from the 1980s appearing on clothes and accessory prints. Since the distinctive look owed to the abundance of colourful accessories used, accessories were the main key to the fashion subculture. These accessories would be worn in the hair, on the arms, legs, face, or wherever else a piece of clothing might be worn. Although wearing so many may seem to others to be overbearing and unpleasant, there is no such thing as too many ways to express oneself in Decora Fashion.