🔖
6
min read
What's the occasion, you might ask? It might be a surprise when you find out how prevalent gift-giving in Japan is. No, it need not be the holiday season or your birthday for you to receive a kind gesture from a loved one, colleague or neighbour. While people in Japan do love to give gifts even on an ordinary day, you can be certain that it is very meaningful nonetheless. From the gift item to its packaging, every detail reflects the deep respect and care that people have for one another. 
What better way to make your gifts unique and special than to add a touch of Japan to it? Zusetsu just might be what you are looking for. Zusetsu is the latest Brand to join Japan Nakama, they offer gifting products beautifully crafted by Japanese artisans. To know more about them, let's first dive deeper into the Japanese gift-giving culture and see how we can try it out ourselves.
The Gift-giving Tradition in Japan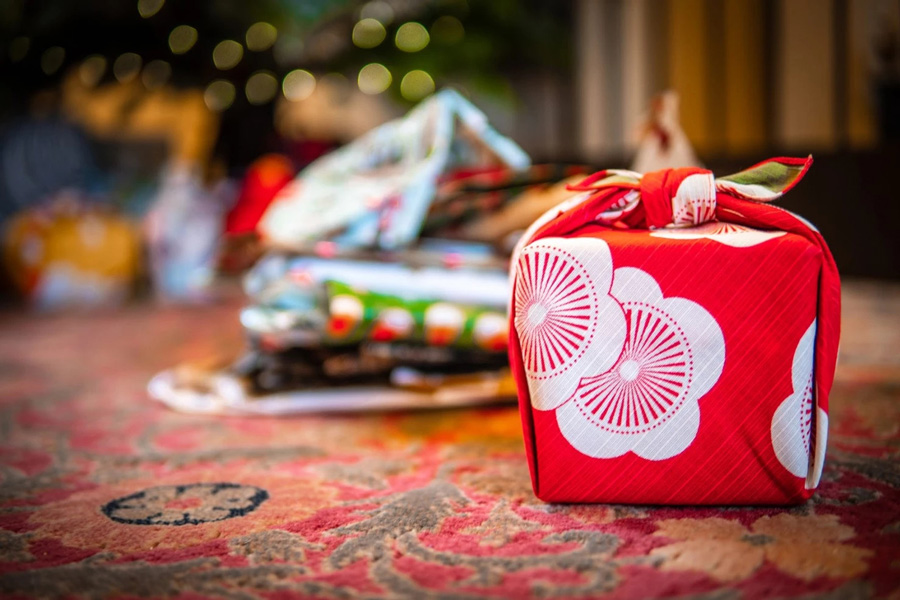 The Japanese Heart of Giving
Gift-giving is an aspect of Japanese culture that is strongly woven into values passed down from one generation to another. This contributes significantly to the nation's cultural identity as a society that values respect, gratitude, and indebtedness. The Japanese participate in these many gift-giving rituals because they sincerely want to create and deepen connections with people around them.
For the Japanese, it is more than just buying and wrapping presents for others, but it is an opportunity for the giver to express their appreciation towards the person receiving their act of care. Gift-giving can also be tedious when it comes to considering the complex rules and ethics that come with it. With this, people are also mindful of choosing the perfect thing to give and when the most appropriate time would be to hand it over.
When Do The Japanese Usually Give Gifts?
Unlike other countries, Japan has two major gift-giving occasions in a year:
Ochugen
and
Oseibo
.
Ochugen
Ochugen takes place during the hot summer season in Japan, usually spanning from the 1st of July until the 15th. This custom encourages you to remember and thank individuals who have assisted or cared for you. Gifts are given to individuals close to your heart serve as a token of appreciation for their friendship and all that they have done for you.
Oseibo
On the other hand, Oseibo takes place in December when the holiday season is at its peak all around the country. Gifts for Oseibo were originally intended for showing indebtedness in response to the concept of duty and obligation. Gift-giving is now valued in light of Western influences that introduced the Christmas holiday to the nation.
Different kinds of Japanese gifts that you should know about!
Japanese gift-giving defines many types of presents that can be exchanged on various occasions or situations. Omiyage, Temiyage, and Okaeshi are the most common sorts of presents.
Omiyage
Gifts that you buy for others before you return home from a trip. These can be products or souvenirs that are local to the place that you visited.
Temiyage
Gifts that you bring upon entering or visiting someone's home. This can be an act of courtesy towards your relative, friend, or host family who opened their doors to accommodate you. Though it is not an expected gesture, gifts from your hometown are very much appreciated.
Okaeshi
These serve as return gifts as an expression of thanks. When you give a gift to someone, they are compelled to return the favor by sending a simple token back. These can occur on ordinary days, but for ceremonies such as weddings and funerals, the hosts usually send out gifts to extend their appreciation for your support.
Behind Japanese Gift Wrapping Culture
For any kind of gift, it is crucial to remember that presentation is key. In Japan, thinking about how you wrap your gift is as important as thinking about the gift itself. It is common for people to use cloths as wrappers that are beautiful and sustainable.
Furoshiki is a square-shaped cloth that is widely used in traditional wrapping practices. The original purpose of Furoshiki is to allow people to carry their clothes into bathhouses. It also conceals and safeguards important items in the temple. Merchants used it to transport their goods from one point to another. 
Today, the quality of the fabric and artistic patterns in the cloth makes it known as a practical way of wrapping gifts. Compared to other materials, cloth tends to be more pliable which makes it possible to wrap irregularly-shaped objects. From gift boxes to sake bottles, you'll still be able to wrap with ease.
The Japanese Furoshiki technique gives numerous possibilities on how you can wrap your gift easily while making it look presentable. Similar to Origami, Furoshiki consists of different steps to follow in order to create unique knots and designs. Even with objects that have an unconventional shape, there is a wide range of folds that contain proper folding techniques beyond the standard or basic folds used for wrapping gifts.
Check out the Furoshiki Handbook on our Nakama store!
Furoshiki in Everyday Life
The advantage of having Furoshiki as a wrapper is getting to maximize its reusability. It can be used as a bag to carry your belongings, or it can be a fashion statement when you wear it around like a scarf. Choosing the sustainable option to wrap your gifts helps the environment, and it isn't difficult to learn at all! So grab a Furoshiki and take your imagination with you!
If you're interested in getting a taste of the world of gift-giving in Japan, you don't need to be there in order to do so! Zusetsu takes these elements of culture and tradition closer to you through these wonderful gift items crafted by Japanese artisans.
Shop the Furoshiki Collection
Cathy started Zusetsu in 2019 and runs it with business partner Yukki from their headquarters in a charming village in the English Cotswolds. They are both passionate about genuine Japanese Furoshiki, Tenugui and contemporary textiles originating from the traditional, creative heritage of Kyoto.
Zusetsu offers a platform for Japanese artisan abilities to be acknowledged by a wider audience. Zusetsu fosters awareness for Japanese and English culture by showcasing inspired designs from a variety of artists.
Products: Beyond Furoshiki
1.  Tenugui
Japanese Tenugui (手ぬぐい) are beautiful cotton wall-hangings, printed with a Japanese design to brighten up your home. There are all sorts of uses for Tenugui – from wall-hangings to lovely table runners. And just like Furoshiki, they can be folded and tied to create gift-wrapping, bottle wraps, and small bags. Pleating the fabric can create beautiful and interesting decorations too.
2. Ino-kichi Bags
Ino-kichi is an original brand of quality bags, purses, and other gifts made by a traditional fabric printing studio which is located north of Nijo Castle in Kyoto. There are different designs for luxury tote bags, shoulder bags, and purses!
3. Origami
This truly beautiful paper is a joy to create origami with! Traditionally, chiyogami patterns were hand-stencilled or silk-screened in small studios. The designs are inspired by kimono patterns, and they shimmer with gold.
4. Washi Tray
Beautiful and traditionally made Washi tray from Kyoto features a lovely illustration of a Maiko performing in the famous Miyako Odori. These little trays are perfect cup coasters. Excellent for holding small items, such as jewellery, keys, coins, or desk stationery. And because they are wiped clean, they are ideal for presenting your mid-morning snacks!
5. Komono
Miscellaneous items for small gifts that are handy for everyday use!