🔖
5
min read
Japanese anime comes in all shapes and forms. Yet, no one thinks about football as being a popular anime genre. Action, drama, fantasy, supernatural and a slice of life are the most genres.
With that said, some of the best anime series of all time have plenty of football references. It's probably because football sport is growing popular in Japan. The country's national team impressed a lot of fans during last year's World Cup after upsetting Germany.
In this article, we'll talk more about anime series inspired by the beautiful game. We'll also highlight some of the most famous footballers referenced in an anime or Manga TV show. Let's get started with some Japanese football anime.
Football has long captivated the hearts of millions of people throughout the world, but its popularity has increased dramatically in Japan, thanks in part to the anime adaptation of Muneyuki Kaneshiro's manga, Blue Lock. The series revolves around the titular Blue Lock, a top-secret football academy where Japan's most skilled players are brought together to train and compete for a spot on the national team. The plot follows Isagi Yoichi, a young and skilled striker, on his arduous road to become the world's best striker. Blue Lock has effectively captured the essence of the gorgeous game while while exposing it to a new generation of fans, thanks to its breathtaking animation, compelling plotlines, and innovative perspective on character development.
Blue Lock's appeal stems from its ability to depict the tremendous emotions and passions associated with football, a concept that connects with viewers all across the world. The series digs into the sport's psychological components, emphasizing the value of collaboration, determination, and resilience in the face of adversity. Blue Lock demonstrates the numerous ways in which football can bring people together and create personal growth by showcasing a diverse cast of individuals, each with their own distinct skills and characteristics. The show's amazing blend of football and anime has not only made it a cultural sensation, but it has also played an important role in cementing Japan's strong love for the beautiful game and a really good Japanese football anime.
Hungry Heart: Wild Striker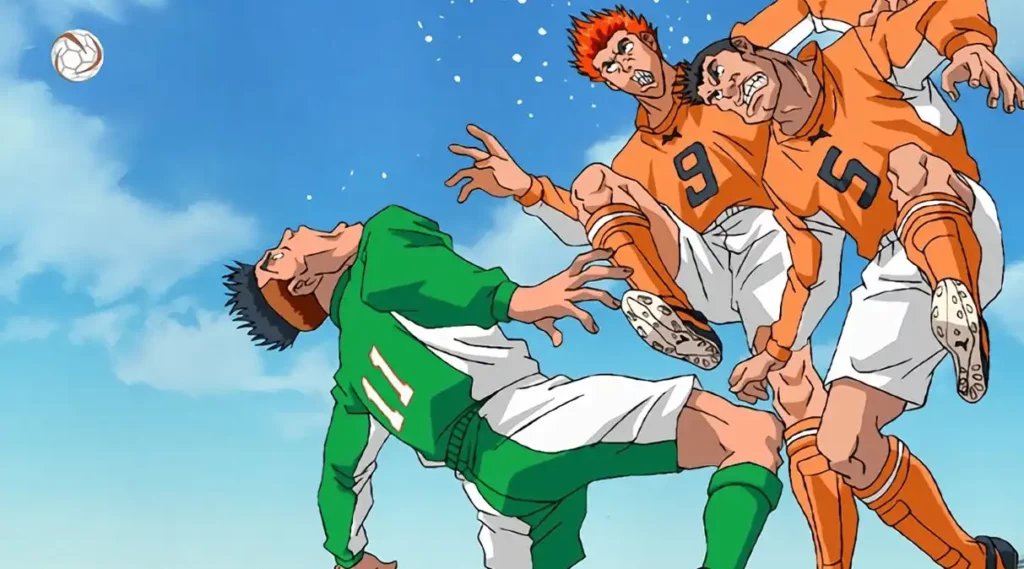 Wild Stricker is a Japanese football anime originally released in 2003, Hungry Heart is centred on Kyosuke Kano, an aspiring footballer. In addition Kyosuke has an older brother called Seisuke Kano, a famous player in Milan. Seisuke inspires his younger brother to become a football legend.
Unfortunately, Kyosuke isn't as good as his brother. When he fails to live up to the expectations of his friends and family, the teenager quits football. He dyes his hair and adopts a different, carefree lifestyle.
Kyosuke gets back to football after discovering he was an adopted child. What's more, his biological father was a blooming striker who never achieved his goals after dying in a car accident. This motivates him to join a local football institute as a coach. He later decides to play the game.
Kyosuke is lucky to play against legendary footballers like Rodrigo. Furthermore he even befriends Jefferson Sakai, an England-born goalkeeper. Although his team is an underdog in the league, it ends up winning the regional championship.
Shoot! is a classic anime series released in Japan in 1993. It revolves around a group of teenagers in love with football. The strength of this friendship makes the team so good that they get close to playing for the national championship.
Trouble starts when one of the friends, Kenji, involves himself in a local gang. His friends and opponents learn about it. And Kenji's team is forced to drop out of the qualifiers.
A few years after the team is dissolved, they reunite at a local high school called Kakegawa. Suddenly, their dream of playing football together is revived.
This is yet another classic anime series centred on the beautiful game. The show was inspired by the 1994 football World Cup in the US. It's not about Japan trying to win the world cup, though.
Instead, Soccer Fever is about trying to get the American public to love soccer. It starts with the main character, Jim Ackerman, looking at a large crowd of people at the inaugural ceremony.  
Jim knows soccer's popularity in the US would fade after the World Cup. He calls his old friend, Brian Thompson, who reluctantly agrees to help him write about football in a series of articles.
Brian and Jim decide to take things a notch higher by blogging about the sport online. At first, no one seems to care about their website. But with time, Americans fall in love with soccer.
Like every other boy in Japan, Hidemaru has a dream to become successful in life. Hidemaru knows what he wants to be when grows up. He just doesn't know where to start.
When he attempts to join a popular football academy, it turns out the school is bankrupt and has to be shut down. Although the boy can easily join a different academy, he decides to form a team of unknown players.
As you can guess, Hidemaru's challenge is keeping the boys focused on football. Also, opposing teams have advanced training facilities and coaches. He struggles to help his team win. But slowly by slowly, the team becomes better.
Inazuma is pretty similar to Forza! Hidemaru however It's about a local football team called Raimon that has just been disbanded. Not ready to give up on their dreams, the players move to Inazuma.
They meet an outstanding coach called Mr Yi who offers to train them. The team lacks funds. They have one shot at getting sponsored.  But they must beat a local team called Stella Academy.
To their surprise, Stella is an all-star team.  They end up losing their first friendly game 10-1. Despite the embarrassing loss, Raimon lands a sponsor. With funds flowing in, Raimon trains hard well enough that they beat Stella in a later match.
Captain Tsubasa: Road to 2002
It's 2001. The World Cup is a few months away from taking place in Japan for the first time. There's a football fever in the country and everyone wants to see the national team excel.
That being said, Captain Tsubasa takes a different route. It imagines a situation where all the local soccer teams merge to form a super team. Therefore, the new team has one goal: to dominate the national elementary championship.
The new team wins its first test despite the main player, Benji, getting injured. It wins a few more games before losing to Muppet, the best team in the league. Despite the loss, Tsubasa qualifies for the semifinals, where they win 4-3.
This anime is tragic and awe-inspiring at the same time. Two brothers, Kakeru Aizawa and Suguru Aizawa, both love football. Due to a traumatic experience, Kakeru is forced to quit football and pursue different passions.
Later on, Suguru is hit by a truck and dies. For some reason, his heart is transplanted into his younger brother Kakeru. The younger Aizawa suddenly likes football again. In fact, he becomes at football so much that he leads Japan to the country's first World Cup triumph.
Clean Freak! Came out in 2017. It warmed the hearts of many football fans due to the character's immense passion for the beautiful game. The main character, Aoyama, is a football prodigy who surprises many by joining an unproven football academy.
That means his team is an underdog in local and national champions. Therefore, not afraid to prove everyone wrong, Aoyama leads his new team to football glory by winning the national championship