🔖
7
min read
To the eyes of many, sports and anime have the visual imagery of a high school quarterback and computer science geek, respectively. One steps to the field, admired by everyone on campus; the other works in shadows and is burnt like a vampire heading out into the sunlight. Unfortunately, this stigma does not look like it'll change, as these stereotypes are carved into the world's natural order.
Although this is the case, that has not stopped the creation of a niche sports anime genre. Especially in Japan, where soccer and baseball are as popular as they are worldwide, there would be an audience when one sport and anime collide. Slowly, western professional athletes have been coming out saying that they love watching anime and going as far as plastering this love onto their in-game equipment.
In this listicle, we will be tackling the top 10 best sports anime to watch!
Haikyuu's characters are what arguably makes it the best modern sports anime. We have the bubbly golden retriever Hinata who is willing to overcome all obstacles to reach his goal. We have the cool, calm, collected duo of Kuroo and Kenma, who've grabbed the hearts of anyone even with their few dialogue lines. We also have the rough and tumble Nishinoya, ice king and certified baddie Kageyama, and the sexy and playful Oikawa; an entire list can consist of all of Haikyuu's characters! Fan fiction has also run rampant, with Haikyuu ships and memes all over the internet.
With four stellar seasons to date, and Haikyuu Season 5 rumoured to come out in a two-part movie, this volleyball anime is a must-watch for any sports anime fan. We haven't even mentioned its sleek animation sequences, with long-drawn, high-intensity volleyball matches that are nothing short of a chef's kiss. 
2.) Ping Pong the Animation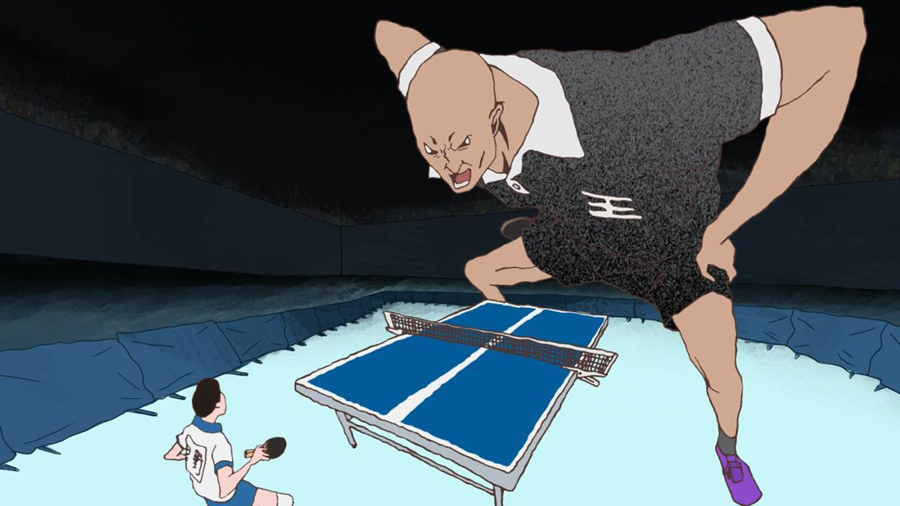 Ping Pong the Animation is not everyone's cup of tea. Some may be turned off by its unique art style that walks the fine line between Picasso and a 7-year-old in preschool art class. Others may find this to be too arthouse-y and overly profound. The choice of tracks used throughout the anime range from catchy elevator music to its punk-rock opening. Such is a typical work by renowned outside-of-the-box director Masaaki Yuasa.
Based on a manga, Ping Pong the Animation is an inspirational character drama about teen ping pong sensation Peco and the pressure he deals with falling in and out of love with the sport that captured his heart. It's a fascinating case study on how youth athletes deal with the rigours of competition and what drives them to be their best. Although not on Netflix, Ping Pong the Animation can be watched on Crunchyroll. Do yourself a favour and watch this one. 
Also known as Kuroku's Basketball, this show can be summarised as a modern-day Slam Dunk, but with powers in the form of extreme mental fortitude. A glow in the characters' eyes leads them to make the most powerful rim-rattling dunk off a defensive play. Like Haikyuu, its ensemble cast and quick-pace action are a visual spectacle that'll keep you entertained throughout its 75 episodes and a handful of movies.
Kuroko no Basket: Last Game is a must-watch movie for the series. Akashi and the rest of the Vorpal Swords take on the Jabberwock, a street basketball team that plays like the Harlem Globetrotters, in a flashy and intense match to cap off the series. In this actual Kuroko no Basket last game, it'll captivate you and make you want to experience the anime all over again.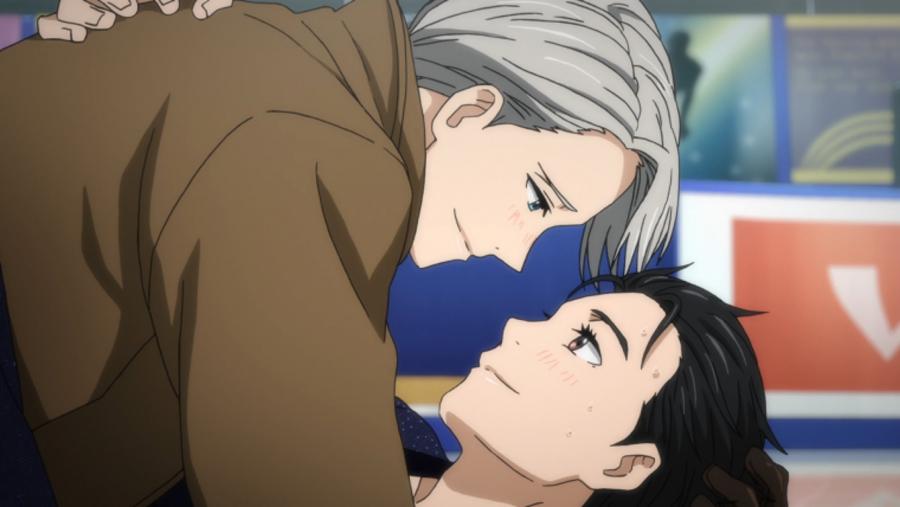 The ensemble cast is a common theme among the best sports anime to watch. Yuri!! On Ice's characters are among the top collections in sports anime and anime as a whole. When there are many resources online highlighting Yuri on Ice characters' MBTI to see who you are the equivalent of, you already know how unique and diverse they are.
Based on a manga, fans of the figure skating phenomenon rejoiced worldwide when it was first announced that it would be adapted by MAPPA, one of the top animation studios. Its popularity has not decreased, with a movie called "Yuri on Ice The Movie: Ice Adolescence" announced. With no season 2 yet, experience Victor, Yuri, and all the characters through its 12 beautifully animated episodes and fanart all over the net.
Free! the anime, not free anime, is another one of those shows whose strengths lie in its characters. This one, though, offers much more than just personality; it provides a steady diet of washboard abs in a wet and wild experience that brings its A-game when it comes to fan service. Capitalizing on this side of the media was a done deal the moment it was first conceived to have swimming-themed anime.
Whether it be slowed-down action shots of Free's Haru or Nagisa taking the plunge into the relay race or close-ups of the rest of Iwatobi's swim club as they go through their freestyle strokes, you know precisely what you'll get. It's a bonus that it is animated by Kyoto Animation, one of the industry's finest. You'll be treated to a buffet, a visual spectacle with explosive eye candy. Watch your insulin levels, though.
Hajime no Ippo might be the purist's best sports anime. It is everything and a sports anime: a romance, comedy, and inspirational drama with loads of substance. Hajime no Ippo's manga holds as much weight as its anime and is a must-read; both are pound-for-pound champions and are definitely at the top of the sports anime charts.
It has a sequel, Hajime no Ippo: A New Challenger, which follows Ippo's reign as defending champion. The action never runs dry throughout its roughly 100-episode runtime, as it slowly introduces different moves, twists, and opponents to keep it fresh. This sports anime pulls no punches, as with its crunchy sound design, you feel every blow delivered in the ring.
Ao Ashi is the newest anime on this list, having just been released last season. We've established throughout this last that what makes a great sports anime is its characters and a sprinkling of other anime tropes. Ao Ashi does that – and more – vaulting it to the top of modern sports anime charts.
Released in the Spring of 2022, Ao Ashi has received very positive reviews. The show also has a crucial trope for sports anime: the team muse. Hana plays the cute freshman character who roots for the squad and slowly develops a love interest for one of the players. Soccer is one of the most popular sports in Japan, with the National team constantly competing with the best countries in the world. Ao Ashi is a similar, motivational story that is well worth a watch, being so new to the scene.
Another one for the veteran weebs, Slam Dunk, is considered the grandfather of sports anime. The reason it isn't as highly recommended is precisely that: it has not aged well. Conceived in a time when people had way more time than now, Slam Dunk is filled with filler episodes and scenes that last much longer than they should. Some matches go multiple episodes while pacing issues abound with random flashbacks taking away from the speed of the basketball game. This is where the upcoming Slam Dunk movie might be an alternative to consider for those who haven't seen the original, given its condensed nature.
The Slam Dunk manga might be a better option to go through it because readers can go through the story faster than the dated, snail-like pace of the anime. Regardless, it's a tale as old as time for young boys to reminisce about their carefree high school days playing sports with their mates like the Slam Dunk characters. Again, want a modern basketball anime? Kuroko no Basket might be the better option, but it's always good to pay respect to your elders.
Major, just like Slam Dunk, is one of the classics of sports stories. What sets it apart is that even if the original manga was released around the same time as Slam Dunk's in the early 90s, the anime aired a decade later, making it a bit more modern and tailored to standard anime conventions. Regardless, Major's anime is still a long ride with over 6-seasons and 154 episodes of baseball content, as well as Major 2nd, the sequel to the original, which aired only 2 years ago.
If we're talking about sports in Japan, baseball is the most popular based on many surveys. Japanese baseball players easily find their way to the big leagues in America, with many marketable Japanese athletes, such as arguably a top 3 player, Shohei Ohtani, routinely among the best players in Major League Baseball. This unsurprisingly has led to the anime Major being one of Japan's most in-demand sports animes.
Chihayafuru is the most unique on this list, as not only is its sport not really known, but it also leans more towards the anime aspect of the spectrum. This one will appeal more to the standard weeb, as it has your typical waifus, features a plot that leans heavily on romance, and is told around a traditional Japanese sport in the form of Karuta. Gaining popularity from its manga, Chihayafuru has seen its versatile story reach 3 seasons, with die-hard fans praying to anime gods that a Chihayafuru season 4 gets announced.
Its popularity in Japan has led to the creation of the live-action movie Chihayafuru: Kami No Ku, which adds to cementing its spot in all three media forms television, movies, and manga. The story went out gracefully this past August 2022, with its manga ending being a sweet serenade to fans who have supported the series throughout its fairytale 15-year run.
Did your favourite sports anime make this list? Out of all these, which do you think is the best sports anime to watch? Whichever sport you play, from basketball to football, to boxing, and even Karuta, there is something for everyone to appreciate. Enjoy the narratives, and make new friends along the way in the form of all these great characters.