🔖
6
min read
Maquia: When the Promised Flower Blooms (or Sayonara no Asa ni Yakusoku no Hana o Kazarō; literal translation 'Let's Decorate the Promised Flowers in the Morning of Farewells') is a touching fantasy epic about motherhood, ageing, prejudice and above all love.
One of the biggest surprises of 2018, the directorial debut of writer Mari Okada (screenwriter for A Whisker Away, Anthem of the Heart, Anohana: The Flower We Saw That Day, Hanasaki Iroha) first premiered in Japan on February 24, 2018 as a general release and outside Japan on March 4, 2018 at the Glasgow International Film Festival. It was produced by P.A. Works (their first feature-length film production) and features character design from Akihiko Yoshida (Final Fantasy XII, NieR: Automata) and music from Kenji Kawai (Ghost in the Shell animated film, Fate/Stay Night 2006 series, Mobile Suit Gundam 00). Tear-jerkingly lovely in places, with some engaging battle scenes, her female-centred film is set in a world of dragons, ancient clans and medieval-looking armies not dissimilar from those of JRR Tolkien and George RR Martin.
The elf-like people of Iorph live a peaceful but secluded life far away from the lands of men, weaving the events of each day into fabric they call hibiol. The vertical threads are the passing days while the horizontal ones are the stories of mankind. Known as 'The Clan of Separated' and treated as a living legend, they live for centuries, yet maintain the appearance they had in their late teens.
"You cannot fall in love with someone from the outside. If you fall in love, you will become truly alone."
The above was told by the clan elder to the orphaned Maquia (Manaka Iwami) – the film's heroine, a melancholic 15-year-old girl with a quiet demeanour. That very night, an army from the ruling Mezarte Empire attacks the village with their legendary dragons, known as renato. They have long used the renato as their symbol of power, but a disease has afflicted the creatures and it is slowly killing them one at a time. In search of a new symbol to prove their 'divine' status, the Mezarte king sends his soldiers to capture an Iorph and discover the secret to their long life. Amidst the despair and chaos, Leilia (Ai Kayano), the most beautiful of the Iorph girls, is kidnapped by the Mezarte, and Krim (Yūki Kaji), a young boy who loves Leilia and who Maquia yearns for, goes missing. 
By luck Maquia manages to escape, but loses her friends and her home. As she wanders through a dark forest traumatised by the massacre of her people, she happens upon a camp of travellers, all slaughtered by bandits save for a lone baby. She pries the crying child from its mother's rigid grip and sets her purpose in life to protecting and raising this child. Adopting Eriel (Miyu Irino) as her son, a child raising a child, this sets off a generation-spanning saga between a girl who never ages and a boy who will continually grow up.
The plot unfolds over the course of a lifetime: not that of Maquia herself, but of the baby boy. 
The first half of the film follows the hardships Maquia faces as an adolescent mother, fortunately befriended by kind young widow Mido (Rina Sato) who is raising two little boys of her own. But this idyllic interlude among the golden wheat fields must end, as the villagers begin to note with suspicion that while Eriel is growing into a normal child, Maquia remains as youthful as she was when they arrived. Out of necessity the pair settle into a rhythm of moving every few years, sustained by mutual love and devotion that is only really tested when Eriel reaches his teenage years and begins to understand that Maquia is not his 'real' mother. 
As the era changes, the bond between them changes too and eventually Eriel leaves Maquia's side to pursue his own life. As the two live their lives independently, facing their own challenges, a war commences in Mezarte which finds mother and son on opposite sides of the battle field. As they both struggle against adversity their relationship is tested to its limits and their love for eachother redefined. 
For all the growing prevalence of young women protagonists in Japanese animation
(Suzume no Tojimari (2022), Bubble (2022), Belle (2021), Violet Evergarden: The Movie (2020) to name a few), female directors remain something of a rarity. Following Naoko Yamato's A Silent Voice (2016), Maquia: When the Promised Flowers Bloom became just the second anime feature directed by a woman to receive a UK theatrical release.
A couple of years ago, ex Studio Ghibli producer Yoshiaki Nishimura controversially brushed aside the idea of hiring a female director at the legendary studio. In an interview with the Guardian, he declared that 'women tend to be more realistic and manage day-to-day lives very well. Men on the other hand tend to be more idealistic – and fantasy films need that idealistic approach' (a comment which he later apologised for). Although this sentiment is not universally shared within the industry (in fact, Your Name director Makoto Shinkai heavily praised Okada's movie on his Twitter account when it was released), with this ambitious debut, Mari Okada – a veteran screenwriter of the industry and winner of the 16th Animation Kobe Award – clearly proves Nishimura wrong.
What was singularly distressing about Nishimura's comments was how they seemed informed solely by dated, binary gender roles than from any actual personal experience (it's not like Studio Ghibli has a history with directors of different genders that Nishimura was forming his opinion from, they have exclusively been male). That being said, nothing happens in a vacuum, and cultural context is undeniably important, but the notion that women specifically are not suitable for directing fantasy films — despite the impressive legacy of manga work from illustrator-writers like Keiko Takemiya (Toward the Terra) to Hiromu Arakawa (Fullmetal Alchemist) and more broadly the literary contributions of writers such as Ursula K. Le Guin (Tales From Earthsea) and Octavia E. Butler (Bloodchild) — speaks to a much larger problem. Like any form of discrimination and bias, it's self-perpetuating, which makes diversity and representation all the more vital to move beyond the 'Male Director's Club'.
Ultimately, the best weapon for weakening the ill-conceived rhetoric of the Yoshiaki Nishimuras of the world is more movies made by more diverse filmmakers, which luckily is exactly what appears to be set for the not so distant future. It was announced last year by MAPPA (animation studio known for hits like Yuri!!! On ICE, Attack on Titan: Final Season and Jujutsu Kaisen) that Okada is returning to direct her second feature film titled Alice and Therese's Illusion Factory (Alice to Therese no Maboroshi Kōjō). The film is likely to be released in 2023.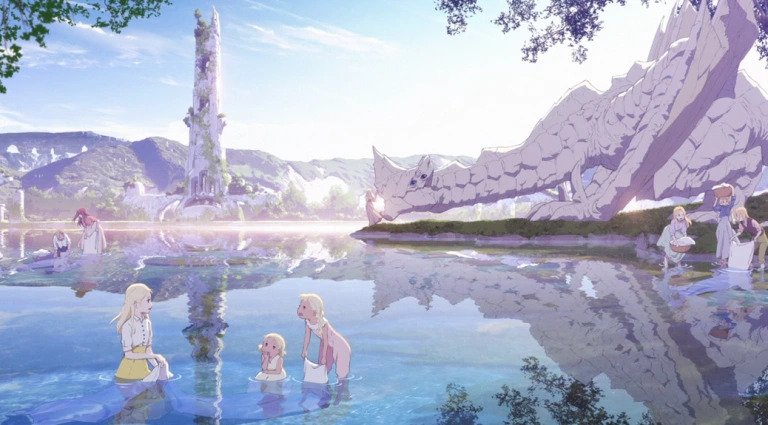 Okada's background as a screenwriter comes across in this adeptly constructed chronicle of Maquia's relationship with her adopted son. If there is occasional confusion, it is due to the vast time span covered and the plethora of peripheral figures popping in and out of the narrative. The animation is impressive, with sweeping yet detailed landscapes and beautifully drawn locales. The characters themselves can seem a bit generic though; they adhere to the anime standard of paedomorphic features and clear eyes – though the storyline provides some justification for this, since the Iorph characters' physical form becomes fixed once they reach adolescence.
At times though the softness of the film's core message about motherly sacrifice can become a bit cloying so wisely there are rich subplots that add life and texture. There are three subplots in total. The most important is that of the kidnapped Leilia who is forced to marry the Mezarte prince and bear his child. Her captivity parallels the story of the dragons, themselves the last remnants of a once-proud race, who have gone nearly extinct having been enslaved by the Mezarte. This subplot provides cunning commentary on the subjugation of other races by colonising powers, as well as a critique of bloody warfare which is particularly provocative given Japan's controversial history of militarism.
The other subplots of Krim and his quest to rescue Leilia and finally the involvement of other nations in an ensuing war are both listless and lacking in emotion that permeate as deep as the main plotline. A man out to rescue his lover for decades; warring nations on the offensive – these stories should hit hard, just like the primary thread, but they don't. The viewer is left to make many assumptions and fill in many gaps.
All things considered though, Maquia: When the Promised Flower Blooms is executed well enough to recommend itself despite these critiques. It is clearly aimed at a young to mid-teen demographic, but its underlying theme – that the maternal spirit is eternal and cyclical and endures in people's memories right up until the point of death – results in some undeniably affecting moments.  The ethereal animation, skillful storytelling and purposeful score are all beautiful. The only thing not so beautiful is the ugly-crying its shattering finale induces.
Where to Watch Maquia: When the Promised Flower Blooms
Available to rent on Google Play, Amazon Prime, Apple TV and Youtube.