🔖
6
min read
Japan rightly holds the reputation of being one of the tastiest and most popular cuisines on the planet. But while many across the globe stuff themselves silly with irresistible Japanese food on a daily basis – there's one food that outshines the rest in its simplicity and tasty brilliance. We're talking about the Japanese dumpling: otherwise known as gyoza.
Gyoza has you rushing out of work early desperate for a bite – and leaves your taste buds tingling for hours. Simply the smell will drop your jaw to the floor faster than you can say 'Japanese dumpling'.
Here's all you need to know about this delicious delicacy in our Japan Nakama guide to gyoza.
Gyoza are dumplings. A thin wheat flour pastry encloses the main filling (usually pork) and vegetables, making up the dumpling. There is an endless number of flavorsome fillings to gorge on; a classic combination being pork minced meat with chopped cabbage, green onions, chives, garlic, and ginger. But to mix it up: try shrimp, beef, chicken, or cheese – and for vegetarians and vegans – kimchi, soybeans, tofu, or shiitake mushrooms can act as your main filling.
Whatever's inside, enjoy sinking your teeth into these soft, succulent semi-circles sent from heaven. A true comfort food.
Importantly, gyoza itself is light on seasoning and so presented with a dish of delicious dipping sauce. Our guide to gyoza recommends the classic combination of a 1:1 ratio of soy sauce and vinegar, but sesame sauce and rayu (chilli infused oil) can also feature.
Gyoza: Inspired by the Chinese dumpling
Credit must go to the traditional Chinese dumpling, a.k.a. 'jiaozi' – dating back as far as the Tang dynasty (618–907) – for providing the inspiration behind Japanese gyoza. During the Manchurian war (Sep 1931–Feb 1932), it's believed the Japanese military occupying China simply couldn't get enough of these delicious dumplings and so decided to create a new version for themselves.
Gyoza was born: the Japanese dumpling with a thinner pastry wrapper, finer chopped stuffing, different texture, and more garlicky taste than the Chinese dumpling.
What types of Gyoza are there?
A guide to gyoza must mention yaki gyoza. Easily the most popular and frequently served type of gyoza, yaki gyoza effectively means pan-fried. But it's a little more complicated than that. One side of the gyoza is beautifully browned in the pan before water mixed with corn starch is added, and a lid placed on top. The consequent steam makes the gyoza outrageously soft, juicy, and easy to bite into. The lid is then removed and the gyoza continues to fry for a moment or two. The end result? A crispy browned bottom with the rest of the dumpling mouth-wateringly succulent. Normally served crispy side up, with dipping sauce and rice – and best enjoyed with a cold beer.
Nakama suggests
A niche but nonetheless delicious type of gyoza. Sui gyoza is boiled in water or soup broth and then served in a light, seasoned broth. These are slightly more tender and chewy than traditional yaki gyoza and can be found in more upscale or specialised gyoza restaurants, or made at home.
Deep-fried in hot oil, age gyoza are just as scrumptious as they sound. A decadent treat, these are the real comfort food – with enough oily grease to eradicate any hangover. These come fried until crunchy and served piping hot; so wait a moment before you dive in … if you can.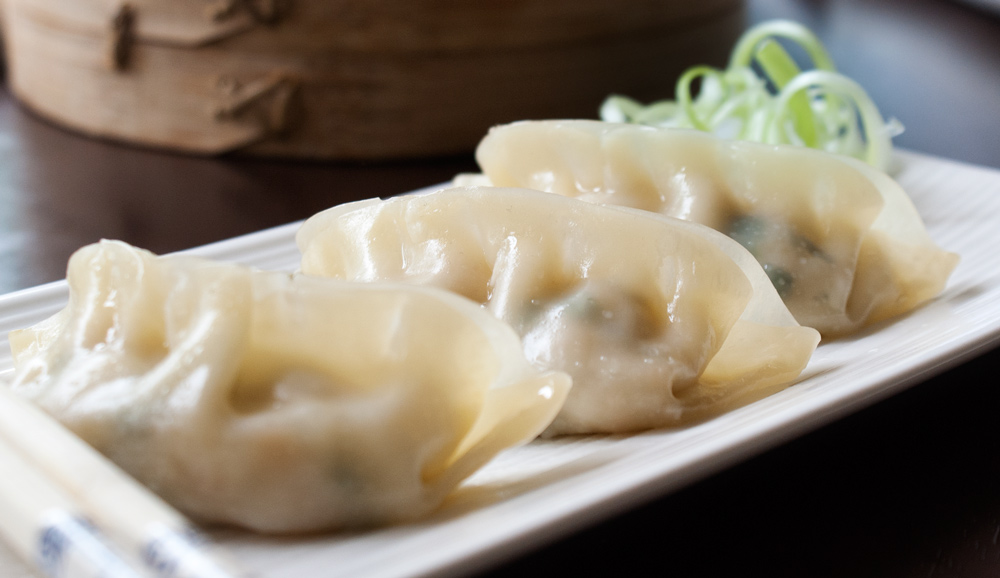 Mushi gyoza is traditionally steamed in a bamboo steamer and presented to the customer the second it's done. This gyoza is softer, chewier and more tender than other types, can vary in size and shape, and present a healthier alternative to the deep-fried (age gyoza) or traditional pan-fried (yaki gyoza) versions.
Otherwise known as 'winged gyoza', Hanetsuki deserves a special mention in our guide to gyoza. These are pan-fried (yaki) gyoza that are stuck together by their crispy bottoms. Often served with beansprouts resting delicately on top. What we're looking at is a delicious stretch (or 'wing') or gyoza glowing in crispy brilliance that's just dying to be torn apart and devoured. You know what to do…
In one magnificent mouthful. Simple. Don't hold back. Pick up with chopsticks, dip in sauce, and dig in. The crispy brown crunch and soft gyoza fillings contrast wonderfully, combining beautifully with the delicious dipping sauce and flooding your mouth with a burst of flavours from the second you bite in. And here the addiction starts. With traditional yaki gyoza, remember to dip the soft (non-fried) side in the sauce in order to soak up as much as possible.
People particularly love gobbling up gyoza with a drink after work (beer, highballs, or wine in particular), occasionally as a starter, but mostly as a main – either just with sauce or a cheeky side of rice. Portions normally by the dozens and half-dozen: with 6 dumplings costing anywhere between ¥200 and ¥800 (roughly £1.50–£6).
Japan's 'Gyoza Towns': Utsunomiya and Hamamatsu
Gyoza is a religion – no: an obsession – in the cities of Utsunomiya (in Tochigi Prefecture) and Hamamatsu (in Shizuoka Prefecture). Earning them the nickname 'Gyoza towns'. Every year, the two compete for the title of Japan's 'gyoza capital' – with Utsunomiya reclaiming the crown this year after a two-year absence. Incredibly, the average Utsunomiya resident spent ¥4,359 (£32) worth of gyoza last year, compared to ¥3,506 (£26) per person in Hamamatsu.
Situated 100km north of Toyko, Utsunomiya hosts a gyoza festival every November and proudly displays a gyoza statue, 'Venus of Gyoza', outside its railway station. And despite being a city of just half a million people, Utsunomiya tourism drives a staggering 9 million visitors into Tochigi Prefecture every year.
Hamamatsu is similarly obsessed: home to over 300 gyoza outlets around the city. The 'Hamamatsu Gyoza Society' circulates a gyoza map pointing out particular hotspots, but anyone craving simply a taste can find gorgeous gyoza on every street corner. Here in Hamamatsu: pork, cabbage, and onion make up the most popular filling.
For an authentic tasting guide to gyoza, visit one of these two gyoza towns!
Many heads to food markets, ramen restaurants, Chinese restaurants, specialist gyoza bars, pop-up stalls, supermarkets, and even off-licences for a gorgeous taste of gyoza. In Japan, 'izakayas' (casual after-work drinking and dining bars) provide the perfect setting to put away plates of gyoza until the early hours.
Utsunomiya Gyoza Festival
Here thousands of finger-licking foodies flood in for a priceless culinary experience. First hosted in 1999, look forward to sampling stalls from over 20 of Utsunomiya's finest gyoza places. Pan-fried, deep-fried, and boiled gyoza are handed out at breath-taking speed as locals urge festival-goers to try as many different gyoza types as possible. Better, it's just 3 gyoza for just ¥100 yen with plenty of jazz music and entertainment on the side. Although exact dates are not yet confirmed, the festival historically falls on the first Saturday and Sunday) of November. More details are expected to be released soon.
Address: Hommarucho, Utsunomiya Castle Ruins Park, Utsunomiya Tochigi Prefecture.
Gyoza-lovers will descend on Moricoro Park (also known as Ai-Chikyuhaku Kinen Koen) in late March 2021 (exact days yet to be confirmed) for the All Japan Gyoza Festival. A festival aptly named because here we see locally sourced ingredients from countless different prefectures beautifully fashioned into different gyozas. Feel your stomach rumble at the prospect of sampling gyoza from the best of the Tōkai region, and of course, Utsunomiya and Hamamatsu.
Address: Moricoro Park 1533-1 Ibaragabasama, Nagakute, Aichi, 480-1342
Gyoza Festival Tokyo Nakano (28 October – 1 November 2020)
Since its birth in 2016, 'Gyoza Fes' in Nakano's Shiki no Mori Park has been a massive hit. Just a 10-minute stroll from Toyko Metro Nakana station, during this 5-day festival endless types of gyoza, are enjoyed from 11am to 9am every day. Entrance is free but gyoza tickets are a little more expensive at ¥600 each (which you need to purchase before entering if you don't have a form of e-payment). We promise it's worth it: you get to tuck into countless types of gyoza not native to Toyko – even including some wrapped in cheese fondue.
Address: Nakano Shiki no Mori Park Event Area, 4-13 Nakano, Nakano City, Tokyo 164-0001
London's Dumpling Festival! (28–30 August 2020)
That's right. It's London's turn to celebrate dumplings!
To complete our guide to gyoza: a dumpling festival is coming to London, brought to you by FeverUp.
Tucked away in the heart of vibrant East London, caressing the water's edge, lies Hoxton Docks. It's here that, from 28–30 August, foodies will flock from around the capital and beyond to tuck into a tantalising variety of Asian dumplings, served from sweet-smelling pop-up bars.
But that's not all. Ready yourself for the FeverUp All-Star Jazz band and a lively DJ set to get you dancing through the weekend. This is a party – and gyoza is at the heart of it.
What are you waiting for? Get your tickets here.
More information to follow.