🔖
3
min read
Double Method, by photographers Tokyo Rumando and Hideka Tonomura, their exhibition takes a truly intimate look at the concept of reality through the eyes of the photographers; both of whom have experience of Tokyo's adult entertainment industry.
Both photographers' work is raw, honest, and provocative; placing them, rightfully, at the epicentre of a ground-breaking generation of photographers capturing their experiences of modern Japan. Both Rumando and Tonomura mention a feeling of needing to forge their place within what is still a male-dominated environment. Their exploration of challenging human issues is a testament to their unrelenting desire to use art as a medium that transcends the problems of daily life.
The collaborative collection, titled 'Double Method' is intended to examine the contrast between reality and fiction. Despite both burring lines between fantasy and reality,  Rumando and Tonomura's photographs approach this from starkly contrasting angles.
"Often explicit and always thought-provoking, Rumando seeks to explore topics which include gender, identity and humour."
Rumando seeks to explore the relationship between photography and performance through her series of nude images. Often explicit and always thought-provoking, Rumando seeks to explore topics that include gender, identity, and humor. Her series 'Rest 3000, Stay 5000,' captured in Japanese love hotels, intentionally combines aspects of fiction and reality which leave the audience feeling uncertain about the factuality of her work.
Looking back on her life, Rumando describes her view of the past as fantasy and her desire to explore her sense of self-image as well as the connections between her own life, her experiences as a model and stripper, and the happenings of an underground adult world.
Rumando's decision to present her exploration of these themes through polaroid photography again pays homage to the blurred lines between what is for her a mode of self-expression and a tool for promoting herself as a model and stripper.
Tonomura describes a distinct feeling of having no choice but to photograph both the epic and mundane moments of her life; from her mother's love affair to her personal experiences working as a hostess. She uses photography to intentionally capture a distorted vision of an uncontextualised, unhinged reality and in doing so reveals a somewhat vengeful attitude towards herself.
Particularly striking is Tonomura's 'mama love' series, which is split intentionally into two halves. The first half, a series of black and white stills, explores her mother's love affair. Intentionally focusing attention on her mother, Tonomura obscures the lover's face, again highlighting the extent to which painful personal experiences shape her work.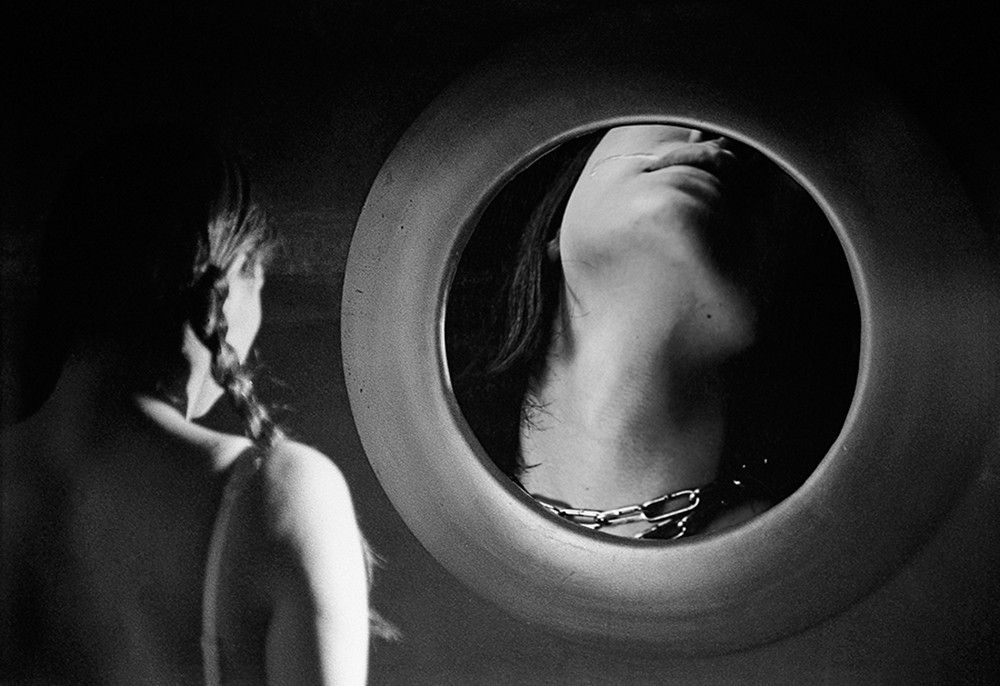 When asked how she persuaded her mother to agree to be photographed, Tonomura reveals that she resorted to a threat of knife attack. Whilst this mother-daughter dynamic is perhaps confusing to an audience, it is worth noting that it is intended as a statement of affection.
In the second half, this time shot in colour, Tonomura's mother is seen counting money for an unpaid loan. It is through the depiction of these challenging moments and exploration of the often ugly realities of family dynamics that Tonomura's work is most successful.
For Tonomura, the 'characters' depicted within her work are all real and within her. It is at this point at which they are photographed that they become a fantasy.
Double Method can be described as nothing less than brave in its desire to push boundaries and grapples fearlessly with the complexities of life. The greatest of respects should be paid to both Tokyo Rumando and Hideka Tonomura. Special thanks to the Daiwa Foundation, whose exhibition notes and recent artist talk inspired this article.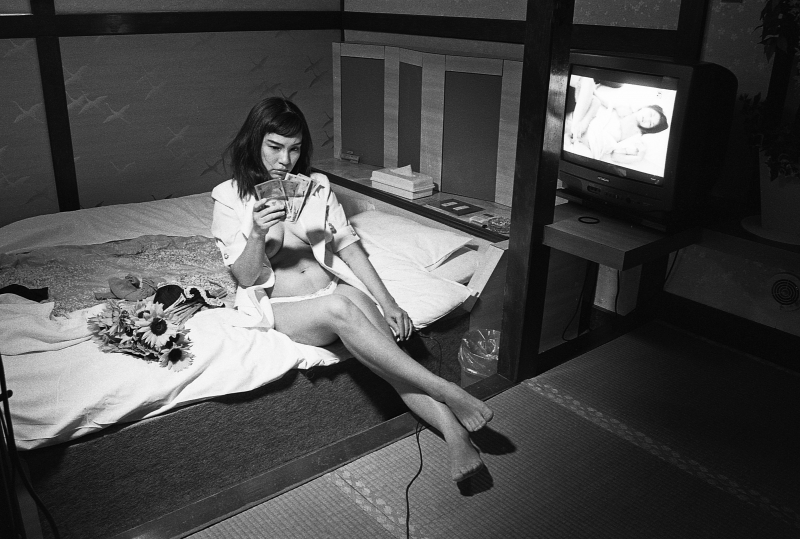 If you liked the sound Double Method and want to look further into the work of Tokyo Rumando or Hideka Tonomura's, take a look at their Instagram accounts.