🔖
6
min read
After almost 30 years since its release, why is Sailor Moon still popular amongst people around the world? Pretty Guardian Sailor Moon, or more commonly known as Sailor Moon, is a famous anime adaptation of Naoko Tekeuchi's manga series of the same title. The first edition of Tekeuchi's manga, which ran from 1992 to 1997, had 18 volumes and covered 52 acts altogether. The next edition, which was labelled as the "Renewal Edition", was produced in 2003 with 12 volumes and covered 60 acts. The newer edition of the series was a re-release of the first edition with revised dialogues and art. Today we explore why Sailor Moon is still a generational icon.
Prior to being known as Pretty Guardian Sailor Moon or Sailor Moon, the first anime series adaptation was originally entitled Pretty Soldier Sailor Moon. The first episode of the series aired on March 7, 1992 – which, if we think about it, is almost about 30 years ago. 
So, Sailor Moon's been around for some time already, do you feel old yet? The first season of the anime ended on February 27, 1993, having aired a total of forty-six episodes. With the anime adaptation being well-received by the Japanese community, Pretty Soldier Sailor Moon continued to air 4 more seasons afterward with 3 full-length movies released in between. 
For reference, the series adaptation seasons and films were released in the following order:
Pretty Soldier Sailor Moon (1992-1993)
Pretty Soldier Sailor Moon R (1993-1994)
Pretty Soldier Sailor Moon R the Movie: The Promise of the Rose (1993)
Pretty Soldier Sailor Moon S (1994-1995)
Pretty Soldier Sailor Moon S the Movie: Hearts in Ice (1994)
Pretty Soldier Sailor Moon SuperS (1995-1996)
Pretty Soldier Sailor Moon SuperS the Movie: Black Dream Hole (1995)
Pretty Soldier Sailor Moon: Sailor Stars (1996-1997)
After twenty years since its first release, a reboot of the anime series was released entitled Pretty Guardian Sailor Moon Crystal. The first episode of the reboot was released on Usagi Tsukino's birthday, July 5, 2014. In contrast to the first anime adaptation, Sailor Moon Crystal is more faithful to the plot of the manga. The reboot currently consists of three (3) seasons with its fourth season released as a two-part film. The series reboot was released in the following order: 
Pretty Guardian Sailor Moon Crystal Season One

(2014-2015)

Pretty Guardian Sailor Moon Crystal Season Two

(2015)

Pretty Guardian Sailor Moon Crystal Season Three

(2016)

Pretty Guardian Sailor Moon Crystal Season Four: Eternal the Movie

(Part 1 and 2 – 2021)
Aside from the aforementioned, Sailor Moon was also adapted into a number of short films, live theatre productions, live-action reinterpretations, and even into video games.
What is Sailor Moon even about?
With the extensive background of Sailor Moon, one might wonder, "What is Sailor Moon even about?". Well, to put it simply, Sailor Moon takes us through the protagonist's journey as she discovers her destiny as a guardian with magical powers along with other teenage girls of her age. 
While it may sound like your typical anime trope plot, Sailor Moon differs greatly in the aspect that it aims to relate to young girls and doesn't glorify the protagonist. Ironically, the protagonist was depicted to be like a typical teenage girl who didn't care about academics and preferred to hang out with friends – a character who seemed as normal as a real-life teenage girl.
Naoko Tekeuchi's own experiences
Interestingly, Sailor Moon's origin story is actually based on Takeuchi's personal experiences when she was in middle school. The anime was set in the context of 1990s middle school because Takeuchi believed that this was the most difficult time for young Japanese girls. 
While it may seem quite stereotypical, the belief that Asians tend to put more importance on their academics speaks nothing but the truth. In Japan, the pressure placed on students at a young age is heavier in comparison to Western standards, wherein every stage is crucial for students in order for them to attain a good future. With regards to Takeuchi's experiences, not only was there pressure for her to do well academically, but she was also bullied during her middle school year. Because of this, she had no friends and created Sailor Moon to fill up this gap; hence, the anime series focusing on friendship rather than romance and superpowers while also tackling bullying throughout the series.
What makes Sailor Moon so unique?
While the series' origin story is very wholesome and touching, this isn't the only reason as to why it's well-loved by many. Since the anime series was set in 1990s Japan, its animation style and setting captured and paid homage to retro Japan. 
Naoko Takeuchi also mainly used pastel colours to bring the art to life and give off a dreamy and comforting vibe to its viewers. Of course, we cannot forget the amazing and quite iconic transformation scenes of the beloved Sailor Guardians.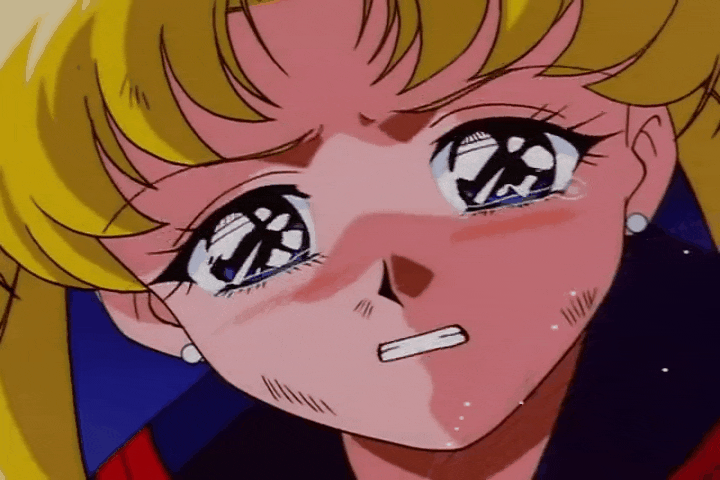 Aside from its unique animation style, the plot itself was amazing in so many aspects. As mentioned earlier, Usagi Tsukino is just like your typical teenager that has a unique set of characteristics for a protagonist. Oftentimes, we witness protagonists with a background of being a normal person who received powers one day and controlled them well. In contrast to this common trope, Usagi struggled a lot and would react in the most normal teenager-like manner when she faced obstacles like these – she would cry.
Throughout the manga and anime adaptation, we get to witness how Usagi grows as a person and as a Guardian. Also, the series has a very detailed backstory which will be tackled later on into the series, such as how the villains from Princess Serenity's previous life were incorporated into her reincarnated life. With such an elaborate story, it would be a lie to say that Takeuchi isn't a genius. 
And even if the Sailor Guardians had responsibilities to fulfil to save the world, they still lead seemingly normal lives as middle school students with the exception of talking cats to accompany them. However, despite how many villains they encounter and have to beat, the main priority of the series was to showcase the importance of building relationships and personal growth.
Sailor Moon's Core Values
But, that's not all Sailor Moon has to offer. The anime also has valuable lessons that young girls can learn and bring with them as they grow older. Having a wholesome series that not only provides entertainment but also valuable lessons that empower young women is not common, which is why Sailor Moon grew to become an icon over the years. Sailor Moon taught people that we can be strong and human at the same time. 
Whether you have super powers or not, it's okay to cry sometimes and feel emotions. Usagi made sure to show how humanity is present in us and that feeling vulnerable at times does not equate to being weak. It also taught us the importance of self-love, confidence, and education. Even if you're busy saving people, you can't set aside yourself or your education. And also, Sailor Moon taught us the importance of friendships and promoted having healthy platonic and romantic relationships. 
The Legacy of Sailor Moon
Because of these, Sailor Moon remains as an icon up to this point in time despite being originally released back in 1992. Looking back, Sailor Moon has left quite the impact on Japanese culture and the current generations (specifically millennials and gen Z). In relation to Japanese culture, the anime series set the standards for future mangas and animes and created the trend of having multiple adaptations varying from animes, musicals, to even video games; it also created its own genre, "magical girl", and served as an avenue to empower young girls. 
In the context of its impacts on different generations, Sailor Moon served as a feminist icon and served as a relatable character and role model to young girls. Despite being made in the early 90s, Sailor Moon still remains relevant by serving as an inspiration to different generations with the lessons it carries and imparts to its audience, no matter what age they may be. 
A Classic Anime of the 90s
Overall, Sailor Moon, while as cheesy and cringe-worthy as it may be for some, has a lot of unique and inspiring aspects to it that draws people to it. You don't need to be a young Japanese girl to be able to relate to Usagi or to appreciate the series. Considering that the series has been around for almost 30 years and remains to be relevant until now despite the several changes in trends throughout the world says a lot about the appeal and impact Sailor Moon has on its audience.
While she may seem like a crybaby that gets frustrating at times, Usagi along with the rest of the characters have served as our friends too as we grew up. They weren't just fictional characters, but inspirations and sources of strength when we were having our difficult times – which is why Sailor Moon remains and will always remain as an icon across generations.
Shop Sailor Moon Collection