🔖
4
min read
Understanding and enjoying Japanese food culture begins with restaurants' honest attention to produce, freshness, seasonality, and, most importantly, what are the best ingredients available. One encounter in a Japanese restaurant that should have been routine has stayed with me.
As I stood outside a Japanese restaurant thinking about what I wanted to order, I noticed there were crates and boxes still stacked in front. I peered inside to find a load of daikon, yams, and empty styrofoam boxes that still smelled slightly of seafood.
The menu was a wooden board hanging out in front of the restaurant, with just three options scrawled in black marker:
a) Seared tuna donburi
b) Minced toro with grated yam donburi
c) Grilled salmon teishoku
"Did you go to the Toyosu fish market for these?"
"Yes ma'am! Just this morning!" the owner replied from inside.
Keep it simple and focus on quality
In Japan, it's common for restaurants to operate on the business model of a menu that changes daily based on what's available at the market, rather than a permanent lengthy list of options.
The restaurants in Japan never cease to amaze me with their quality of food. For less than ¥1000, or about $10, there is not a better deal on the planet. 
Fresh shipping of tomatoes and cucumbers? That's the side dish of the day.
A load of yellowtail came in this morning? Let's make a Donburi Teishoku out of it.
The ingredients available lead the menu of the day, rather than the menu items dictating what needs to be bought at the market. To be seasonally based is not a trend: It's the foundation.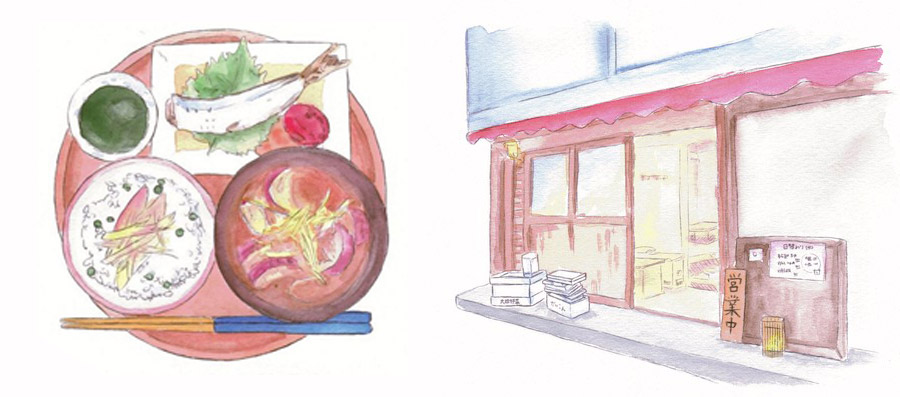 The Japanese restaurant philosophy
Many restaurants today, especially large chains and big restaurant groups, focus on developing a long and multifarious menu first.
Just look at the menu for places like the Cheesecake Factory, P.F. Chang's, or Olive Garden, and it's clear to see that they are oversaturated with options that are available year-round with little consideration of the seasonality of the ingredients. A long list of 10 different kinds of pasta and pizza, or a menu serving both dim sum, sushi, ramen, and rice bowls.
Looking at the business model of a Japanese restaurant chain called Shinkichi, they reverse their focus: ingredients first, menu second. While they have several different locations, each location constructs its own menu, with the staff trained to go out to the market every morning to select the best ingredients.
What is a salmon teriyaki menu item one day might use yellowtail the next, and what is a side dish of spinach ohitashi one day might be restyled to use mizuna leaves instead.
Following general guidelines on the restaurant's branding and seasoning style, they first refer to their ingredients and then decide on a few things to cook that day.
Looking at the business model of a Japanese restaurant chain called Shinkichi … each location constructs its own menu, with the staff trained to go out to the market every morning to select the best ingredients.
The dining landscape in Japan is changing, but what many restaurants still continue to do right is focusing on just a few things to cook every day, and making the best use of what's at the market that morning.
By using what's local and in season, the natural sweet or savory flavor of the produce and ingredients can come forward without having to be covered up in tons of oil, sugar, or salt. People can eat better, consume sustainably, and enjoy the freshest ingredients available to them.
Anyways, I think I'll have the seared tuna donburi.
Learn to be healthier, inspired by life in Japan
I teach about health inspired by simple Japanese philosophies and lifestyle practices, so you can learn to find peace, fulfilment, strength, and health in your own body. Stay in the loop and get access to free resources: Sign up here!
I'm Japanese but was born in Dallas, Texas. Shortly after, I moved to New York where I spent a few years until I moved to Tokyo when I was 12. My life has been a constant balancing of these two different identities, but I really value my dual experience and want to bring these two different cultures and ideologies together.
I used to struggle with both my physical and emotional wellbeing, but I have found that by adopting a healthy lifestyle, I have worked myself into a positive feedback loop– a healthy body supports a healthy mind, and a healthy mind builds a healthy body.
Using the lessons I've learned from and experienced in both my Japanese and Western upbringing, I've managed to help myself by following a philosophy based on wellness and health. I strongly believe that good health is not just beneficial, but incredibly essential to living a fulfilling and rich life.
My journey is far from perfection, but I use my personal experience and dual knowledge of Japanese and Western lifestyles to help others shape healthy, sustainable, and fulfilling lifestyle paths toward better living.
My goal is to empower you with the strength that you can control your own well-being.
Sincerely,
Kaki