🔖
6
min read
Around this time of year, the first of the season's green ume (delicate Japanese plums) will have been harvested in Japan. Some will be pickled to make sour umeboshi while others will be steeped with sugar in sake, shochu, whisky, or other alcohols to make umeshu or plum wine. Although this liquor is part of the cultural fabric of Japan (it's common to make a homemade version each year using alcohol with a higher ABV%), it is still rarely drunk in the west. With its sweet-tart finish, variety, and versatility, umeshu is ripe for wider global recognition. Through handcrafted labeling and strong attention to quality and traditional craftsmanship, UMESHUYA, an award-winning online store, is hoping to do just that, expanding the reach of umeshu and more generally Japanese fruit liqueurs globally.
Umeshu has been around for centuries since the Edo period (1603-1867) as a preservation method for fruit. The 'shu' bit of the name really just means alcohol, so the beverage can be made from almost any base alcohol.  By far the most common base alcohols are either sake or shochu.
It is also common to blend the two although shochu gives a longer shelf life to the beverage as it contains a higher alcohol content. Besides ume, fruits such as yuzu, peach, grape, lychee, and strawberry are also used to create liqueurs.
The ingredients list for the liqueurs is simple – alcohol, fruit, and sugar – meaning that the variation in the end product comes not solely from the raw ingredients but from the skill of the brewer who carefully considers the blend and recipe. The fruit can be added in a number of ways – juice can simply be blended with the base alcohol and some sugar, the fruit could be steeped in the liquid, or the whole fruit can be blended with the liquid and the resulting mixture filtered.
The alcohols the brewers choose to use also is crucial to the final product. Many of the brewers use their own centuries-old traditions of sake making that homemade liqueurs can never replicate while others choose to use shochu, whiskey or even brandy either pure or in carefully crafted blended ratios.
These choices in the production of the liqueurs can result in a whole range of mouthfeels and styles, ranging from the light, bright and watery, to the thick, intense, and moreish.
Founded by a third-generation sake merchant, UMESHUYA (which launched in 2005) specialises in selling umeshu and other fruit liqueurs from small, artisan producers. Every year the owner visits sake breweries across Japan, from Hokkaido to Okinawa, and listens to the voices of producers and makers.
As a company, they are interested in supporting and learning how brewers apply the best of their regional climate, people, culture, and traditions in sake-making.
UMESHUYA are passionate about supporting independent regional businesses from all over Japan who are full of passion for what they do. Part of the company's passion is to support these businesses to expand outside of the country, so that Japan's heritage, craftsmanship, culture, and legacy will thrive for years to come.
UMESHUYA collaborates with traditional sake breweries all over Japan to develop their own unique blends of umeshu, yuzushu, and other fruit liqueurs, using the finest locally sourced ingredients and hand-made methods.
These passionate brewers produce their unique products in limited small batch runs exclusively every year. The majority of the bottle designs are also exclusively designed, signifying the importance of not only the taste but also the visual aesthetics of the product so customers cherish the time spent when drinking their products.
What to start tasting first
With nearly 30 different varieties on offer, UMESHUY's carefully curated selection of Japanese fruit liqueurs showcases the breadth, craftsmanship and cultural tradition of the various brewers that they partner with.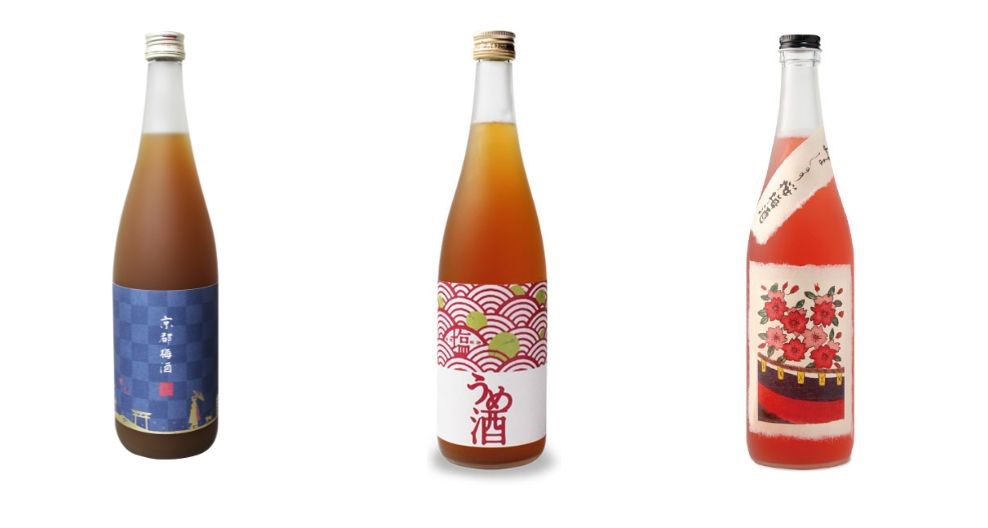 Kyoto Umeshu is made from whole plums infused with premium 'Junmai' sake without added alcohol or sugar. Savoury, spicy with the sake base shining through notes of bitter plums, lemon, and lime. It is made in Kyoto prefecture by Shoutoku Sake Brewery which has been in business for over 300 years, using traditional sake brewing methods.
Shio Ume is made by infusing ume plum into sake with a pinch of sea salt. For this umeshu, the brewers use the traditional salt-making method featuring 'Umi no Sei', a type of salt full of natural minerals. Salt naturally brings out the flavour of plum presenting a well-balanced tipple with a hint of mushroom umami on the finish.
Miyoshino no Sakura Umeshu is a fruity, floral umeshu from Yagi Shozo in Nara prefecture (which focus on producing high-quality Sake using the ancient "Bodaimoto" technique) that is inspired by the cherry blossoms of Nara's picturesque Yoshino.
Made by infusing Nishi Yoshino plums with sake, shochu, and cherry blossom syrup, it has a crisp and grape-like nose but still remains sweet and creamy on the palate. The design for this exclusive series is based on traditional hanafuda (flower card) Japanese playing cards.
Bishamon Fuku Ume is made from fresh young plum infused in brandy with a touch of brewers alcohol. This umeshu has a puckering sour apricot backbone with a round green plum body and an underpinned sweetness. It is made by Kawachi Wine located an hour's drive from Osaka and has a passion for wine, umeshu, and brandy that goes back four generations.
The label designs for this exclusive series feature the Seven Gods of Fortune from Japanese mythology. This particular bottle portrays Bishamon, the God of happiness, business prosperity, and financial fortune. With the towering Mount Fuji and white plums in the background, Bisamon laughs loudly, holding a large plum.
Shio Yuzu is made by infusing yuzu into sake with a pinch of sea salt. Made by the 200-year-old sake brewery Kitajima Shuzo,  they combine the distinct citrus yuzu flavour with Izu peninsula sea salt to deliver a zesty and fresh drink with hints of lemon and lime.
Mukashihanashi Teshibori Yuzushu is made from infusing yuzu juice into sake and rice shochu. Produced by Muromachi Sake Brewery which has been brewing high-quality traditional Sake in Okayama since 1688, this exclusively produced yuzushu blends locally sourced ingredients with their traditional malted rice sake process. Part of the Mukashihanashi (old folk tales) series, the bottle design illustrates a scene from a 17th-century folk tale of a tiny inch boy, who never grew bigger than one inch! The label is from a woodblock printmaker from Kyoto dating back to 1891.
How to enjoy umeshu and yuzushu
Never far from an izakaya menu or pre-kaiseki meal at a ryokan in Japan, umeshu is a popular alcoholic drink with enviable versatility and an admirable knack for being the perfect addition to a roast ham glaze (yes you read that correctly).
It has become increasingly popular with bartenders and can be found in a myriad of cocktails at bars around the world. There are luckily a couple of simple and effortless ways to enjoy umeshu, yuzushu and other fruit liqueurs at home, ideally with those nearest and dearest.
On the Rocks:

Put a big ice cube in a glass and pour the liqueur over top.

Liqueur Sour:

In equal parts, mix the liqueur with shochu/vodka and soda water.

Liqueur Tonic:

Mix 30 ml liqueur with 90 ml tonic water.

Liqueur Soda:

Mix one part liqueur with one part carbonated water.

Liqueur Oyuwari:

Mix one part liqueur with one part warm water.

Liqueur Ochawari:

Mixed one part liqueur with one part hot/cold black or green tea.
Umeshu and yuzushu also lend themselves to all kinds of other culinary experimentation from tiramisu (soak your biscuits in umeshu instead of espresso for a fruity treat) to sorbet (blitz together yuzushu with coconut milk then freeze), salad dressing to meat glazes, and everything else in between. With summer near approaching, a bit of umeshu on top of vanilla ice cream or yuzushu on kakigōri (shaved ice) would likely go down a treat as well. Whether it be aperitif or digestif, sweet treat or savoury delight, umeshu, yuzushu and the variety of other Japanese fruit liqueurs available from UMESHUYA are sure to delight and have you saying oishii! (delicious!).