🔖
8
min read
2021 saw the release of some of the most highly anticipated anime of the last decade. Both Japanese and global anime rankings courted a diversity of anime genres, from action anime that racked up global appeal to comfort anime that drew the fantasy world of our dreams outside the endemic COVID-19 lockdowns. Ahead, we've compiled some of the highest-ranking anime from Ranking.net, Nicovideo, Anikore, Akiba Souken, GEM Ranking, and top online critiques to give you this year's top 10 best anime to watch this 2021!
All featured anime should have premiered in or shortly prior to 2021.
My Hero Academia Season 5

My Hero Academia (Boku no Hero Academia; 僕のヒーローアカデミア) revolves around the journey of fifteen-year old Izuku Midoriya as he seeks to become a Hero despite being born a pure human with no abilities (otherwise known as Quirks). Recognizing his resolve, superhero All Might makes him the successor of his all-powerful Quirk and enrolls him in UA Academy, where he meets other aspiring Heroes and, down the line, Villains who seek to destroy society.
Season 5 gained critical acclaim as it adapted a total of four major arcs from the manga into one season. Manga fans looked forward fervently to the Joint Training Arc, introducing the new fan-favorite rookie Hitoshi Shinso and the big secret behind One for All. This arc prefaced the season before its most popular arc: the Meta Liberation Army Arc, also popularly regarded as the My Villain Academia arc, boosting the tragic backstories of villains Tomura Shigaraki, Twice, and Himiko Toga and letting viewers see them as twisted protagonists.
Watch My Hero Academia Season 5 (MHA Season 5) on Crunchyroll, Funimation, Hulu, and Netflix.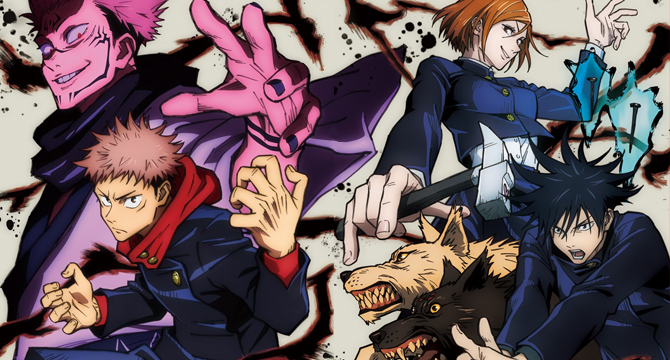 Jujutsu Kaisen (呪術廻戦) began as a fan favorite manga in Shueisha's Weekly Shōnen Jump before being adapted by MAPPA in October 2020. Jujutsu Kaisen follows the story of Itadori Yuuji, whose life takes a turn after he meets Megumi Fushiguro, a jujutsu sorcerer on a mission to retrieve a cursed object from Yuuji's highschool. As the two enter the grounds and trigger a series of supernatural events, Yuuji finds himself thrust into the world of jujutsu sorcery as the host of the "King of Curses" Sukuna Ryoumen, whose finger he swallowed in a battle for their lives.
The Jujutsu Kaisen anime, like its manga counterpart, is most beloved for its near-flawless execution of the tried-and-tested shonen formula: a male protagonist, often an underdog, gains a supernatural power and challenges society against all odds, along with a band of friends. What makes Jujutsu Kaisen different from its counterparts is the equal attention Gege Akutami, the manga author, has paid to its female characters: Yuuji and Fushiguro are joined by Nobara Kugisaki, a girl who saves Yuuji from being overtaken by Curses at critical points throughout the series with her own unhinged form of sorcery.
Watch Jujutsu Kaisen on Crunchyroll and Netflix.
K8 the Infinity follows the story of high school student Reki Kyan, whose passion for skateboarding brings him into the arena of "S," an underground skating race that challenges skaters to accomplish dangerous challenges. However, after an accident leaves him heavily injured, Reki is unable to continue. One day, he meets Langa Hasegawa, a transfer student from Canada with no skateboarding experience, and pulls him into the crazy world of "S" in a match against natural skateboarding talent Miya Chinen. Joined by other colorful cast members, the viewers are taken into a thrill ride full of twists and turns, on edge to see the rookies win the race.
SK8 the Infinity follows the formula of the last decade's sports anime highs: multi-colored bands of boys who all aim to become number one in their sport but must work as a team to get there (a similar plot line can be seen in the anime Free! and Haikyuu). The show's popularity also hails from Utsumi Hiroko and the BONES studio's decision to publish the show on the same year skateboarding debuted in the 2021 Olympics.
Watch Sk8 the Infinity on Funimation now.
Yuru Camp△ (Laid Back Camp △; ゆるキャン) made its wildly successful debut in winter 2018 with the story of Rin Shima, who finds peace in pitching her tent and camping by herself at the base of Mount Fuji. All this changes when she encounters Nadeshiko Kamagihara, a spirited pink-haired girl who falls asleep halfway to her own destination and ends up taking shelter in Rin's campsite. After a heartwarming 12-episode season following the duo's camping activities, the sequel turned the tables and followed Rin as she stayed at Nadeshiko's grandmother's house after the New Year's sunrise.
Yuru Camp gains its popularity from being more than a "cute girls doing cute things" anime, as it teaches that being alone is more than loneliness, but a way to appreciate being alive. With an outburst of positive reviews, it outperforms expectations and greatly expands on its predecessor's success.
Watch Yuru Camp on Crunchyroll and Netflix.
Attack on Titan: The Final Season

Attack on Titan (Shingeki no Kyojin; 進撃の巨人) can be regarded as one of the decade's most popular anime and manga series yet and possibly Hajime Iseyama's magnum opus. Shingeki no Kyojin is set in a world where humanity lives inside cities surrounded by walls to protect them from Titans, or giant humanoid creatures who appear to aimlessly eat humans. The story follows Eren Yeager, who vows to destroy the man-eating giants after they bring about destruction on his hometown and the death of his mother. In Season 4, the secrets of the dystopian world beyond Shiganshina's walls are unveiled, and viewer's are taken to the long-awaited fight for freedom between two totally different factions of humanity.
Shingeki no Kyojin Season 4's popularity is a double-edged sword. On one hand, the animation's turnover from WIT STUDIO, the original producers of the first three seasons, to MAPPA caused a divide among fans; some acknowledge this as a turning point for the show's growing popularity, while others felt that this caused stylistic discontinuity. As this varies from person to person, it takes watching the whole show to really find out for oneself.
Watch Shingeki no Kyojin on Crunchyroll, Netflix, Hulu, Funimation, and Amazon Prime.
Demon Slayer the Movie: Mugen Train

Kimetsu no Yaiba follows teenager Tanjiro Kamado, who sets out to become a Demon Slayer to avenge the slaughter of his family and save his younger sister Nezuko after she was turned into a demon. In the Kimetsu no Yaiba: Mugen Train arc, Tanjiro Kamado is joined by Zenitsu Agatama and Inosuke Hashibira as they help demon slayer Kyoujurou Rengoku solve the disappearances of the Mugen Train. The band is forced to muster up all their willpower and commitment as the face the challenge of saving the two hundred passengers of the Infinity Train from elusive dream-manipulating antagonist Enmu.
Following Kimetsu no Yaiba's anime adaptation in 2019, the manga proceeded to become one of the best-selling manga series of all time in 2020, preempting the green light for its sequel's production in 2021. In the span of six months, the Mugen Train blockbuster smashed records as Japan's biggest box office hit of all time with a gross profit of 32.47 billion yen, taking the crown from Miyazaki's classic Spirited Away which earned 31.68 billion yen after both its 2001 release and 2021 re-release.
Watch Kimetsu no Yaiba the Movie: Mugen Train on Crunchyroll, Hulu, and Netflix.
So I'm a Spider, So What?

So I'm a Spider, So What? is the first of a series of isekai anime in this article, one of the most popular genres in Japan. Isekai stories start with a tragic event killing the protagonist, sending them into a fantasy world as a reincarnated entity, often of great or unique power. In this case, it's about a girl whose luck rebirths her as a spider of the weakest kind. After she realizes the RPG-like system of her new world, she ventures out on a journey to defeat opponents and gradually grow stronger, in the hopes of finding out the truth behind her reincarnation.
So I'm a Spider, So What? garners its popularity from its unique take on reincarnation (a spider protagonist is not one you see every day), while it continues to receive critical reviews for its use of CGI in action-packed fight scenes. Nonetheless, it's a daring attempt that's swept Japanese charts in its run time since winter 2021.
Watch So I'm a Spider, So What? on Crunchyroll and Netflix.
Mushoku Tensei: Jobless Reincarnation

Mushoku Tensei: Jobless Reincarnation is a resounding tribute to the classic isekai formula, with a thirty-four year old NEET waking from a tragic accident as Rudeus Greyrat, a child who would grow up to be gifted in sword and sorcery. He resolves to become an apprentice to powerful magician Roxy Migurdia, a tutor to the heiress Eris Boreas Greyrat, and a best friend to half-elf Sylphiette. In his journey, he chooses to conquer his past and look forward to a more hopeful future.
Mushoku Tensei: Jobless Reincarnation stuns with its visuals and brilliant OP, while its development from a generic isekai to a redemption story with mature themes has stirred audiences everywhere; even with its lighthearted animation style, this series is not for the faint of heart!
Watch Mushoku Tensei: Jobless Reincarnation on Hulu and Funimation.
Shuumatsu no Valkyrie takes us into a world that asks: should mankind continue to exist? Brunhild, one of the 13 demigod Valkyries, proposes a death match between man and god to give man a fighting chance as the gods of ancient Greece, Norse mythology, and the religions are at the brink of annihilating them all at once. Accepting this challenge, the series follows the stories of Brunhild's human bets as they progress and prepare to save the race.
Shuumatsu no Valkyrie gets its rap for its straightforward approach to an easy-to-follow storyline, with critically paced fight scenes and emotion-filled voice acting. Opinions among viewers have been notably divided between manga readers and action-genre enjoyers, and with its accessibility on Netflix, there's only one way to find out which side one might be on.
Watch Shuumatsu no Valkyrie on Netflix.
That Time I Got Reincarnated as a Slime: Season 2

That Time I Got Reincarnated as a Slime runs on the premise one would expect: thirty-seven-year-old corporate worker Satoru Mikami is transported to an unfamiliar world after a random assault. Upon regaining consciousness, he realizes he's been reincarnated as a slime with shapeshifting powers. Adjusting to his new gooey body, he sets out on a journey to explore a new realm full of monsters and magic. In Season 2, we follow Satoru, now Rimuru Tempest, as he attempts to establish balance and equality between humans and monsters in this fantasy world.
That Time I Got Reincarnated as a Slime: Season 2 gets its rap from its continuity, bringing the humor world-building of the first season back in time for winter. While many fans consider its pacing to be its largest issue, its final episodes, combined with its all-improved animation and soundtrack, easily redeemed it.
Watch That Time I Got Reincarnated as a Slime: Season 2 on Crunchyroll, Netflix, and Viu.
What are you looking forward to watching? Let us know on our social media channels at Facebook, Twitter, Instagram, or Youtube. For more, subscribe to the Japan Nakama newsletter today.