🔖
5
min read
When we hear of "Ivy League", there is that iconic image that runs through our heads — a young man dressed in an Oxford shirt or a sweater vest with khaki pants and penny loafers walking around campus. Just as the Ivy style influenced many designers, its popularity dominated Japan's youth fashion culture in the 1960s.
In honor of the preserved Ivy styles in the form of a fashion photography book, we present Take Ivy, which captured candid photographs of Ivy boys, revealing the idealized images of American college students in their most natural and realistic form.
Introducing the "Take Ivy" photography book
"Take Ivy" was written by Kensuke Ishizu and others and was published in 1965 to serve as a guide on Ivy League Style for the Japanese youth. As a fashion designer, Kensuke Ishizu was captivated by the similar cultural aesthetics of Ivy style and bankara. Bankara was used to describe a unique fashion style that was a backlash against the movement of westernization and haikara during pre-World War II Japan. His inspiration sparked him to capture and tell a story out of the life of the Ivy League boys as they represented the iconic fashion, prep style.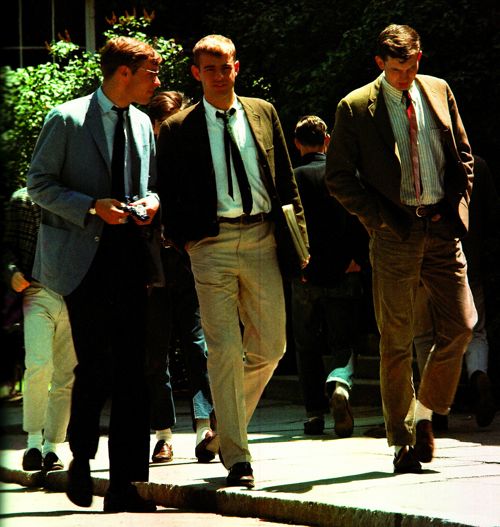 1. Button-down shirts – a common, almost uniform-like, Ivy style that brings the clean look of a man wishing for success in life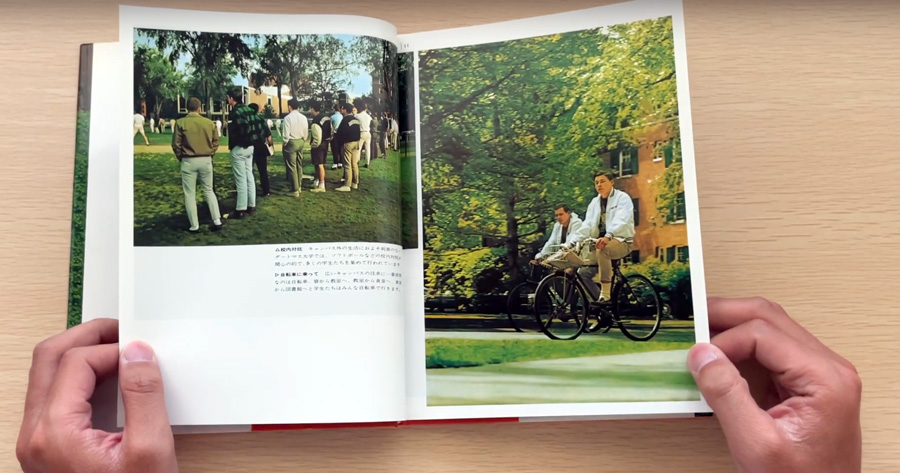 2. Varsity Jackets – originally worn by athletes to show off their school and team pride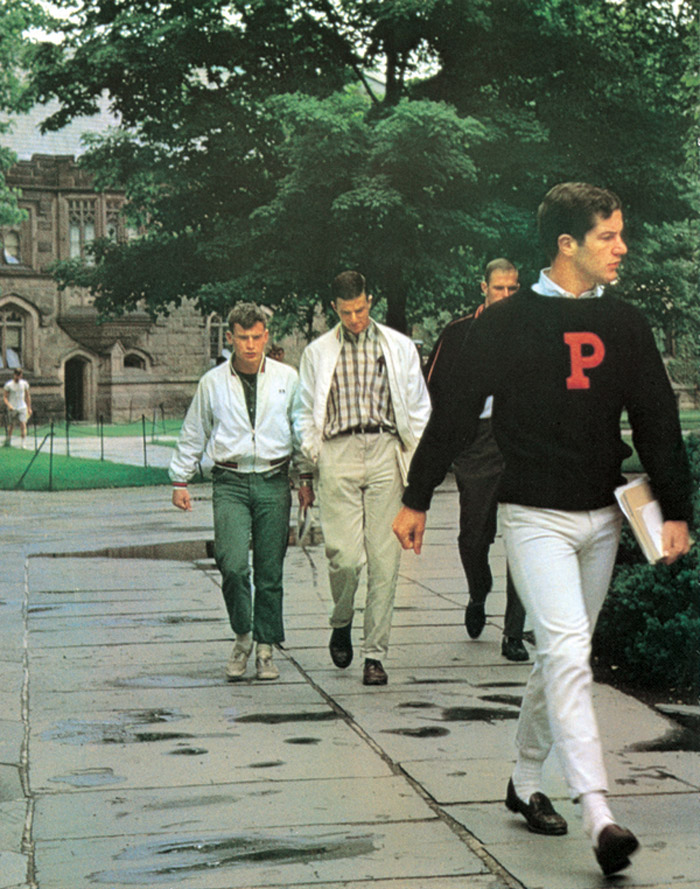 3. Sweatshirt – a casual outfit worn for comfort but also to display one's school pride as the name of the prestigious school is written in a plain text
History of the Ivy League Fashion
American's Ivy League Fashion
This preppy style we often see in classic Hollywood movies refers to the young men studying at prestigious universities in America. You may have heard of some of the most well-known Ivy League schools, such as Princeton University, Harvard University, Yale University, Brown University, and more. 
Originally, the Ivy League dates back to 1912 and sprouted from the formal style of college students in England. However, the fashion concept of its lifestyle remains the same for young men — as a casual attire and to flaunt their pride.
Kensuke Ishizu grew up and belonged to the "mobo" movement in the 1920s in Japan, referring to Modern boys. Japan began to shift and adopt Western styles and practices during the Meiji Era, which paved the way for colonialism but with a fashion craze. Mobo and Moga (Modern boys and Modern girls) eagerly embraced the newly westernized style, including Kensuke Ishizu. Mobos and Mogas populated the streets of the famous Ginza neighborhood and imitated the adopted Western fashion. Such style consisted of boys wearing wide-leg trumpet pants while girls wore silky skirts or dresses. 
As a young schoolboy, Kensuke Ishizu was fascinated with Western styles, and specifically demonstrated his interest in wearing a suit as he refused to wear a gakuran school uniform and insisted on a three-piece suit. In his late 20s, Kensuke Ishizu was exposed to stories of a friend and his life at Princeton University. This piqued his interest in Ivy League fashion, and he went on to become the guy who introduced Ivy to Japan.
However, at the time, American style clothing was seen as a risk, but this did not deter Ishizu, who wanted the Ivy League style to develop and blend into the fashion lifestyle of Japanese youth culture. With this, he launched his own clothing brand to represent the Western-style, Ivy League, called VAN Jacket Inc. 
Kensuke Ishizu and VAN Jacket Inc. (1954 – 1978)
VAN Jacket Inc. was launched in 1954 when Kensuke Ishizu attempted to convince Japanese men to shift into a new fashion statement that he recently discovered. It was, however, tough for males to step outside of their comfort zone in order to check out and add a Western touch to their stylish lifestyle. Ishizu saw that there was a taboo that had to be removed, namely the idea that men couldn't enjoy dressing elegantly.
In the same year, VAN Jacket Inc was launched, Ishizu affiliated himself with the Japanese Magazine Men's Club, also known as Otoko no Fukushoku. The monthly magazine displayed various Japanese men's clothing styles and served as publicity for Ishizu's brand to promote Ivy League into the fashion culture. However, the brand still encountered obstacles, including its affordability for Japanese students attending university. 
Ishizu travelled all the way to America to observe the lifestyle of Ivy boys at Princeton University, coming across several young men walking around campus with their neckties undone and black blazers draped across their shoulders. A look that was effortless yet considered a fashion statement, an Ivy lifestyle that Ishizu wanted to preserve for the Japanese youth. 
Ishizu did not leave America empty-handed but came back to Japan filled with grand ideas to replicate a suit that embodied the values and culture of the Ivy League. Such fashion ideas included an assortment of chinos, navy blazers, seersucker jackets, and repp ties.
"Ivy Leaguers" on Ginza Streets
In 1963, a follower of Ishizu, Toshiyuko Kuroso, started a column section that opened the way for Japanese youth to learn about the Ivy style. Kuroso walked around Ginza street hoping to capture the moments of young Japanese wearing similar clothing style as prep style. 
The appearance of candid photographs of Ivy Leaguers on Ginza street changed young men's views on them and became the most anticipated section in the magazine. Despite all the hardships, Ivy style eventually became known to the Japanese youth.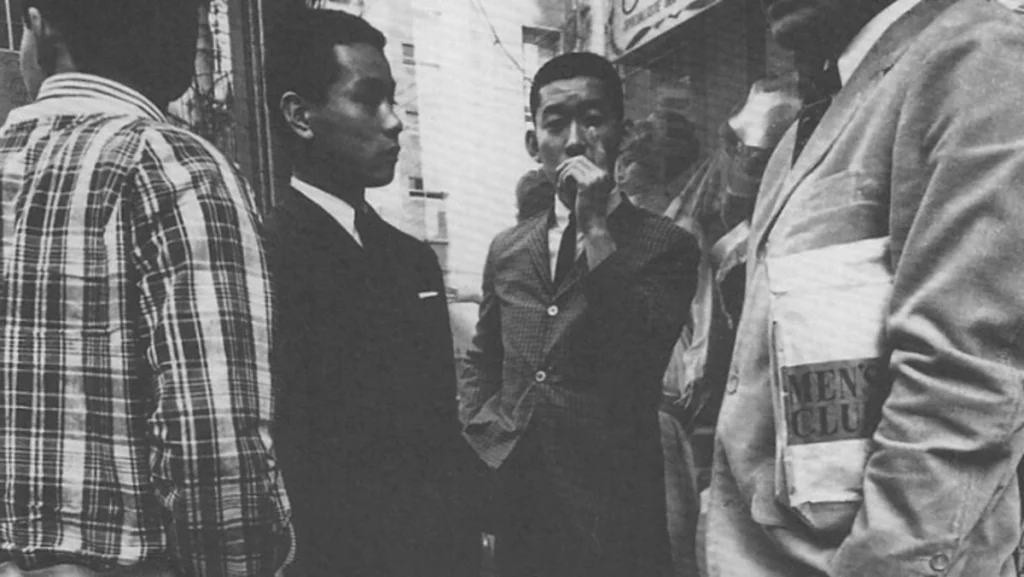 Ivy League falls out of style
Fashion styles vary as a result of trends, and new fashion crazes always develop. In the case of Ivy style and Japan, a style shift to a more laid-back West Coast American aesthetic with denim pants became all the rage. VAN Jacket Inc collapsed in 1984 because to its inability to create distinctive Ivy designs in time to compete against other fashion rivals, owing to difficulties in keeping up with trends within the young culture.
The Legacy of the Godfather of Ivy style
Some may believe that Ivy League couldn't have made its way through to Japan without Kensuke Ishizu. A brave young man who ventured and dared to launch and propose a new lifestyle to Japanese youth. He is remarkably unforgettable. 
As a tribute to the godfather of Ivy style, his legacy shall carry on and be preserved along with the candid photographs of the inspirational Take Ivy and Ivy lifestyle in his book, Take Ivy, as well as other bold and daring young fashion designers hoping to create their own fashion statement in Japan.