🔖
4
min read
As Japan moves forward with the recommencing of work and student visas, an optimistic feeling of adventure can not reframe from filling our hearts. A feeling we have all missed far too much. Fingers crossed, we hope 2020 is an original with no sequences as foreigners can now study in Japan.
Cities remain uncertain as Covid cases go up and down. A hidden gem like Akita Inaka School, located in Kosaka (小坂町) is a breath of fresh air needed to kick-start our adventurous streak going into 2021. Practical Japanese courses at Akita Inaka suit all who share a sense of adventure as they can sign up for an authentic Japanese experience.
Typical Day at Akita Inaka School
Classes go from Monday – Friday 9.00am – 12.30pm. Students learn practical Japanese speaking for preparation for everyday life in Japan. Akita Inaka's aim for students is to gain as much benefit when integrating themselves into Japanese society. A combination of language, culture, and experience rolled into one course.  
Classes are taught in authentic Japanese-style classrooms as the renovation was carried out but maintained each rooms original form. An endless view of nature surrounds the classrooms, giving students a peaceful atmosphere during their morning class periods. 
The time for adventure begins as the clock strikes 12.30 pm when activities arranged with the local community give students a chance to practice their Japanese with the locals. Whether it's helping out on nearby farms, bike riding through the mountains, joining a pottery club, cooking traditional Japanese food, or throwing your hand at calligraphy, Akita Inaka has you covered with endless activities to explore. By getting involved with the locals, students are welcomed with open arms on their journey of experiencing the culture while studying in Japan.
After a big day of adventure, students can wind down in a traditional Japanese home.  Share houses are located only a 10minute drive or 30-minute bike ride from the school. Cooking nights and takoyaki parties are great for mixing with your new Japanese neighbours and fellow students. Everyone can enjoy food and drinks, chat about the day thus far while laughing the night away. 
Accommodation prices are subject to course selection with hotels also arranged depending on availability. 
Practical Courses at Akita: A Festive Winter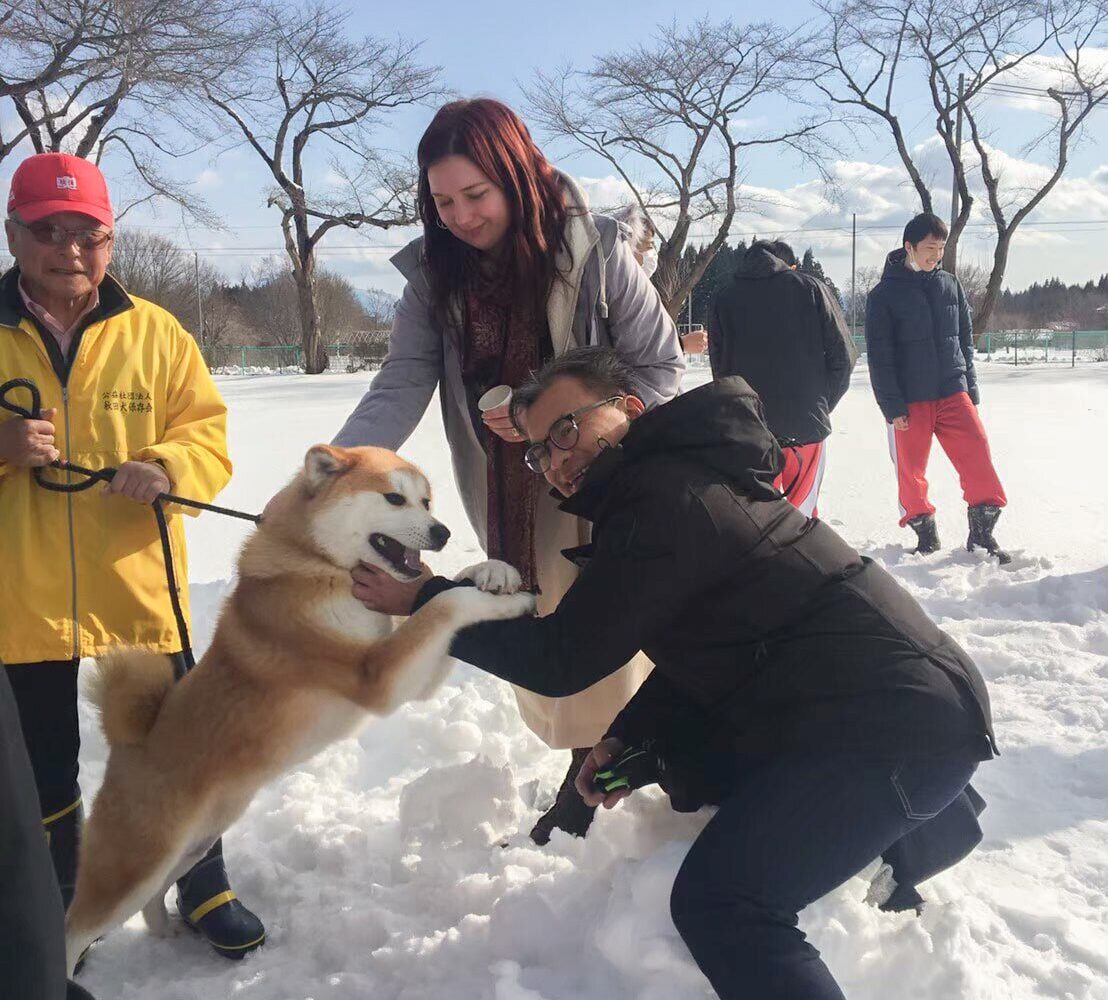 Akita Inaka School courses commence all year round as each season provides a different theme. All four seasons offer a unique adventure with the same goal in mind: learn practical Japanese by embracing the local community. Putting your words into practice with many opportunities to do so, allows students to understand everyday life in Japan.
Winter season is right around the corner as 2021 opens with February 1st 4-week term. A special time for Kosaka's local community as students take part in the Towada Winter Festival. Food stalls, fireworks, and an igloo bar served with ice glass drinks are on display as the festive season brings everyone together. 
For snowboard fanatics, February is the prime time for skiing in Japan. Akita prefecture has one of the highest snowfalls in the world, with several ski areas close by. 
For students/dog lovers, have fun playing in the snow with this legendary breed. The Akita shares both name and uniqueness with the Akita Inaka School community. Here at Nakama, we have a real soft spot for our canine friends. Learning about this magnificent dog's history would be a memorable experience to take home. 
If students are feeling adventurous, then Naked Festival is an adventure like no other. Participants strip down, wearing only cotton thongs and sheets. Each runs through the snow to purify themselves in the nearby river. A Japanese tradition going back 1000 years as the experience will last a lifetime for those looking to study in Japan. 
The total price for the upcoming winter course is 320,000 JPY, not including flights. 
Winter term accommodation prices

Single room –  20,000 JPY per week. 

Shared room – 13,000 JPY per week.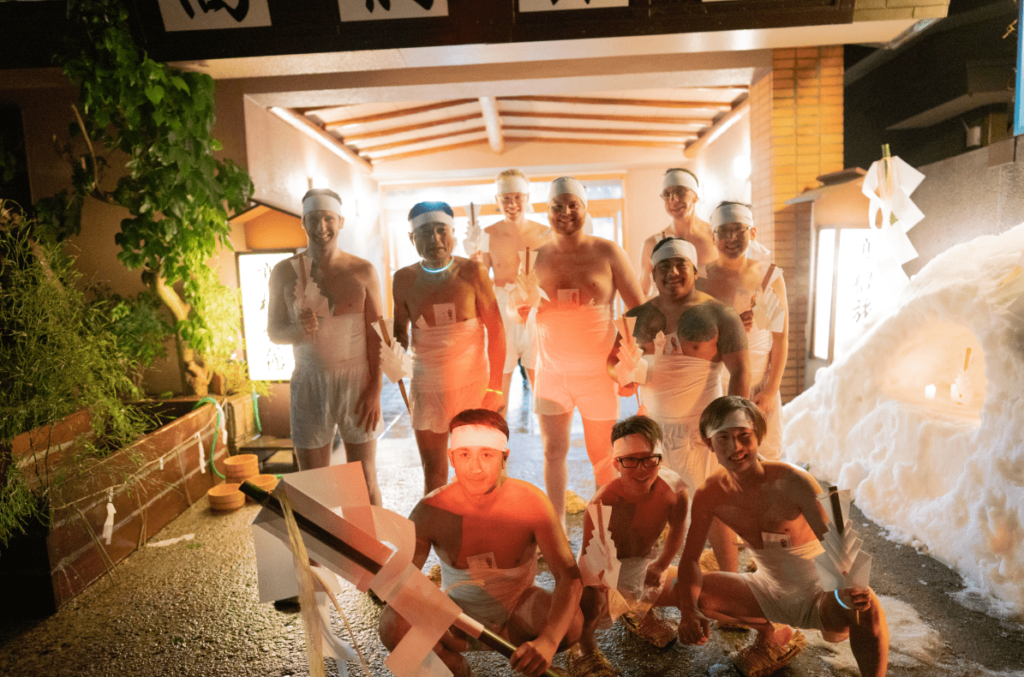 Akita Inaka School - Winter Course
With uncertainty regarding tourists in Japan, Akita Inaka's Spring course could be the next intake for students. The beauty of this time of year will be worth the wait for those preferring a warmer climate over the chilly winters. Spring course 2021 begins April 19th until May 14th.
This month marks a beautiful period, both in Japan and for the Akita Inaka School community. Cherry blossoms bloom as local activities take place to complement this lovely time of year. Students can enjoy the Odate Cherry Blossom Festival as stage performances, food stalls, and the amazing Akita Dog Show all take place during this memorable period.
The total price for the upcoming Spring course is 320,000 JPY, not including flights. 
Spring term accommodation prices

Single room – 20,000 JPY per week. 

Shared room – 13,000 JPY per week.
Japanese Countryside - Akita spring time
Akita Inaka courses for all
For families looking to escape the city or groups looking to explore Japan's scenic countryside, Family and private group courses are available. Enjoy a holiday like no other by becoming a part of the Akita Inaka School community. Explore nature's hidden gems rare to tourists' eyes while learning practical Japanese speaking with those who share a similar fascination with the culture of Japan.
Whatever your preferred season, Akita Inaka has something special for everyone.
Akita Inaka School: An authentic Experience
Akita Inaka's vision for Language, Culture, and Experience rolled into one course is what makes the school a special place for those studying in Japan. Making new friends from all around the world and creating newer (better) memories, compared to 2020 is a gift we all deserve.
Culture is at the heart of Akita Inaka's goal for each student looking to learn practical Japanese and become a part of a real Japanese community. The experience will mark 2021 as special while shaking off the cobwebs left by this year as we revive our travel bugs for better times ahead.