🔖
5
min read
Dope Gallery launched in 2013 and has since discovered and promoted a selection of fresh young artists dominating the online and urban markets today. The gallery's commitment to global arts has resulted in some of the Eastern world's most remarkable talent, including a coveted range of modern Japanese artists, displayed amongst western consumers, breaking cultural barriers and promoting various styles.
To be clear, we're not talking about Hokusai's Great Wave – although that is iconic. Instead, Japanese modern art is a fantastic cocktail of styles, from street art to manga and reworking traditional techniques. Risqué subjects like eroticism and violence expressed in today's Japanese contemporary art scene shows the artists position of not being afraid to make a political statement when relevant. Other artistic expressions include futuristic style sculptures and modern takes on traditional techniques like ikebana flower arranging, which are massive parts of Japan's art scene today. 
Although Tokyo is home to the world's first digital art museum, Hiroshima and Hakone contain some of the best modern Japanese art pieces in the country, and the running theme is innovation. From a surge in female talent to unexpected materials like duct tape and skateboard decks, Japanese artists break boundaries with their work, and this era is not to be missed.
Here's a list of modern Japanese artists you should know:
Let's start with "sexy robots" (no, really!).
Hajime Sorayama
is the name behind these futuristic sculptures and illustrations that play on eroticism, fine art and hyper detail, which he describes as "superrealism".
Sorayama was also a key designer in
Sony's AIBO robot dog
, released in 1999. His work includes massive metallic sculptural female forms and 80s-style illustrations. 
Skateboarder and self-taught woodworker Haroshi has become well-known for his sculptures constructed solely of skateboards, which stacks and meticulously carves into teddy bears, monsters, and even a fire hydrant.
They're all marked with the same ripples of colour that come from seeing the cross-section upon multiple layers of skateboard decks.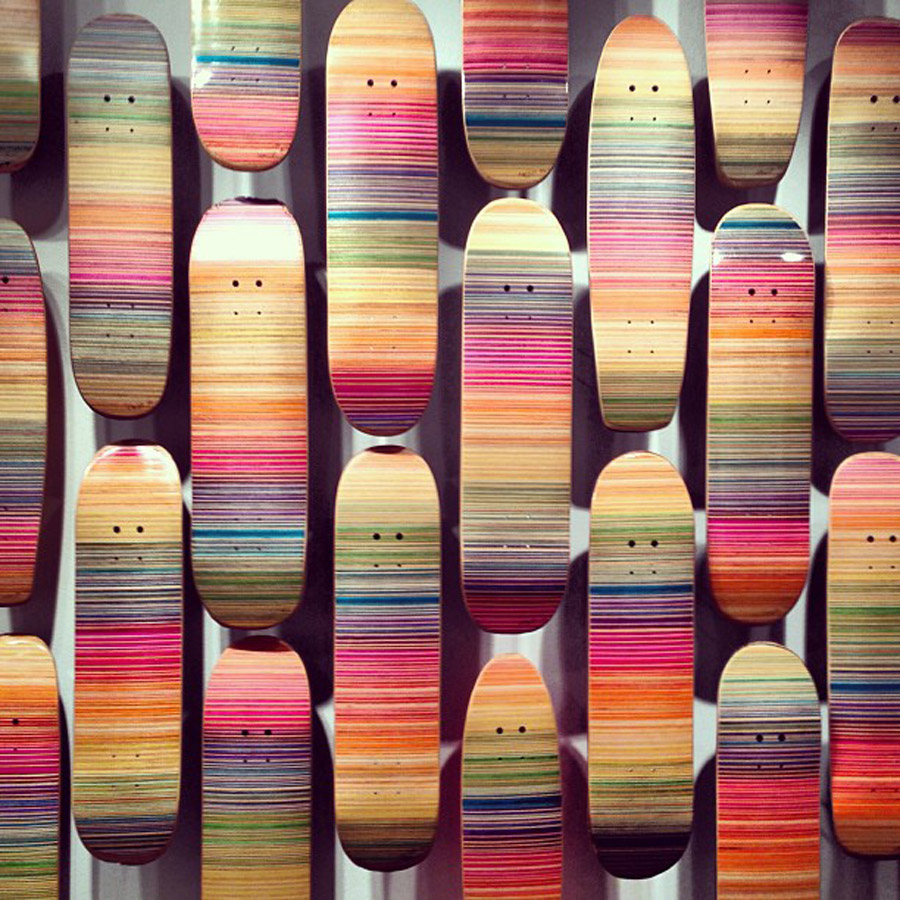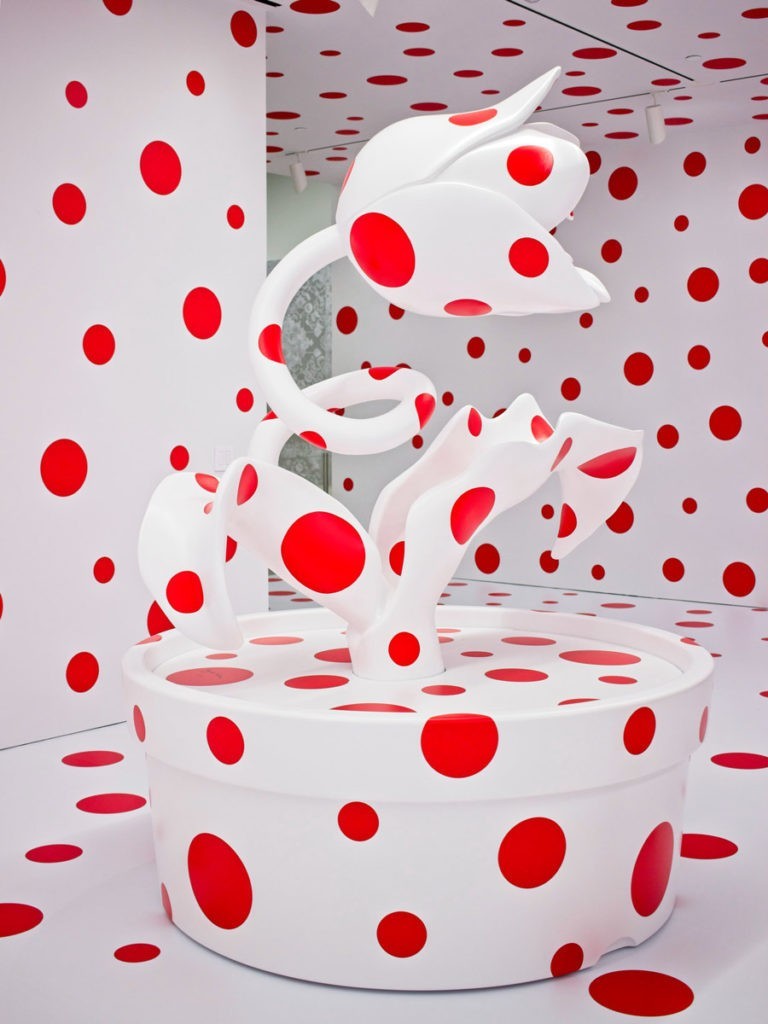 You can't mention modern Japanese artists without talking about Yayoi Kusama. Currently 92 years old, Kusama had a difficult childhood that influenced her work and is characterised by its psychedelic nature.
Kusama has constructed a universe made up of trippy compositions that are instantly recognised and influenced by her own hallucinations. For the past 50 years, she has shared the stage with Andy Warhol, Yves Klein, and Jasper Johns in worldwide exhibitions.
Her prolific work has been showcased throughout Tate exhibitions which have been consistently selling out. People will often travel, especially to the island of Naoshima, to see her infamous pumpkin that stood on the pier (although it was recently damaged in a storm). 
"My existence is a dot lost amid hundreds of other dots"
Yayoi Kusama
Boxed frames characterise a series of Makoto Taniguchi's work with a mirrored back and cartoonish depictions of girls on the front glass. Viewers looking front on will see a distorted mush of paint and texture, but viewing at a slight angle, you end up with both a reflection of themselves and charming images of girls. 
For Taniguchi, it's about the distance between what's in his head and what exists, as one can't live without the other. As a result, his modern Japanese artwork is viewed as provoking and robust, using everyday materials simply and powerfully.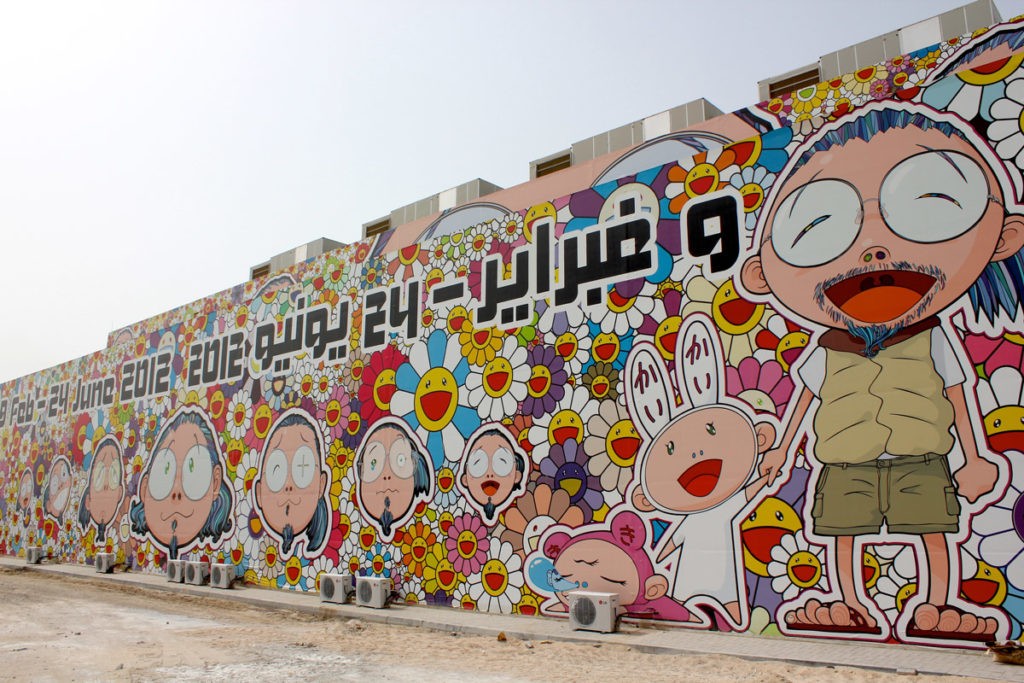 Another household name amongst Japanese modern artists is Takashi Murakami who serves as the crossroads between kawaii, pop art and the grotesque. Known as the king of kitsch "kawaii", Takashi Murakami claims to be a Warhol-like figure and a Pop Art heir, but he also communicates a Japanese identity.
He has a PhD in the traditional Japanese painting nihonga, so he understands the rules and knows how to break them. His work takes that old-fashioned style and mashes it with super-modern formats in bold, bright colour, which include sculptures, prints and even a pool float.
Takahiro is the Japanese master of miniature. He takes the dull, banal, everyday objects that most of us wouldn't pay much attention to and uses them to create tiny cityscapes. From duct tape to dustpan brushes, his intricate designs capture moments in time of a particular place, such as the frozen Ferris wheel that stood empty as Japan conserved energy after the 3/11 disasters in 2011. His work is often tinged with melancholy and often provokes a reaction amongst observers.
Hailed as among the best modern photographers, Hiroshi Sugimoto is fascinated by shape, memory and time. Sugimoto's signature includes the use of long exposure to create a dreamy atmosphere that often features the same space throughout the day. He's now exhibited all over the world and his originals are a prize piece for collectors and art enthusiasts to own.
Kirie is the technique of Japanese paper cutting, and Masayo Fukuda has opened up a whole new world within Japanese art for the most intricate, beautiful pieces created from a single sheet of paper.
Her incredible octopus is perhaps the most well-known piece that looks three dimensional, but she's also done a wealth of marine life cut from white paper to almost look skeletal with a hint of steampunk touches like cogs and gears.
Medicom Toys iconic figurine is a bear-shaped version of their Kubrick design – a classic mini-block person, similar to Lego. The standard toys are usually sold in blind boxes, where you can only find out what you've got once you open the box. But the company has collaborated with artists and brands around the world to create some of the most sought after and collectable art pieces including Daft Punk, Spongebob, Jackson Pollock and Hajime Sorayma.
Dope! Gallery has an amazing range of prints, collectibles and originals from a curated list of the best Japanese artists. For more on their work, and amazing artists then check out the Dope Gallery Instagram with regular updates.