The image of James Dean leaning against a wall in a white t-shirt, red jacket and rolled-up jeans is iconic. Rebel Without A Cause's "bad boy from a good family" became the perfect symbol of teenage angst and defiant youth culture that made denim a centrepiece in 1950s American fashion. In Japan, another counterculture was bubbling under the surface, and would make way for the creation of modern Japanese denim, famed for its supreme quality and craftsmanship.
With the American Occupation in Japan during the Second World War, came waves of American culture. Once the war ended there were plenty of items that they left behind, including jeans that the off-duty soldiers would wear. So, the trend began to spread, but the quality that's synonymous with Japan just wasn't in those imported jeans.
It wasn't until the early seventies when textile company Kurabo created the first pair of selvage jeans that were made entirely in Japan. It took them eight tries because it has to be made on a special loom to a certain size, but it marked a revolutionary turn in the production of authentically Japanese jeans. Then came a company hoping to appeal to the Western market, and choosing the most distinctly American-sounding name to do so, Big John. Instead of mass-manufacturing on modern machines, they started to produce their own fabrics using traditional techniques and looms. When they made their first collection – the "M" series, a wholly Japanese-made line – it started a shift in the love for denim across the country.
In terms of Japanese crafting traditions, it's a relatively young one led by vintage lovers looking to revive old traditions of making clothes, but Japan has forged its own identity in the industry. The indigo dye comes from the Japanese indigo plant, with evidence of its use as far back as the 7th century, and the relentless attention to detail and commitment to quality is unmatched. It is unmissable to anyone who values denim. Characterised by its stiffness, the high-quality denim will bend and crease to fit its wearer, leaving a unique patina. 
For the enthusiasts, or denim heads, every detail is important, from the wash to the buttons down to the fibres. Although Japanese denim usually comes at a premium, it's worth it when all of these things have been considered. It has a level of craftsmanship and attention to detail that doesn't exist in jeans from other countries, embodying the concept of takumi – craftsmanship as a way of life.
That 1950s American influence is peppered throughout Japanese fashion in general. From the rockabillies with their teddy-boy quiffed hair to the preppy, girly gyaru styles.
Just as punk was taking hold, the bousou-zoku emerged in Japan. The youth subculture that literally translates to "running out of control tribe" is associated with biker gangs peaking in the 1980s. Their style included elaborately decorated boilersuits, military jackets and baggy jeans with tail boots that drew inspiration from the American greasers. Their clothes usually featured kanji slogans, gang symbols and flags to match the wearer to their allegiances. They would take the image of Hell's Angels and translate it into audaciously modified road bikes with high seats and loud custom colours. They embodied the spirit of punk: defiance, youthfulness and eccentricity.
This is the fashion culture that London-based brand Tokkou is keeping alive. Their name is based on the term tokko-fuku which is related to the bousou-zoku's characteristic clothes. The punk and rock influences run through their collections but it's adapted into more elegant versions, made with high quality denim and a dedication to craftsmanship. 
The Japanese denim face masks, which are more practical than a stylistic choice these days, are a nod back to the surgical masks that the gangs would wear, but with an covid-19 (or virus)-free antibacterial lining and a focus on using sustainable fabrics.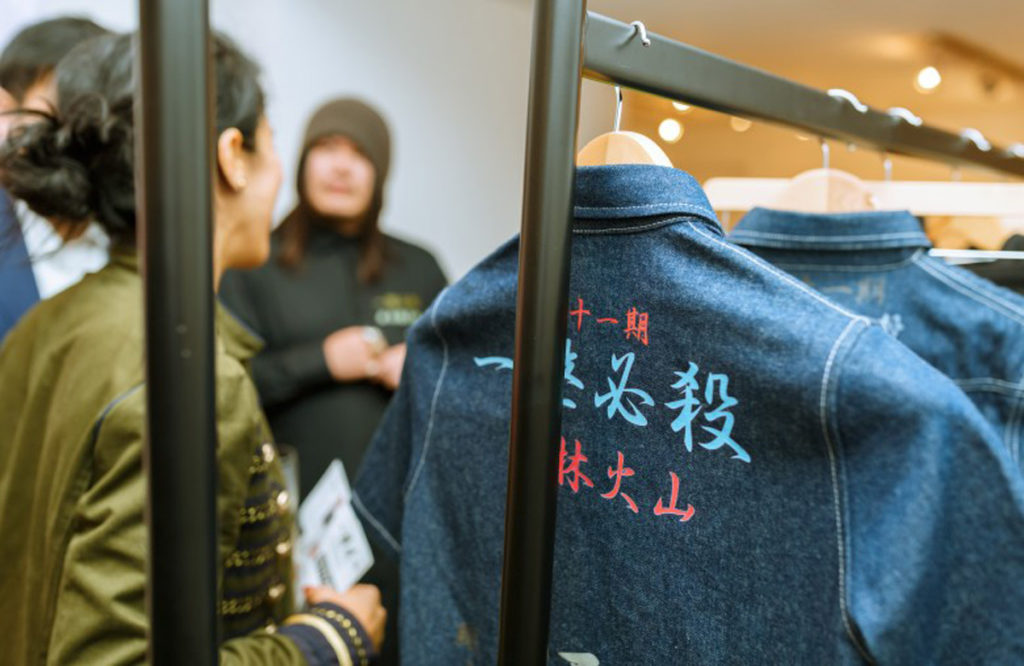 The classic Japanese cotton long sleeve shirt touches on Western cowboy style (where denim has its roots in America), but with the spirit of bousou-zoku's printed slogans across the back. 
It's mirrored in the women's Japanese denim dress too, with the designs coming from authentic vintage clothing and being handcrafted in Japan from infamous Okayama denim.
It's perfect now that skinny jeans have been cancelled.