🔖
7
min read
Among Japan's many izakaya pubs, laughter and delight amongst brimming glasses of beer, as the word "Kanpai!" echoes across the city back streets may enlighten passers-by with a FOMO (fear of missing out) sensation.
Japan's national treasure of old sake is seen as the nation's favourite drink. However, the popularity of Japanese beer or Bīru (ビール ) has skyrocketed in the latter part of the twentieth century. As a result, it has long surpassed Japanese sake as the nation's favourite beverage. 
Beer, originally a Dutch import during the Edo period, made its way to the heart of Japanese rituals and has since established an iconic drinking culture in Japan. In addition, certain etiquettes complement Japanese traditions, and social drinking with friends, family, and co-workers is sacred amongst the Japanese way of life.
As most love a refreshing glass of ice-cold Asahi, names like Asahi Super-dry, Sapporo, and Hitachino rock bars across the globe, leaving a lasting impact on beer lovers like ourselves.
We chose to explore the popularity of Japanese beer brands, including Japan's renowned drinking culture and elements of Japanese history that shaped the Japanese beer industry into a global sensation over time.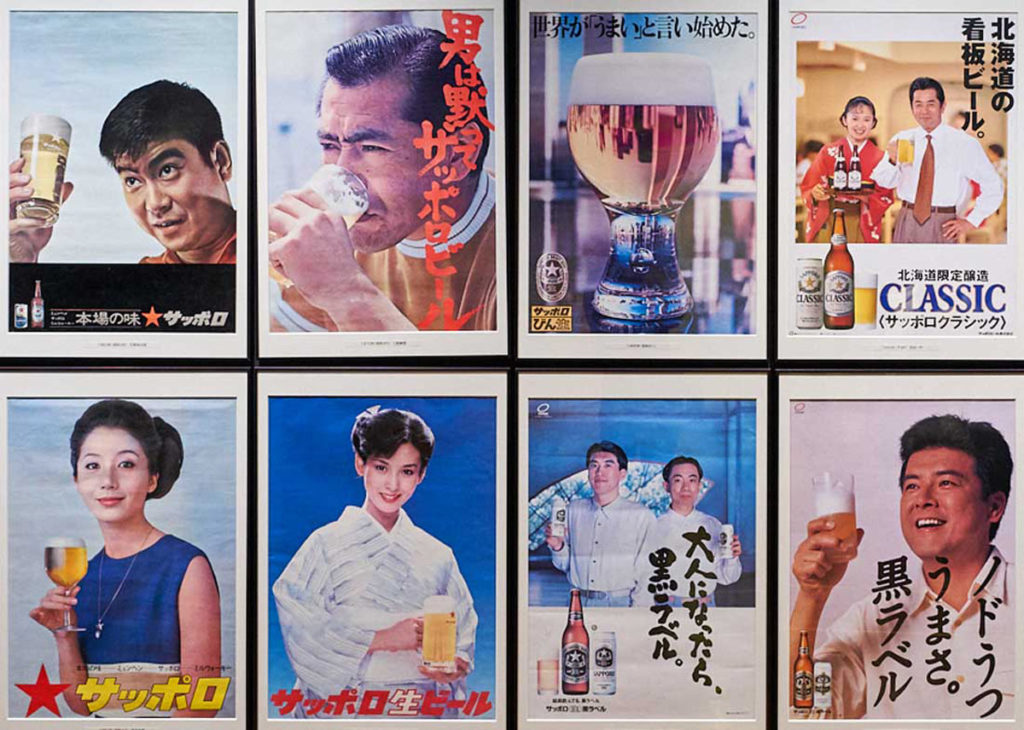 At Japan Nakama, we enjoy a good history lesson, and the origins of Japanese beer serve as a fascinating journey.
Dutch sailors and traders who constructed a beer hall in Nagasaki during the Edo period(江戸時代 1603 -1876) were the first to bring beer to Japan. However, the Dutch were banished from Japan soon after, and beer was then inaccessible in Japan.
However, the Meiji period (1868-1912) saw foreigners allowed to re-enter Japan, and in 1869, Japan's first brewery was established. It was known as the Spring Valley Brewery, which would then become the Kirin Brewery Company.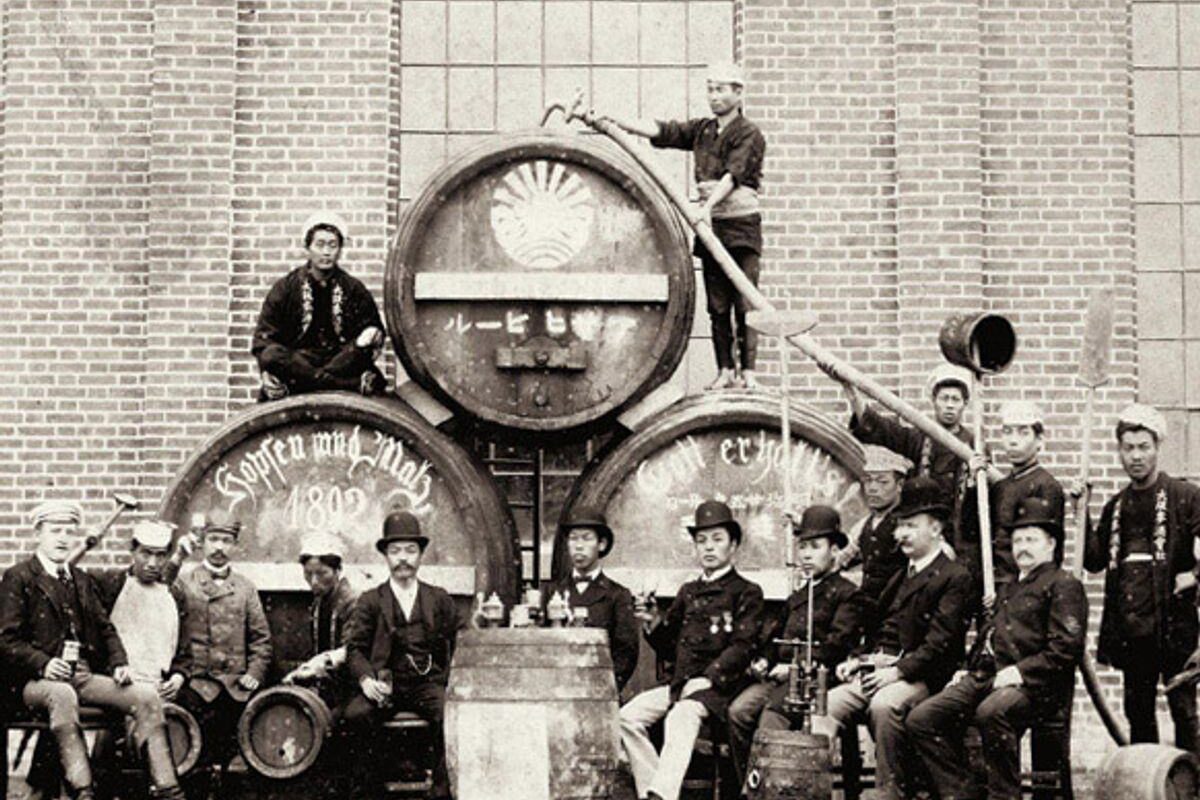 Sapporo's Kaitakushi Brewery was originally established in 1876 and was then commercialized as Sapporo Beer in 1886. After that, Kirin Beer Company was the most prominent brewery in Japan, which dominated 50% of the market share. 
Japan's iconic brand Asahi first originated in 1889 as the Osaka Beer Company (大阪麦酒会社). Asahi breweries became an independent entity in 1949 and have since become a worldwide brand. 1987 stands as an iconic year for the Japanese beer industry as Asahi Super Dry was introduced and has since become the nation's preferred beer of choice. 
The establishment of three major Japanese beer breweries during a thirty-year period essentially defined the birth of Japanese beer, both domestic and international.
Drinking Culture in Japan
It's essentially considered a must, especially for businesses, to establish excellent working practices, that company staff and senior members go out for a couple of beers. It's an opportunity to tear down social boundaries, drink, and chat without the conventional limits of workplace environments.
Izakaya bars are the heart of Japan's rich drinking culture. Many company traditions involve co-workers, both young and old, to break bread, mingle and toast while enjoying a refreshing glass of beer. Japanese for 'Pub,' Izakaya are often small, including a bar and a handful of tables, making the environment cozy and welcoming. 
Izakaya menu selections often have a wide range, with the same price policy for each meal. This not-so-common western rule gives customers more freedom to try different dishes upon each sitting. Traditional dishes like tsukemono (pickled vegetables), sashimi slices, or a selection of tofu or noodle dishes serve as a go-to Izakaya choice for after-work meals.
Drinking usually serves as the primary act when gracing an izakaya. However, even if drinkers intend to enjoy sake or cocktails, most evenings begin with a beer, as all customers can relate to wanting a well-awaited, after-work drink. Beverages like wine or whiskey are less common, but most izakayas will have both on offer if required. 
For those who visited Japan, spotting salarymen or locals passing by at stations, parks, or other outdoor environments sipping a can of Asahi isn't uncommon. Public drinking is largely tolerated and permitted in most areas. Walking while drinking, on the other hand, is frowned upon, especially in major cities. 
Beer is widely accessible at supermarkets, convenience stores, and train station stalls, typically offered in 350 and 500 ml cans. Some manufacturers sell their beer in 250 ml and even 135 ml cans, depending on the brand. Dispensers serving beer have become more scarce in recent years, except hotels and hostels, which remain frequent.
Japan never disappoints when it comes to traditional customs, and drinking includes a few: 
Always pour each guest's glass before your own. It shows appreciation for one's company and politeness to allow others to pour when a successor takes over. Traditionally, employees will pour their boss and senior company members glass first to show respect.
Hold fire on your first sip until everyone's glass is filled and ready to rock.
Kanpai

! (カンパイ). Upon raising your glass, allow friends and colleagues to clink to Kanpai, meaning '

empty the glass

,' which signifies the universal word for cheers. 
Asahi breweries are Japan's most popular brand with a 35.5% market share, ahead of Kirin, Suntory, and Sapporo. While craft beer accounts for a relatively small portion of the market, craft brands are slowly expanding into Japanese mainstream establishments.
However, from the Japanese beer industry's humble beginnings during the 1800s, it's admirable to see those names still front and centre in many bottle shops globally and across Japan. 
So let's take a look at Japan's most iconic beers:
Asahi Super Dry: Japan's Most Popular Beer
Asahi Super Dry is rice and malted barley beer. As a result, the beer has a light colour with a mild taste. There is also more carbonation, which ensures a drier result – hence the name Super Dry. Each year since its launch, over 100 million cases have been distributed worldwide. 
Asahi can be labelled an innovative brewing industry as 2021 marked the launch of Asahi Breweries introducing a draft version of its packaged Asahi Super Dry beer. The draft features a pull tab designed to create a frothy crown of foam topping the beer when opened.
Other styles include Asahi Dry Black and Asahi Brewmaster's Select that are now available in the United States. Super Dry variants in Japan include an Instant Cold Dry, which emphasises an ice-cold feel.
Sapporo: Japan's First Beer
Sapporo has been a Japanese trademark since 1876 and is still a household name. Sapporo's signature piece is Yebisu Premium Beer, a clear lager with light sensations which compliment most meals.
Despite preserving the city's name where it all began, Sapporo Brewery quickly exceeded its initial headquarters and expanded its business to five breweries around Japan. As a result, Sapporo beverages nowadays are available in over 60 countries worldwide.
Fun Fact: In 2018, Sapporo purchased Anchor Brewing Company, the oldest craft brewery in the United States. This move added to Sapporo's ever-growing global expansion and remain true to the brand's rituals that started during the 1800s.
Kirin Lager: Japan's Largest Brewery
Kirin Lager is one of the country's best-known and oldest beers which signifies the Kirin Breweries prized possession. Kirin was Japans leading beer company from 1953 until 2001 when it was surpassed by Asahi (of course!). The pale lager has a smooth feel and clean texture, which provides consumers with a refreshing treat on a hot summer's day.
Currently, Kirin breweries have 2.3 trillions made up of annual sales. During the first quarter of 2009, the brand reclaimed first place regarding beer products sold, with 37.7% and 34.2 million cases sold, compared with Asahi's 35.8% share and 32.71 million cases sold respectively. 
Kirin Brewery Company, Ltd. now operates 15 breweries around Japan and has grown into eateries, culinary, recreation facilities, and transportation services. The Iconic brewery delivers 28% of Japan's beer consumption and firmly holds its place with the Japanese beer industry.
Suntory Premium Malt Beer
Suntory's The Premium Malt is well-known for its high quality, with a rich flavour and pleasing fragrance. This pilsner-style beer, which has won two gold medals in European contests in a row, is simple to drink and highly popular in Japan.
Within the Japanese beer market, Sapporo and Suntory often compete for the third position. Suntory had a 12.4% market share in 2008, while Sapporo had 11.8% respectively. A marginally close 0.6% gap shows how close both brands are in terms of sales and popularity.
In 2009, both Kirin and Suntory engaged in merger talks to form a singular, leading alcoholic beverage manufacturer. Upon emerging both brands,  the Kirin and Suntory brand names would be retained, with Suntory being the majority shareholder. In addition, both CEO and President would remain at the top of the newly established brand.
However, the merger plans fell through in February 2010 due to disputes over how the shares between both brands and managerial integrity.
Still, the two brands remain leading manufacturers within the beer industry, both in Japan and worldwide.
Craft Beer in Japan: Ji-bīru (地ビール), or "local beer"
In the mid-1990s, the craft beer trend arose in japan. Previously, only large-scale breweries were allowed licenses under restrictive brewing regulations. However, the beer industry shifted in 1994, when the government loosened the legislation significantly, allowing small-scale brewers to expand as craft beer has grown in popularity ever since.
Hundreds of independent craft breweries across the country, now trading localized beer domestically and internationally, have expanded across the market and hold respectable significance with the Japanese beer industry. 
Diverse cities like Tokyo and Osaka embrace a notably robust craft beer culture. A certain number of specialized pubs brew their beer and sell exclusively from their taps. Other pubs may sell from a small selection of breweries, all producing local beers as Ji-bīru serves as a primary choice for those dedicated establishments. 
Japanese Beer: A Cultural Choice
Japan frequently surprises us with certain aspects of dedication to society and culture as the Japanese people value their historical traditions and maintain ancient customs established by their forefathers.
Japanese beer has found a niche amongst the nation's culture, with companies and social traditions ensuring friends and colleagues embrace each other and perhaps make long-life companions. There is, however, a peer pressure effect, particularly with companies' practices which often shines a negative light on drinking in Japan. 
Generally, drinking in Japan reflects drinking in most countries: an opportunity to unwind, socialize, appreciate new faces or friends and co-workers, and doing so on your terms. Whether it's localized, brand-based, or bought anywhere in the world, Japanese beer tops any list, so enjoy your beer while reading our words.