🔖
5
min read
The stalls of this Winter's Hyper Japan settled in with the intention of impressing people with the quirky matchlessness that is the Japanese culture and impress it did. Admiring the hand-made artworks in the Miyabi section is best done after sipping through both Sake and ramen broth. The ever-popular Eat Japan graced London's largest Japanese convention with lip-smacking ramen and endless hot and cold snacks.
After checking out the many stalls covered in colourful wigs, beautiful kanji artwork, and even something as simple and popular as anime action figures, it became evident how hard it is to pick what is best about a small section of Japanese beauty. After bothering many businesses, a few were picked to share with the world, exploring the background and reasons for the birth of each individual's art.
1. Takayo Ando, Kanji Brushwork Paintings
Takayo Ando creates original works of art using Kanji, a Chinese character system used in the Japanese language, to create delicate paintings that match her customer's personalities and tastes. The most exciting thing about Ando's paintings is how personal she makes them. She mentioned: "I don't sell any artwork online because I want to meet the person and make it [the paintings] personal. I do this by getting to know them and making conversation. This makes everything more authentic".
Ando traveled to London specifically for the Hyper Japan convention and spoke little English, yet radiated the warmth she expresses through her paintings. Her daughter spoke about how different her mother's Kanji brushwork was different to most. "It's not only straight lines, it's more artistic. Her shading of the ink is different and she draws pictures with the letters. It looks like it has come to life."
Calligraphy has always been an important part of the Japanese classroom, and Ando, from a young age, decided she loved the soothing form and stuck with it all these years. It can't be forgotten that many believe that having Kanji paintings in the house brings warmth. Ando said, "These symbols are good to have in the house because the style of the painting expresses and moves using those simple words."
And she wasn't wrong, Ando's daughter showed examples of what that meant. One painting, branding the word 'beautiful' gives a deeper meaning than its dictionary definition. "It's a feeling, not just a word," her daughter said.
Ando and many of the other artists at Hyper Japan were brought together by Miyabi. Find Ando's work and more on her website.
2. Geri Coady, GeriDrawsJapan
Originally from Canada, freelance illustrator and designer Geri Coady stood at the opposite side of the convention, selling her tiny pieces of artwork focusing on her love for Japan. Her art project GeriDrawsJapan blossomed a couple of years ago when she illustrated 100 different things she loved about Japan.
"It was food, culture, pretty much everything. And when I finished, I decided to turn it into prints. Then, I thought I should start creating a pin," Coady said.  "I just wanted to share my love for Japan through my illustrations with others who also love Japan."
Coady's illustrations never fail to bring back fond memories of Japan when customers drop by to appreciate the simplicity of it all. Not only does Coady illustrate, but she is also currently learning how to play the Shamisen – a three-stringed Japanese musical instrument – and is taught by none other than another Hyper Japan regular talent who plays the instrument regularly. Her favourite pin happens to be of the Shamisen, and she hopes to continue sharing these badges with others who appreciate the instrument.
"It's really sweet when a lot of people who buy the pin mention how much they want to plan the Shamisen," she says.
Follow Geri's Instagram and website where she sells her illustrations and talks about her adventures in Japan and elsewhere.
3. Harumi Suzuki, Kimono Seamstress
Harumi Suzuki spoke little English, so discovering a lot about her life was not the easiest, but she did her absolute best to accommodate the lack of Japanese spoken on my end. Kimono-maker Suzuki creates miniature Kimonos and Kimono clad cat dolls using only silk and antique fabrics. On the side, she presented many hand-made hair ornaments painted with and decorated with delicate flowers.
Suzuki found out about Hyper Japan thanks to her loyal Instagram followers who pleaded for her to attend to show off her talent. Unfortunately, the kimono maker, whose day job is teaching, does not actively sell her products. Unless interested customers direct message her on Instagram, nothing is sold.
The fact that Western people are appreciating her hard work brings joy to Harumi and she hopes to continue impressing those outsides of Japan.
Suzuki and many of the other artists at Hyper Japan were brought together by Miyabi.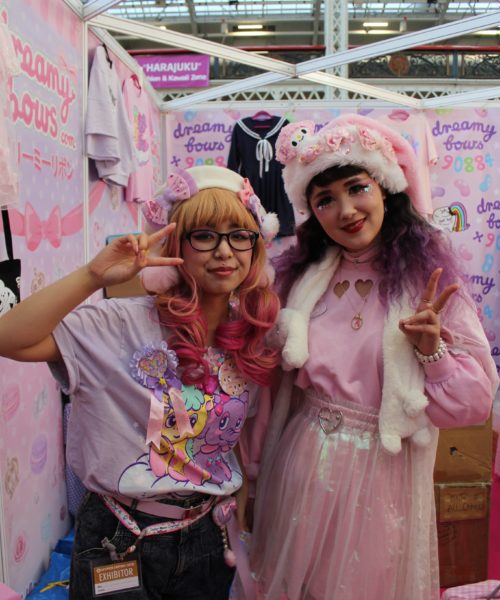 4. Dreamy Bows, ARTBOX
Dreamy Bows is definitely for those with an interest in the Harajuku lifestyle. J-Fashion has spread like wildfire across the globe, and for good reason. The concession stand was packed to the brim with the brightest of colours. From platform boots to neon pink wigs, there is everything for your personal fashion needs.
Waiyi Lee stood at the stall, answering curious questions. "The fashion is so different from the West. Japanese fashion is so fun and cute and all about expressing yourself", Lee explains when asked why Westerners love the fashion and culture so much. She explained how J-Fashion is a way for people to "rebel against what society tells them to they should do".
Dreamy Bows has its quaint shop in Portsmouth. Originally selling snacks and accessories, they noticed a gap in the market for Japanese fashion and took the opportunity to be one of the first to expand. If getting to Portsmouth is a problem, no worries, a concession stand is open in the magnificent ARTBOX shop located in Covent Garden.
"We thought we would stock some Japanese brands and bring it to the UK to see how that goes and it just became so popular", Lee mentioned.
If you're new to J-Fashion, don't be scared to stop by their store and ask for help. They will sort everyone out with whatever is most comfortable for each person. With the best seller being the platform shoes and wigs, it is no shock how much J-Fashion is growing and hopefully, continue to do so.
Get involved! They'll be keeping you up-to-date with their latest gear on Twitter, Instagram, and their website.