🔖
3
min read
It's no secret Japan goes crazy for anime and manga, no matter the genre or theme. Classics like My Neighbor Totoro, Spirited Away, Your Name, and Castle in the Sky all resonate with fans worldwide. Anime might seem like a kid's hobby from the outside looking in, but the phenomenon hits him home with kids and adults, almost equally in Japan.
2020 broke records as 'Demon Slayer: Kimetsu no Yaiba the Movie: Mugen Train' became the highest-grossing film in Japan, over-taking Studio Ghibli's 2001 release 'Spirited Away.' According to a spokesperson from anime production company Aniplex, since October's release, Demon Slayer has hit record numbers of  ¥32.5 billion in box-office sales. 
Here are the top 5 highest-grossing Japanese anime movies of all time:
Demon Slayer: Kimetsu no Yaiba the Movie: Mugen Train – ¥32.5 billion 
Spirited Away (千と千尋の神隠し) –  ¥30.8 billion 
Your Name (君の名は) –  ¥25.3 billion
Princess Mononoke (もののけ姫) –  ¥20.18 billion 
Howl's Moving Castle (ハウルの動く城 ) –  ¥19.6 billion 
Japan's covid cases have floated around the 500 per day mark since September, and until recently, cinemas have seated 50% of viewers. Safety additions like thermal scanners, hand sanitizer, and masks are required; however, no food is sold indoors.
The pandemic caused cinemas worldwide to shut, only to see streaming services like Netflix and Stan become a lifeline. However, Japanese viewers have enjoyed newly released flicks all year round, benefiting the grossing numbers of 2020 releases once covid-safety rules were followed.
Demon Slayer's success points towards the already established franchise fan-base it has through both manga and anime, including Japan's ability to keep cinema screenings active. As most streaming platforms showcase Demon Slayer's anime series, screen time increased as viewers enjoyed the endless series on offer, increasing its fan base. 
Since Demon Slayers October 16th release, screenings have been non-stop. In a single day, a Roppongi-based cinema has screened the movie 40 times. Ten days after the release, movie sales passed ¥10 billion, breaking another record in Japan. By December, Demon Slayer: Kimetsu no Yaiba the Movie: Mugen Train made history by crowning itself the highest-grossing film of all time in Japan.
The entire franchise's total worth is $2.6 billion, consisting of manga, anime, and movie sales, including series merchandise.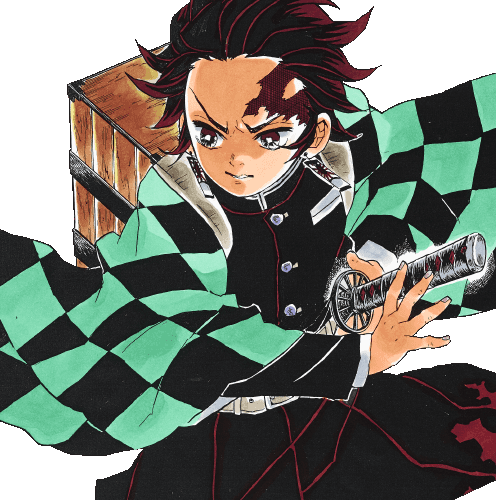 The story is set in the Taisho era (1912-1926). Fans of the series have followed the life of charcoal seller Tanjiro Kamado. Seeing his family wiped out by demons, only to find his younger sister Nezuko becoming one, Tanijiro sets out seeking revenge, which leads to a heartfelt experience. The movie is based on the popular anime series 'Demon Slayer: Kimetsu no Yaiba (鬼滅の刃), first aired in April 2019. The anime series is a sequel to its manga version, sharing the same name. The manga was first published in 2016 by Weekly Shonen Jump Magazine and ran until May 2020. 
Japan was first introduced to Demon Slayer on bookshelves but wasn't a widespread success. The anime version made Demon Slayer a household name amongst otakus worldwide, giving its manga volumes a boost in sales.  Today, the manga series sold over 120 million manga copies, becoming one of the most successful manga of all time. Produced by Anime studios Ufotable and directed by Haruo Sotozaki, the anime series consists of 26 episodes.
Luckily, there are plenty of places to watch anime online. For viewers not familiar with Demon Slayer, now is the perfect time to make a start. The movie won't be released until later this year, giving you more time to embrace the Taisho era and follow Tanijiro's life of demon-slaying. 
The Demon Slayer manga is written and illustrated by Koyoharu Google. Here is a beginner's guide to manga for aspiring Manga Otakus to get you up to speed before diving into all 23 volumes, which are available online. 
Note: Manga is read right to left and bottom to top. Weird, I know, but it takes less time once your brain adjusts. Here's a brief list of websites selling manga series:
Demon Slayer going Global
The movie has been released in several Asian countries outside Japan, including Taiwan, Thailand, Singapore, and Vietnam. Release dates for the US and Europe are set for next year. However, due to the pandemic, dates may be pushed back for safety measures. 
At Nakama, we're counting the days until cinemas start screening this well-waited movie. It may be up to the pandemic whenever that happens as lockdowns continue to loom throughout the UK.
Make the most of some extra free time by exploring the Taisho era if you haven't already. When screenings are back, you'll be as eager as ever to witness a masterpiece like many classics before.