🔖
6
min read
Cryptocurrency has been all the rave for the past year. Even the far corners of the world aren't immune to its influence, sparking conversations over Bitcoin, Ethereum, Blockchain, and NFTs. And when technology and the future are involved, Japan is never far behind. Here, we'll introduce you to cryptocurrencies that are inspired by and include elements of Japan's rich culture.
A Snapshot of Cryptocurrency & Japan
Think of cryptocurrency as digital money, like the gold coins you can use to buy items in your favourite online games. It exists inside blockchain technology, a publicly viewable transaction log that facilitates trades between two individuals. That means you can send crypto to another person halfway across the globe without a bank account or third-party payment portal. 
The ever-popular Bitcoin is a blockchain, and within it lives BTC—the digital currency that's been making waves all over the globe. Over the years, its value has soared to over $60,000 and continues to fluctuate. Without clear monetary value, investors are driven by emotion when trading cryptocurrency, causing massive volatility in a highly speculative market. 
Yet crypto has taken centre stage since its bullish run this year, bringing in interest from all corners of the world. That includes the technologically forward Japan, which has taken a friendly stance on digital finance. And in a sphere where the country has so much influence, you can find hints of Japan and its culture in the far corners of the metaverse—including many cryptocurrencies today. 
The ever-elusive Dogecoin never falls off the list of Japan-inspired cryptocurrencies. The meme coin was created as a joke by founders Billy Markus and Jackson Palmer, who took the Bitcoin source code and made a few tweaks. Within hours, Dogecoin came to be. Its poster figure is Kabosu, a rescue dog from Japan and one of two Shiba Inus that took the internet by storm in 2013 with the iconic Doge meme. 
While DOGE found no use outside of micro tipping in forums like Reddit, it made its big break earlier this year, when SpaceX founder Elon Musk alluded to his interest in the meme coin. The multibillionaire tweeted Dogecoin memes, including a "Doge barking at a moon" and "The Dogefather," which started a massive frenzy over DOGE. Its value grew from $0.05 in April to $0.7 in May—a 1,300% increase in a month! Elon Musk's Twitter account has since become a hub for finding the next big crypto following Dogecoin's flight to the moon. 
While DOGE enjoyed more than three seconds of fame, its value remains highly volatile and dependent on the Tesla founder's interest. Musk has continued to support Dogecoin, but the coin's future is uncertain as a price drop is possible once he moves onto a new favourite coin.
Dogecoin's legacy inspired a flurry of other Shiba Inu-themed coins to take a stab at stardom. One successful contender is Shiba Inu, a coin named after the popular Japanese dog breed. Its founder is the mysterious Ryoshi, whose identity has not been debunked by the public. 
As a self-proclaimed Dogecoin killer, SHIB was created as a community-building experiment, consisting of a three-token economy with a massive supply of one quadrillion (compared to BTC's 21 million). Of course, cryptocurrencies with big supplies aren't expected to reach the $100 mark—not even $10. But most crypto investors bank on percentage gains, which means that the early May spike from $0.0000017 to $0.00003503 within a four-day window was a massive 1,900% win for lucky SHIB holders. 
Despite gaining enough credibility to make it to listings in crypto exchange giant, Coinbase, Shiba Inu has become a shadow in the greater cryptocurrency market. Unlike Dogecoin, which held part of its fort, Shiba Inu has reversed its astronomical gains and is almost back to its pre-spike value. 
Ryoshi has also etched SHIB into history as a meme coin after sending 50% of the supply—valued at $6 billion—to Ethereum founder Vitalik Buterin in May. The coins have since been burned or donated to COVID relief funds and other causes.
Amid the flurry of dog-theme cryptocurrencies, cat people remained temptation-free until MonaCoin came around. The Japanese developer behind the project drew inspiration from Mona, a popular ASCII character that often showed up in the early days of the internet. And like Shiba Inu, MonaCoin's anonymous developer, who went by the name Mr Watanabe, is shrouded in mystery. 
As a coin native to Japan and as the first Japanese cryptocurrency (proudly hallmarked on the MonaCoin website), many locals have taken a liking to the coin. For example, in 2014, a Japanese man had purchased a 2-acre plot of land in Nagano Prefecture with 32,000 MONA crypto. It even has the stamp of approval from the Financial Services Agency, which handles securities, exchanges, banking, and insurance in Japan. As such, it's present in a wide range of Japanese cryptocurrency exchanges but has yet to make a mark on the global stage. 
The MonaCoin value was highest in the 2017 bull market when it spiked to almost $15. It has since mellowed down to $1.37.
Coin swappers are some of the turn of the century's most popular blockchain archetypes. One of the strongest contenders is the PancakeSwap exchange, a fairly new player that's been making waves for its groundbreaking passive earning opportunities. There are some complicated tokenomics involved in how the CAKE crypto works, so it's favoured by investors who've garnered their fair share of trading knowledge. But there's a tight-knit community and attentive developers in the PancakeSwap crypto subreddit, making it friendlier to ease into. 
But most of all, PancakeSwap trumps all in the Kawaii department. Its mascot, a bunny-shaped pancake, is reminiscent of Japan's love for personified food characters, such as Gudetama and Bananya. And it's more than enough reason why PancakeSwap has delved into the NFT market a few times over its one-year tenure. 
For less crypto-inclined individuals, PancakeSwap also has a merch store with Japanese-inspired drops, including a Maneki bunny character face mask derived from the infamous Maneki cat.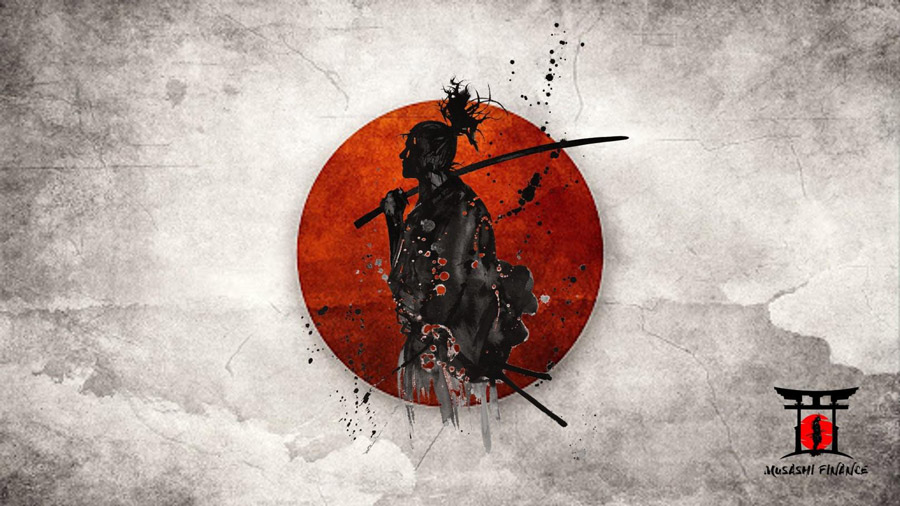 Musashi Finance is one of the most exciting blockchain projects based in Japan and heavily inspired by Japanese culture. Its name was derived from the infamous Miyamoto Musashi, a ronin who popularized the Way of the Sword in the Edo period. 
But Musashi Finance is more than just a cool project with a nod to Japanese history. It's also pushing forward the blockchain sphere by creating a collection of decentralized financial products. These include a gaming platform, exchange, NFT marketplace, and more. As a new project that just went public with a MUS token sale, Musashi Finance has yet to make it to global exchanges. But it's shaping up to be a project to watch out for in the near future. 
Thanks to Dogecoin's legacy, Japan's lovely Shiba Inu has become the face of cryptocurrency meme coins, which are coins that take inspiration from jokes and other internet trends. And Kishu Inu is unapologetically one of the newest Shiba Inu-themed cryptocurrencies to join the lineup (and openly a meme coin, as headlined in the Kishu Inu website), having entered the market in April of this year. 
Unlike other blockchain projects, which pack in crypto jargon and thousands of features that only seasoned investors can understand, Kishu Inu has taken a friendlier approach to the whole cryptocurrency conundrum. It's a community-focused project that grants passive rewards based on use, meaning holders can earn more KISHU—the Kishu Inu crypto—when the market is actively transacting the coin. 
KISHU has yet to make waves or attract a substantial following as a new contender on the market, but the developers are working to build a future for the meme coin.
Floki Inu is next in the lineup of new Shiba Inu-inspired joins that joined the market this year and one crazy contender for the next big meme coin to captivate the world. It all began in late June when Elon Musk tweeted that his new dog would be named Floki. So out came multiple cryptocurrency projects inspired by the billionaire's projected dog—one being Floki Inu. It's a surprisingly thought-out project that aims to innovate the NFT gaming sphere, starting with its 3D game, Valhalla. 
While it remained obscure for the first two months of its lifetime, the Floki Inu coin, FLOKI, quickly soared to the moon—or Mars, its preferred destination according to its website—in mid-September. As a result, FLOKI enjoyed a $0.0005 increase in value, which doesn't seem much at first glance, but represents a whopping 500% gain for early investors. The culprit? Elon Musk, of course. 
On September 17, the Tesla founder tweeted an adorable picture of his new dog, a Shiba Inu named Floki, as promised. Many investors saw the Elon Musk Floki incident as nothing close to a coincidence, allowing FLOKI to launch to Mars.
As the first cryptocurrency to successfully enter the market, Bitcoin is the representative frontrunner that's taken over the digital finance sphere. Apart from being known for all its innovations, from the processes that allow the mining of Bitcoin to cultivating an entire Bitcoin trading market, it's also known for all the mysteries surrounding it. In particular, the coin's inception is attributed to Satoshi Nakamoto, a pseudonym used by an anonymous individual to spread the Bitcoin whitepaper during its early days. 
The very Japanese moniker has incited a hunt for the true Satoshi Nakamoto. A few Japanese individuals have been suspected to be the mysterious Bitcoin founder, but the world has yet to solve the mystery. 
Japan has always been involved in the crypto sphere, starting from the Japanese-inspired Satoshi Nakamoto to the country's early acceptance of digital finance. And thanks to the meme coin revolution that began with Dogecoin, even the lovely Shiba Inu has also made its (paw) mark in the metaverse.