🔖
7
min read
Anime streetwear collabs are all the rage, and here are the brands leading the charge (plus, an honorable mention–stick around to find out more!)
Streetwear and anime have long been a match made in heaven. With streetwear's nature as fashionable, casual clothes being combined with the global anime hype across the globe, streetwear provides the perfect avenue for expressing one's love for anime in a fashion-forward way.
While anime has been around for a while, many people might not realize that there are brands that regularly come out with these collaborations. Below, we've lined up our top three brands with anime streetwear collaborations!
Supreme x Akira 2017 Fall Collection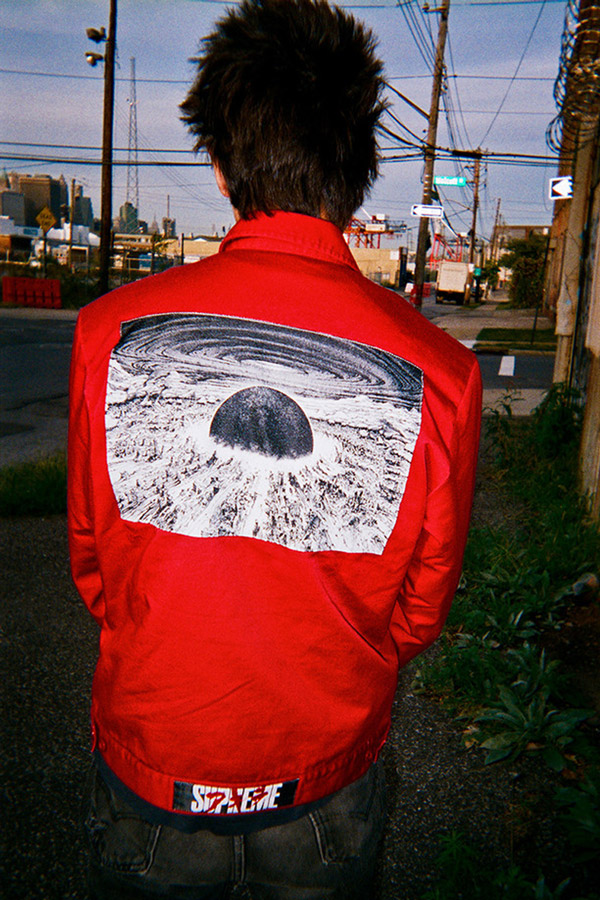 Supreme's streetwear collaboration with Akira began with hesitation from creator Katsuhiro Otomo, whose 1988 classic manga-turned-movie is known across the world among steampunk, sci-fi, and Japanese pop culture fans as a classic work showcasing Neo-Tokyo and futuristic themes. Eventually, in an interview with GALLERY X BY PARCO, Otomo confirmed and finally agreed; Supreme took the green light with stride and built on Otomo's intention to write about 'the marginal members of society' and their self-destructive behavior, incorporating these elements into their biker-themed streetwear collection.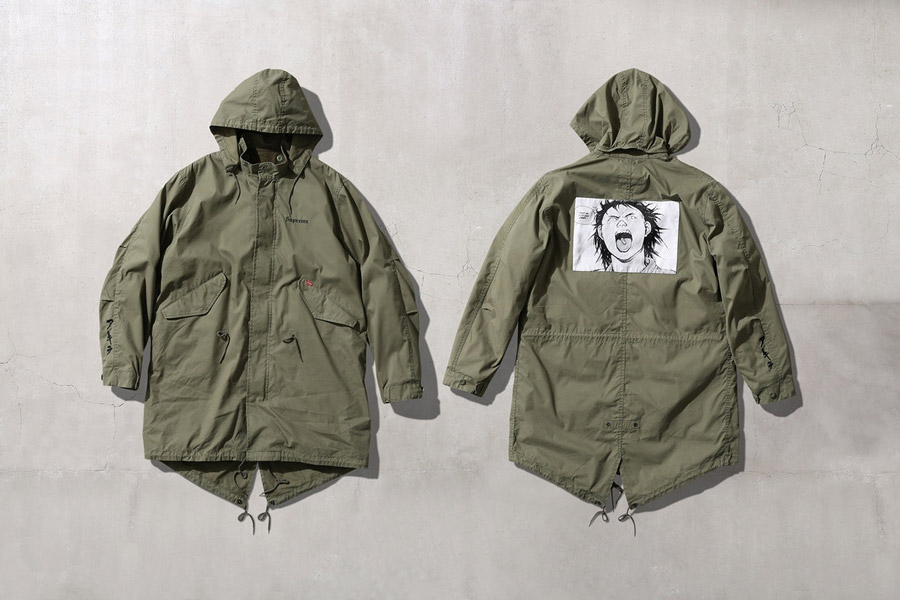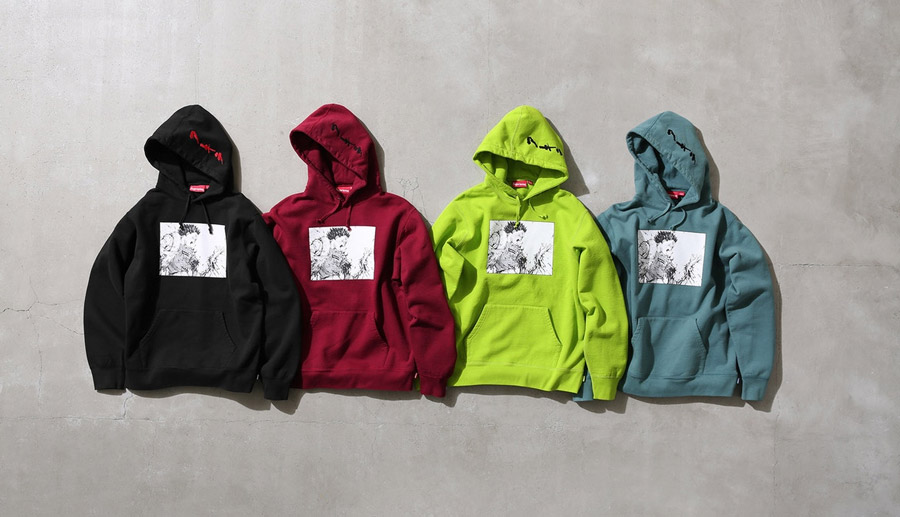 Each collaboration piece features different iconic panels from the Akira manga, revolving around Tetsuo's destructive behavior and the world-restoring explosion. The collection also featured a skateboard with Tetsuo swallowing the 'Supreme' pill and taking substances.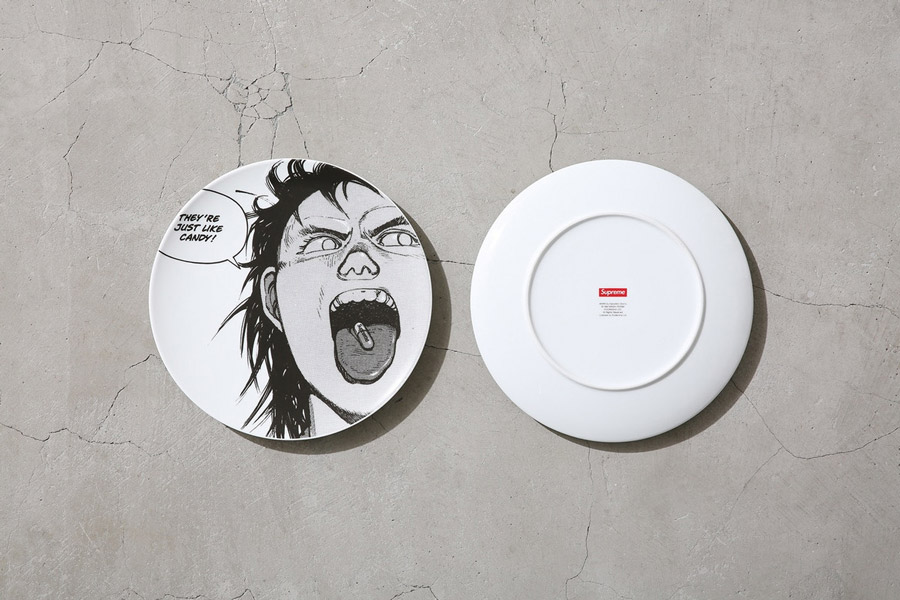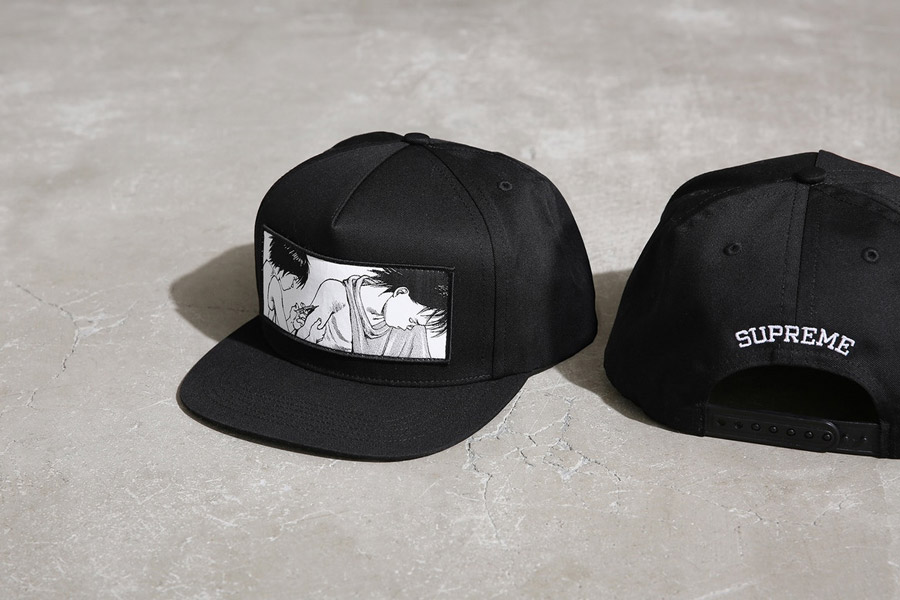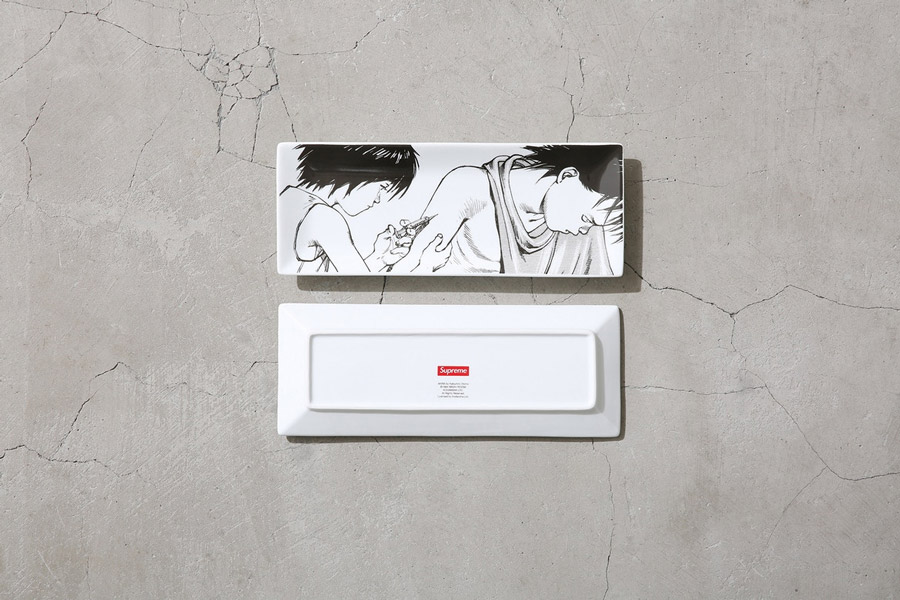 Against the odds, Supreme went all in on a collaboration that faced great uncertainty and executed with finesse. And one should expect no less-Supreme delivered as much as a dirtbike and racing gear in their Honda x Fox Racing Fall 2019 collection, created 'stylized co-branding' for their Yohji Yamamoto Pour Homme collection, and even partnered with Toshio Maeda, creator of Urotsukidōji: Legend of the Overfiend and subsequent pioneer of the hentai genre.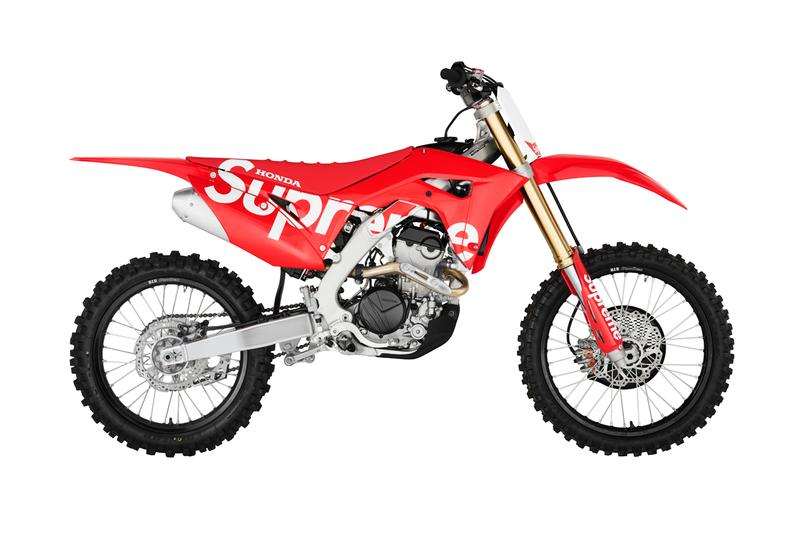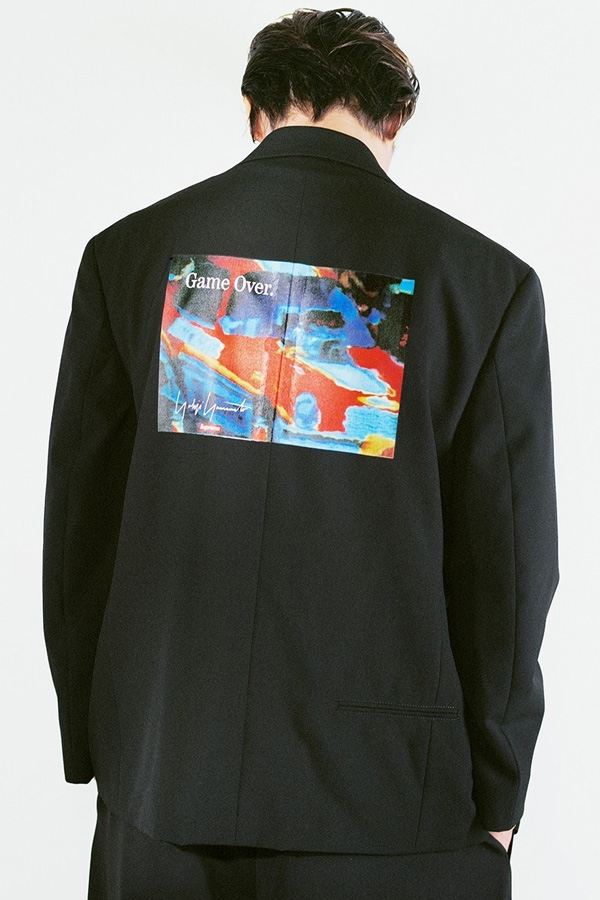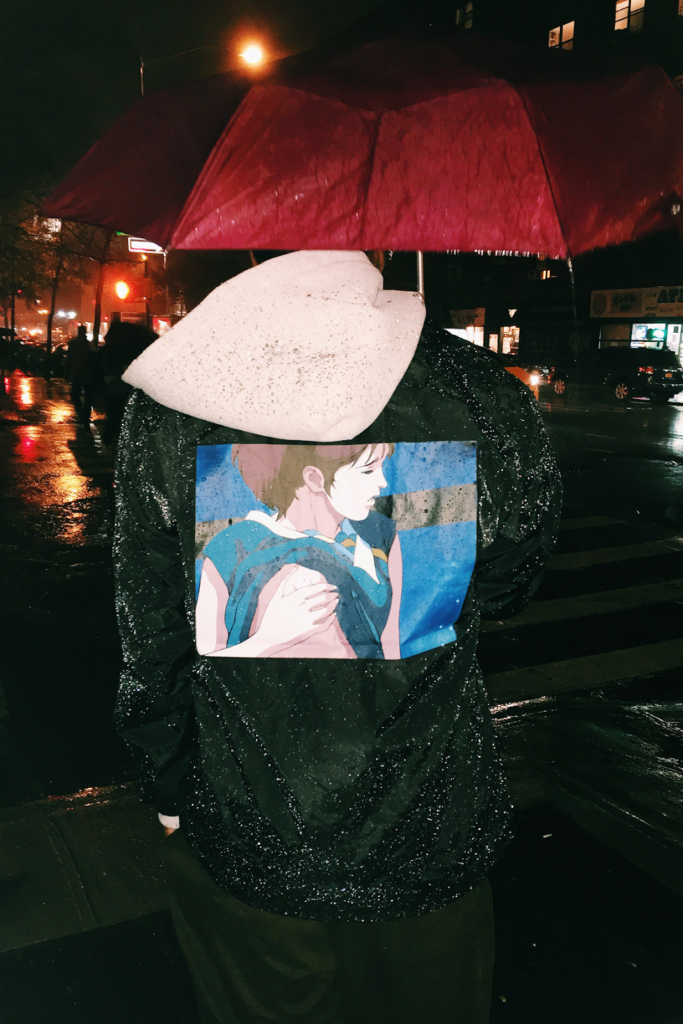 Nike x Gundam SB Dunk High
Nike is no stranger to collaborating with the Gundam franchise, sporting clear references to the mecha series in its red, white, and blue colorway Air Max 98 drop back in 2018 (picture below). Although not an official collaboration with the Gundam series, this was surely the flame that would ignite the official 2021 comeback of Nike x Gundam with the SB Dunk High series.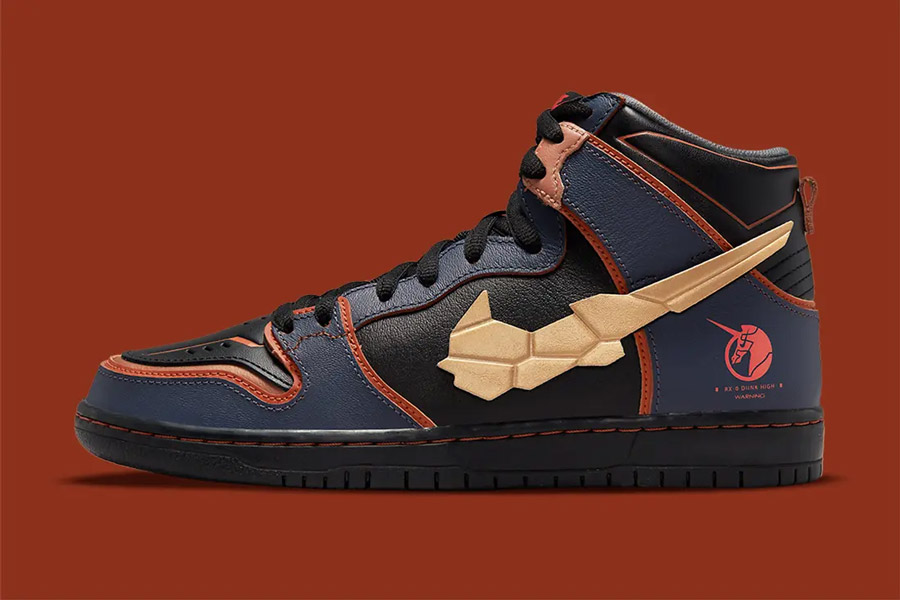 Mobile Suit Gundam has been rolling out series after series for almost half a century since 1979, putting Bandai Namco at the helm of science fiction and the mecha genre for generations. Boosted by the company's dedicated toy merchandise, Gundam would also become a significant player in collector culture. Combined with Nike, whose own sneakers are the rave for "sneakerheads" worldwide, the SB Dunk Highs are a sure catch for adorning collectors everywhere.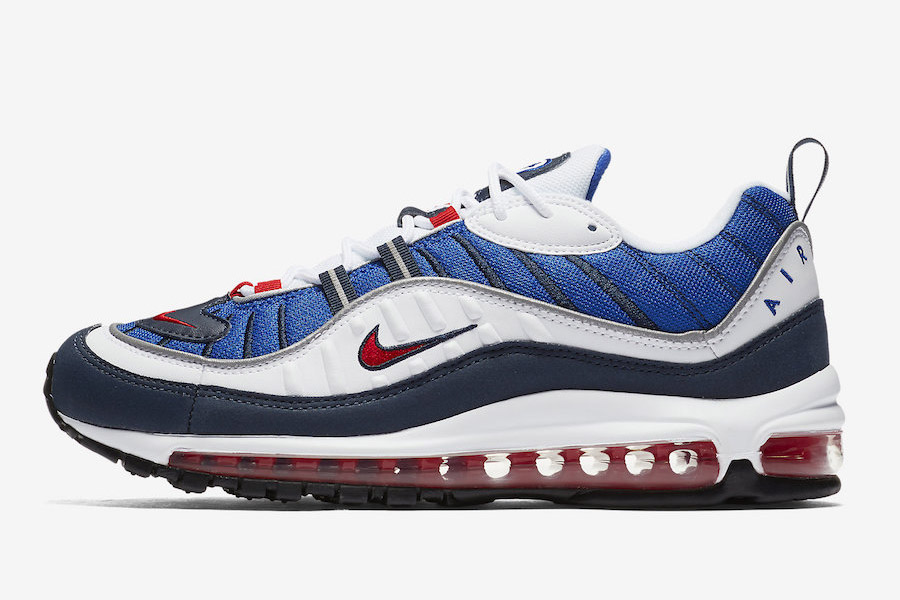 The Nike x Gundam SB Dunk High collaboration comes in white "Unicorn" and black "Banshee," both sporting golden armor-like Nike symbols and red outlined accents, along with a mecha unicorn symbol stamped on the side of the heel. The collection finally dropped last November 2021 after month-long delays, released in tandem with the Gundam Nike SB Unicorn, Gundam Universe GU-02 XXXG-01W Wing Gundam, and the Gundam RG 1/144 STRIKE FREEDOM GUNDAM models.
Yohji Yamamoto 'Ground Y' x Neon Genesis Evangelion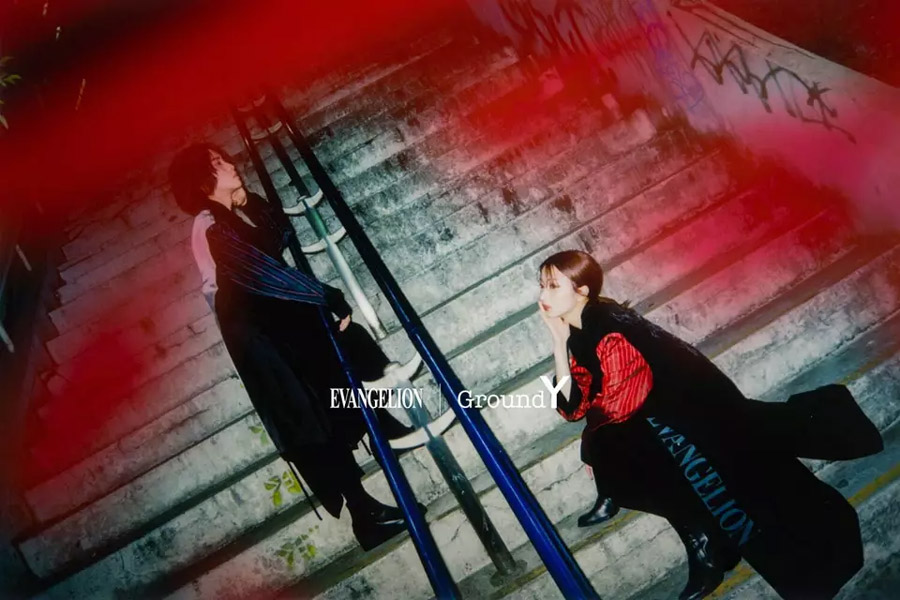 Yohji Yamamoto's dark and avant garde take on streetwear took an on-brand turn this 2021 with the Ground Y x Evangelion collaboration. Ground Y, being the brand's more affordable yet equally popular and diverse sublabel, was one of many collaboration ventures Evangelion set out for in 2021, alongside the Tokyo Olympics and UNDERCOVER by Jun Takahashi.
The collection features key characters Rei Ayanami and Asuka Shikinami Langley in signature Yamamoto draped cardigans and wrap pants, some designed to subtly nod to the series with reversible options. The oversized silhouette carries over to the jumbo cut sew shirts featuring closeups of the UNIT mecha.
Yohji Yamamoto's Ground Y x Evangelion collaboration is a hallmark in the list of promotions for the Evangelion 3.0+1.0 Thrice Upon A Time movie released last March 2021, following Shinji Ikari's journey and the key turn of events in preempting the Final Impact. Watch the first 12 minutes of the movie here.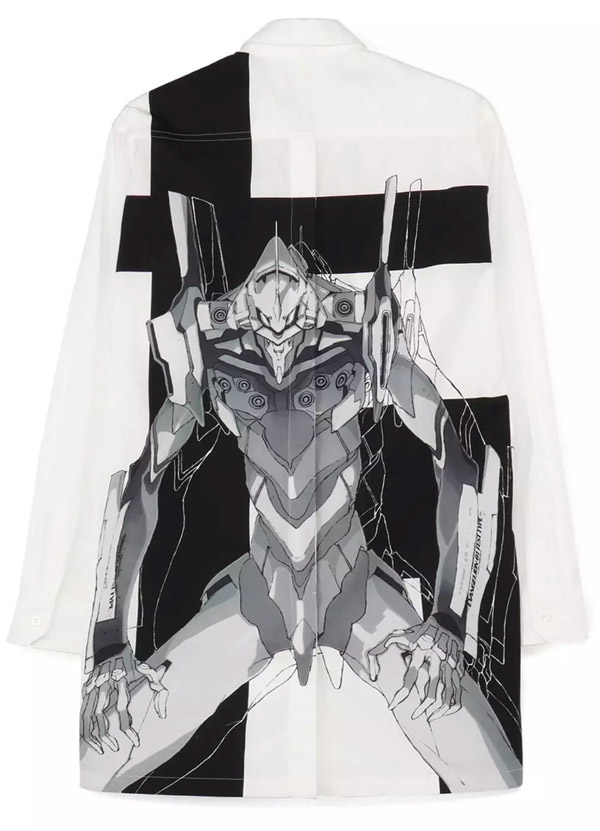 BAPE x Dragon Ball 2016 Collection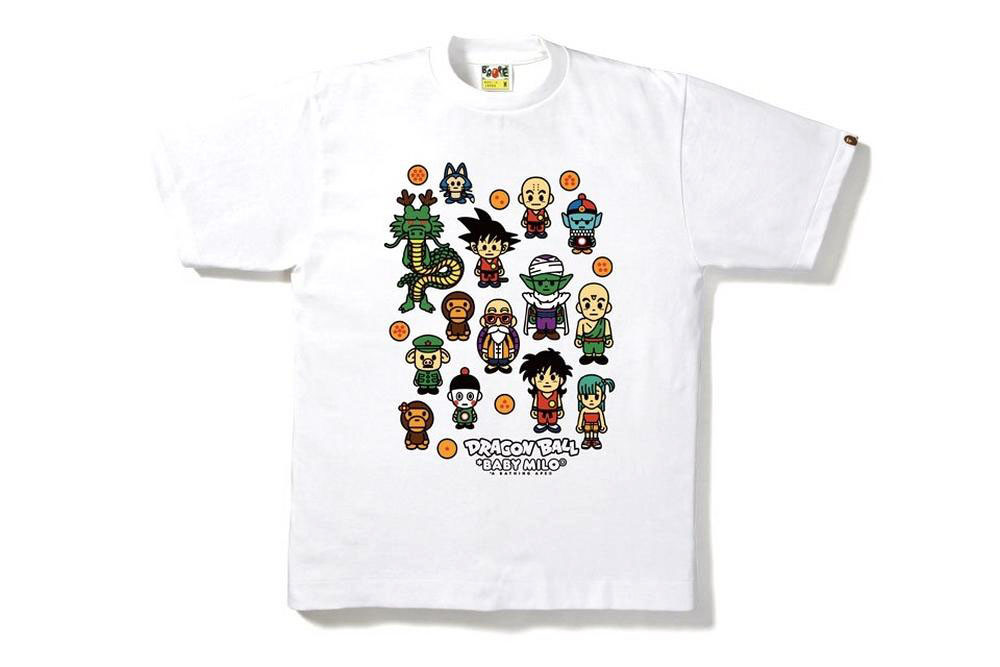 If Supreme is about landing a one-time big-time collaboration, BAPE is about being a household name among anime streetwear clothing enthusiasts. BAPE, or a Bathing Ape, is a Harajuku-born streetwear brand founded by Nigo in 1993. While consistently releasing collaborations with iconic figures and brands (do Adidas, KAWS, and Pepsi ring a bell?), the brand has also grown its own luxury arm and, since 2016, a growing portfolio of anime streetwear collaborations.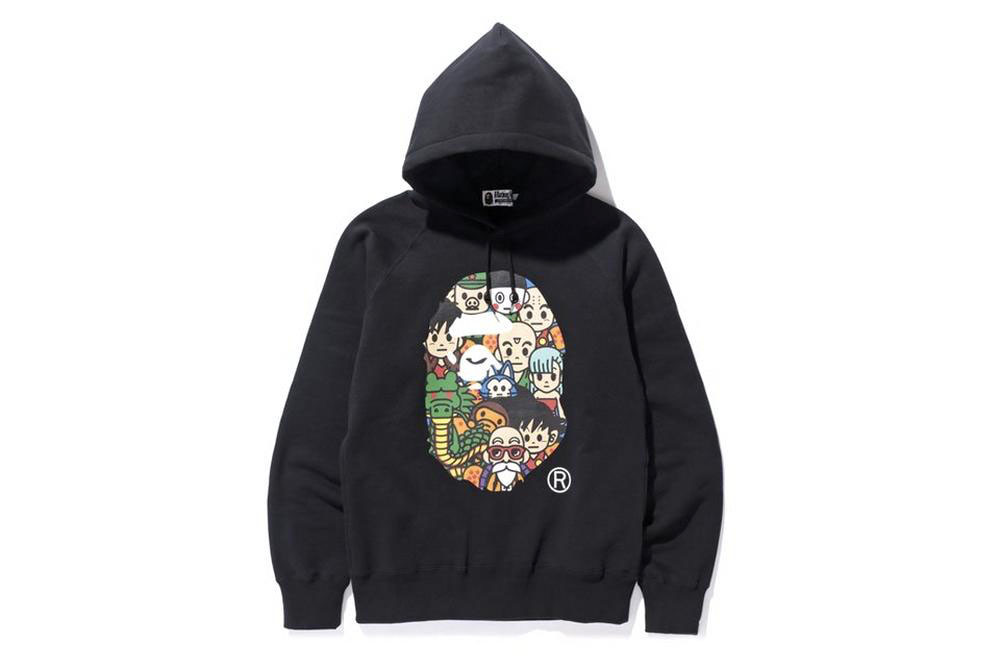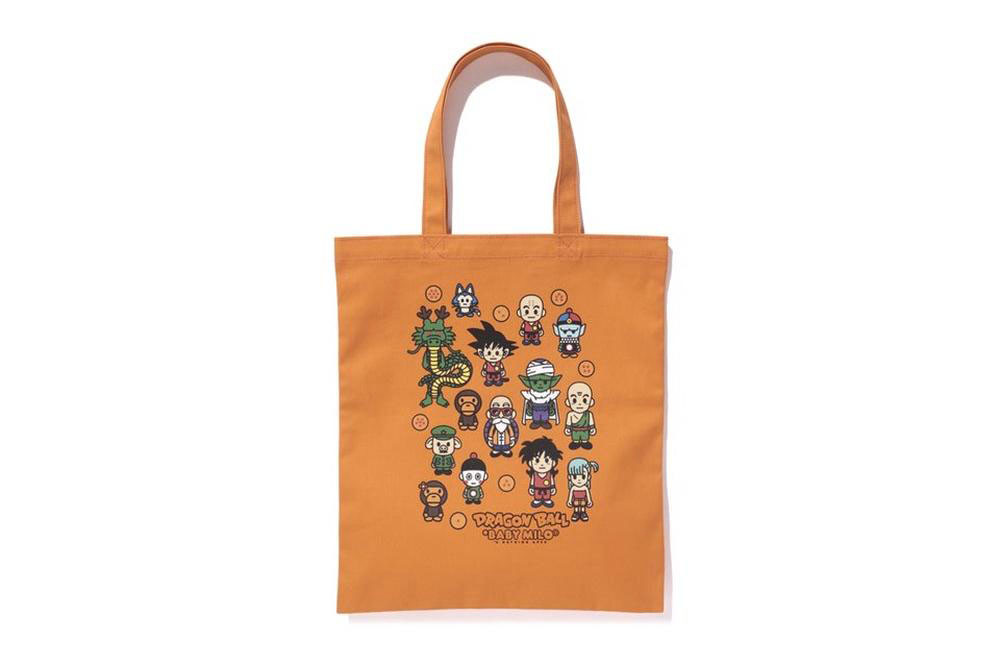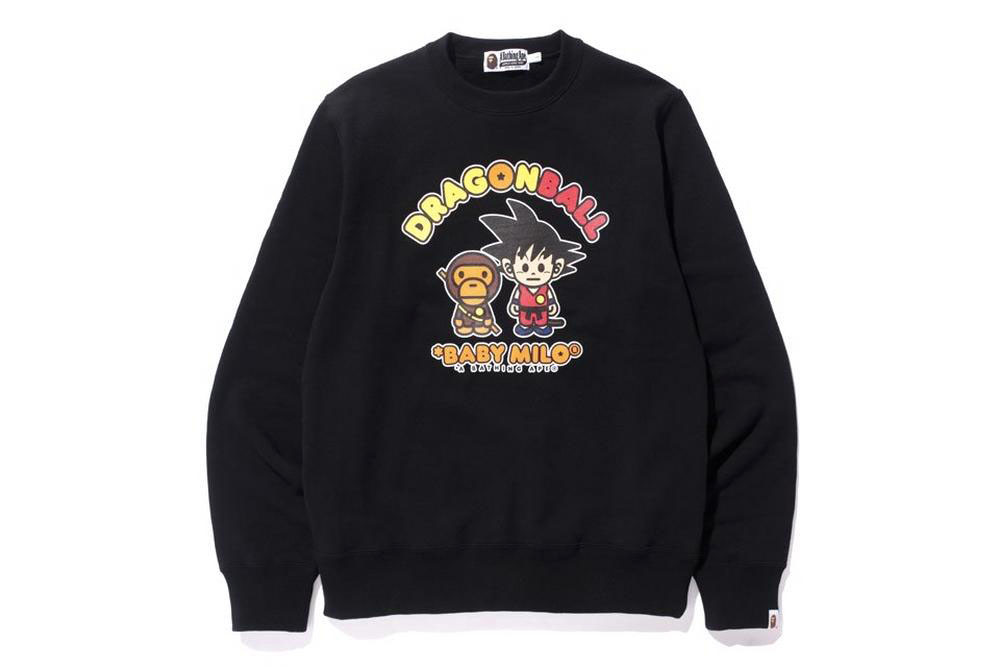 BAPE's Dragon Ball collection marked the beginning of BAPE's streak of anime streetwear collaborations. The Dragon Ball collection features A Bathing Ape's Baby Milo alongside Goku and the cast of Dragon Ball on shirts, pullovers, hoodies, tote bags, and even mugs. 
After the remarkable success of the launch for both brands, A Bathing Ape has since launched a multitude of collaborations, with their most popular being the BAPE x Pokemon 2017 Collection, garnering such traction that it made a comeback in 2020 in the Baby Milo style.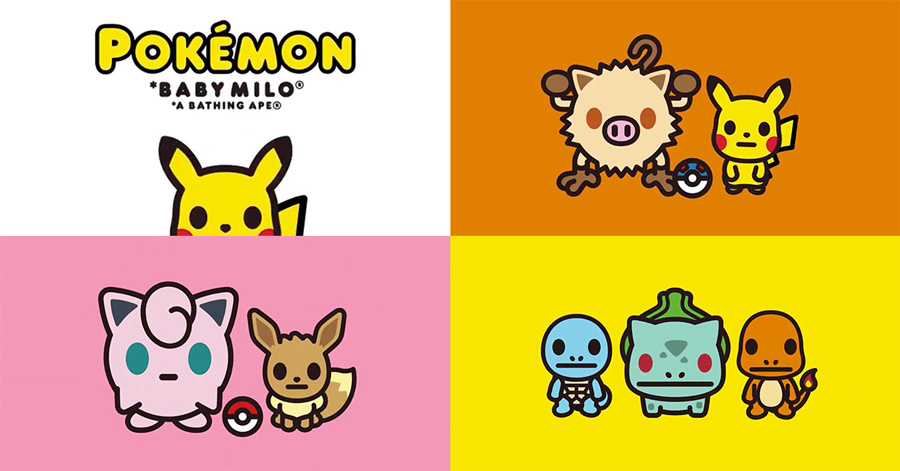 Uniqlo UT x Demon Slayer 2021 Collection
Many anime clothing collaborations start strong and paint a bright future for a clothing brand. The same could be said of Uniqlo, a casual wear company renowned all over the world for their simple and comfortable everyday essentials. Uniqlo kicked off its brand rap in anime with its Uniqlo UT x Demon Slayer 2021 Collection.
The shirts feature the main cast of Demon Slayer in each shirt. After the September 2020 launch gained massive success, Uniqlo completed the initial line and included fan favorites in their own unisex graphic tees; Tanjiro Kamado and Nezuko were eventually joined by the Kochou sisters, Giyuu Tomioka, Sabito, and the Hashira swordmasters in the August 2021 update.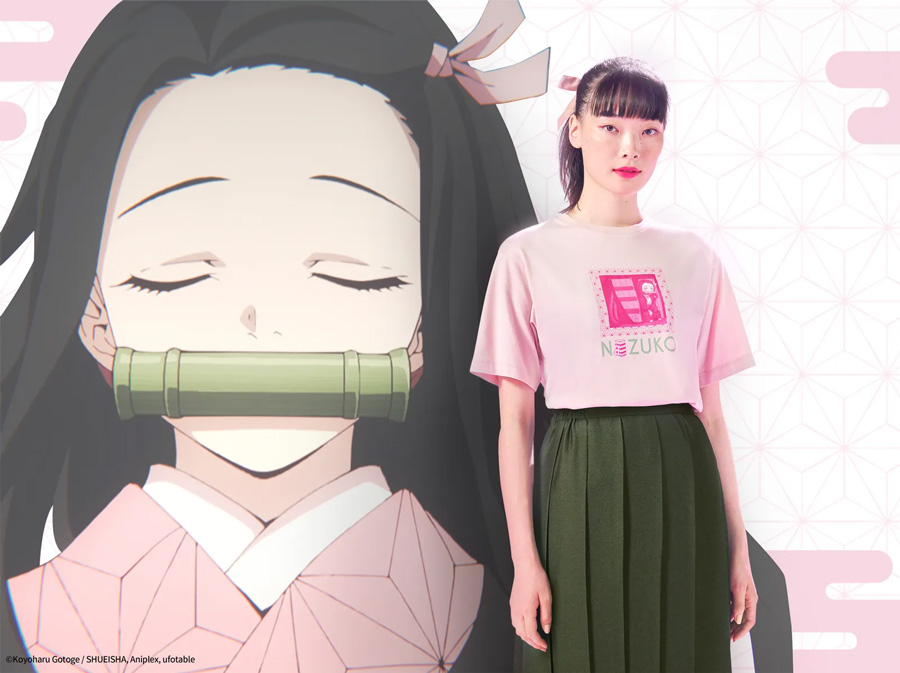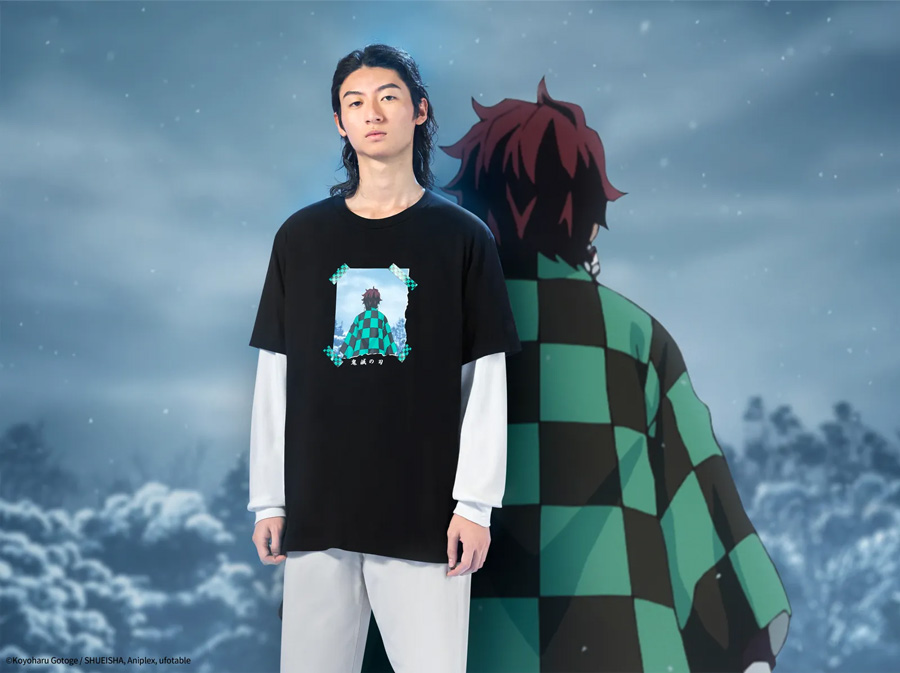 With a cult following of its own, Uniqlo's penetration of the anime clothing market was seamless. The success of the Demon Slayer collection paved the way for more landmark contemporary everyday wear anime collaborations, like the Jujutsu Kaisen 2021 Collection and the League of Legends K/DA 2021 Collection, each garnering massive followings even in the pandemic. With all three having happened within the last three years, we can only expect more from Uniqlo's UT line in the future.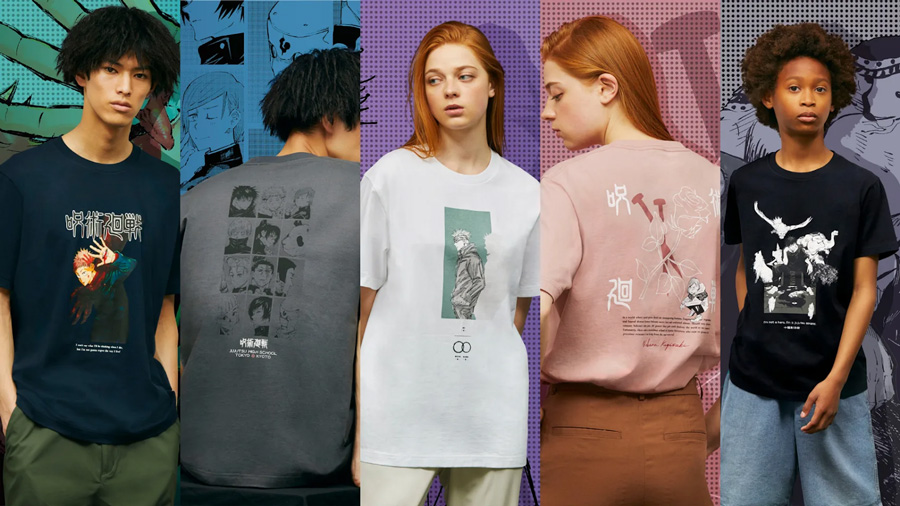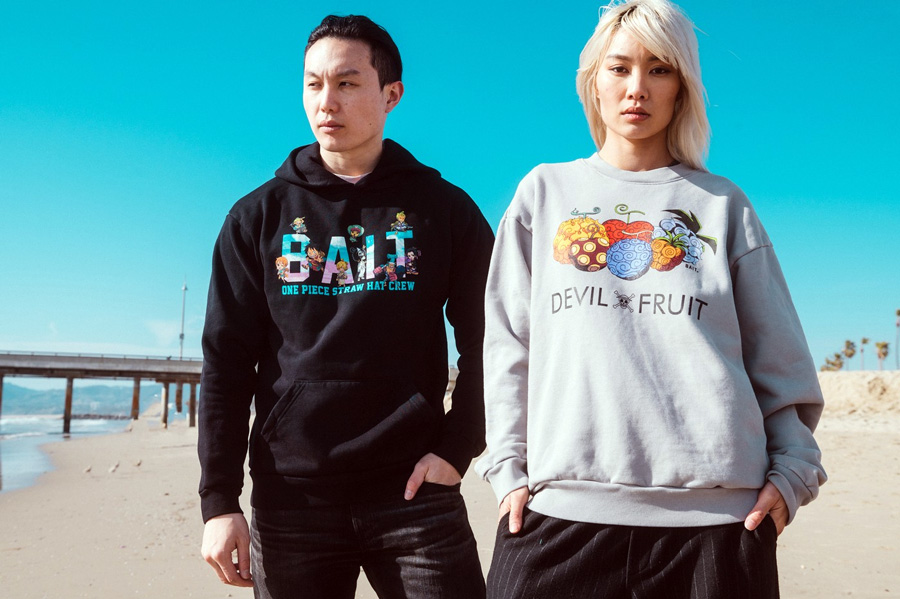 BAIT, a West Coast-borne streetwear brand, released its collaboration collection with One Piece last April 2021, a fitting tribute to the franchise as it celebrates its last chapters of airing (creator Eiichiro Oda is determined to finish it in 2024 or 2025-until then!). The collection features hoodies, t-shirts, and pullovers in black, white, light blue, and orange colorways, all clad in One Piece symbols known and loved by many, fan and casual anime enthusiast alike. 
In a sea of collaborations, what makes BAIT's anime clothing stand out is its fidelity to the original manga. Fans can cop their own map of pirate sigils in clean styles or even celebrate the Devil Fruit that began Luffy's journey to search for the One Piece. The collection's fun colors join forces with the anime renders of the Straw Hat Crew to produce a brilliant, true-to-text clothing line in so much demand that it's constantly out of stock on their website.
BAIT, like BAPE, is no stranger to its anime collaborations, proudly stating the One Piece streetwear collab as one alongside Street Fighter x KOKIES and Naruto.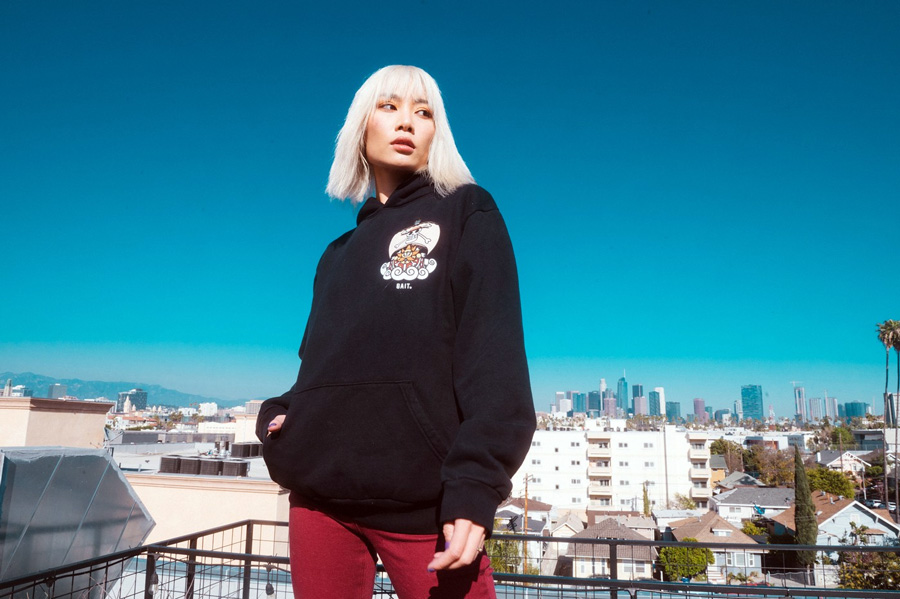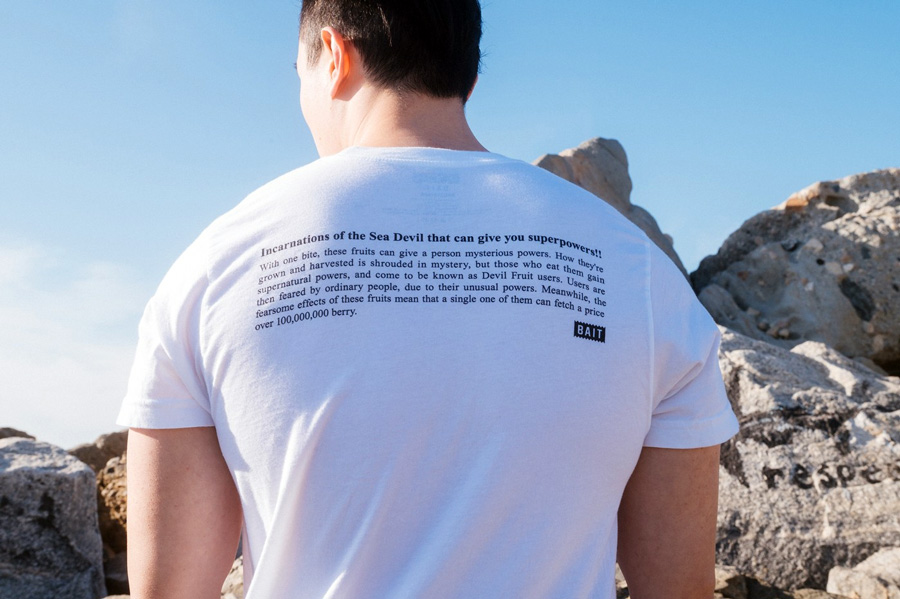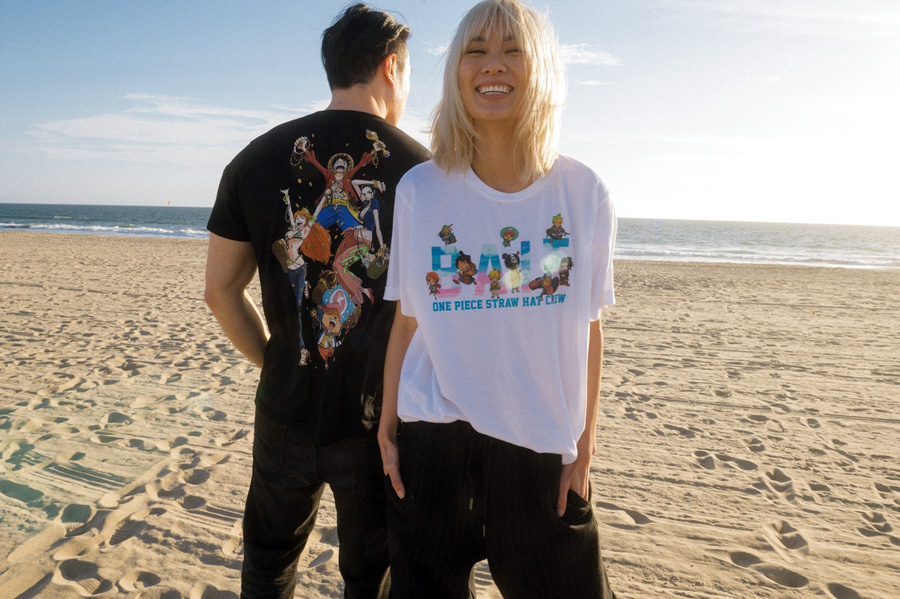 Honorable Mention: LOEWE x Studio Ghibli 2022 Collection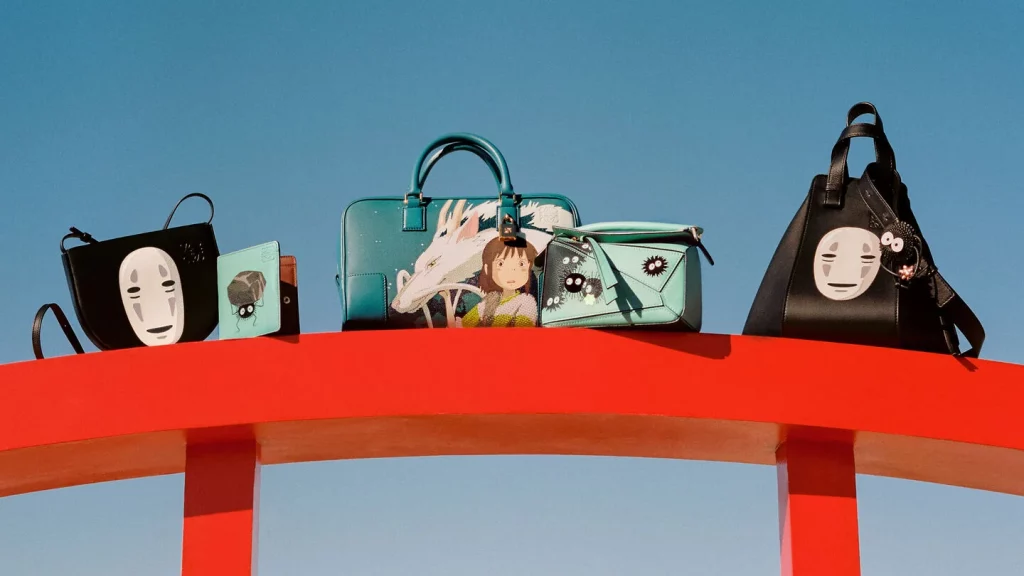 Spanish luxury house LOEWE recently unveiled its collaboration with animation giant Studio Ghibli to kick off the New Year. With a new movie on the way and a theme park in Aichi Prefecture underway, Studio Ghibli is cementing its icon status with its second collection alongside fellow Maisons at LOEWE featuring Spirited Away, one of Japan's highest-grossing films of all time.
The LOEWE collection features leather bags and oversized statement pieces laden with expressive snapshots of characters Chihiro, companion No-Face, villain Yubaba, and her son-turned-mouse Boh.
True to the Ghibli motifs, each piece highlights the hand-painted details that go into the movie's scenes and the Ghibli obsession with clear, blue skies, from its custom jacquard looms all up to its landslide of promotions on Instagram.
As expected of such a popular cultural work, the collection quickly sold out within two weeks. With its global launch still ongoing, fans of the line look forward to other drops en route.
LOEWE has been ushering in the New Year with Studio Ghibli since 2021, with the Spirited Away line following their Totoro drop last January 2021. LOEWE is also one of the latest sponsors of the Ghibli Museum, as LOEWE looks forward to becoming a part of their story and strengthening their bond in the name of craftsmanship.