🔖
8
min read
When most people think of Japanese culture, the first thing that comes to mind is anime.; Is anime enough to properly embody and exhibit the many aspects of a country's rich culture? Truthfully speaking, it isn't. 
If you take a closer look at some anime shows that you watch, you might notice that some practices or beliefs rooted in Japanese culture are showcased. But, of course, do hold your expectations and always keep in mind that some anime don't fully depict scenarios realistically. 
​​If you want to watch anime for the purpose of educating yourself about all things Japan, it's helpful to read the blurb beforehand to get a sense of what it's about and if it can assist you. You might also read reviews on that anime or articles like ours to help you filter through all those titles.
Below are our suggestions for anime to watch to have a sound foundation in learning about Japan and Japanese culture.
Anime As A Representation of Japanese Culture
Culture, as we know it, is complex, diverse, and has numerous facets, making it impossible to include it all in a single animated series. However, this doesn't mean that it can't be representative of some aspects of Japanese culture at all. 
While anime is considered international entertainment, it always serves as a window into Japanese culture, depicting numerous facets of the country's way of life and traditions. These cultural components include language, religious rites, cuisine, clothes, art, celebrations, traditions, and mythology.
You'd be surprised how some anime can accurately depict certain characteristics of Japanese culture, daily life in Japan, or just the Japanese perspective on something.
1. Otaku Culture: Wotakoi: Love is Hard for Otaku (Series)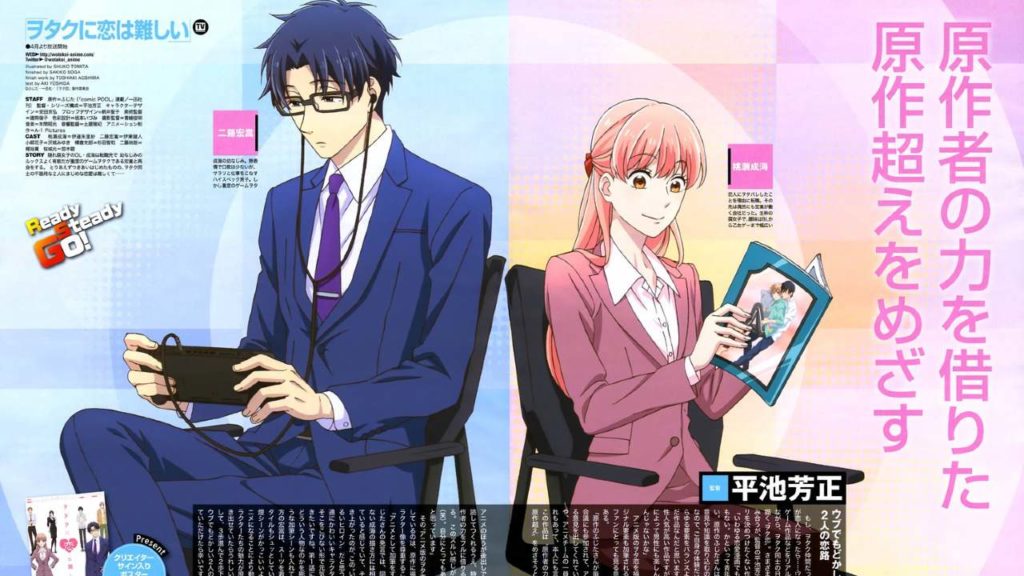 Genres: Comedy, Romance, Slice of Life
Date aired: April 2018 to June 2018
Wotakoi: Love is Hard for Otaku is a work-themed anime that revolves around the developing romance between Narumi Momose and Hirotaka Nifuji, a fujoshi and a gaming otaku respectively. 
Narumi swore to herself that no one from her company will know of her being a fujoshi, but after bumping into Hirotaka, who was her old middle school friend, her plan crumbles immediately. After having a couple of drinks together with Narumi talking about her previous relationship, Hirotaka proposes that they should date. 
This particular anime is refreshingly cute for the reason that their romance starts off a bit awkward. Otaku culture is pretty widespread in Japan, with their definition of an otaku being different from what international fans deem an otaku to be. 
With this, Wotakoi: Love is Hard for Otaku is able to give its viewers an insight into what it's like to be an otaku while also showcasing Japan's work culture.
2. Food: Tamako Market (Series)
Genres: Comedy, Slice of Life
Date aired: January 2013  to March 2013
Set in a busy shopping district in Kyoto, Tamako Market sheds light on the life of Tamako Kitashirakawa who runs a mochi shop with her family. When Tamako happens to encounter a talking bird from a faraway place, this bird creates quite a change within the area. 
While the food featured in Tamako Market is quite limited as compared to the variety of food Japanese cuisine has to offer, mochi is one of the treats unique to Japan. While this anime is fictional in nature, the process of making mochi depicted in the anime is very accurate.
3. Work Culture: Shirobako (Series)
Genres: Comedy, Drama
Date aired: October 2014 to March 2015
We all have a dream we want to achieve. For five best friends, they share a deep appreciation for animes and dream to be a part of the anime industry when they become adults. A couple of years later, some of them have successfully landed jobs in well-known animation companies while some are struggling to get where they want to. 
Shirobako showcases the reality of the anime industry and the rollercoaster of hardships that each character has to face to achieve her dream. 
This particular anime recommendation is really interesting and strays away from your typical work-themed anime for the reason that it delves into the behind-the-scenes of the anime industry. It showcases the reality of how work culture is in the country, along with the difficulties faced by people who aspire to work in the well-renowned anime industry.
4. Japanese Baseball Culture: Diamond No Ace (Series)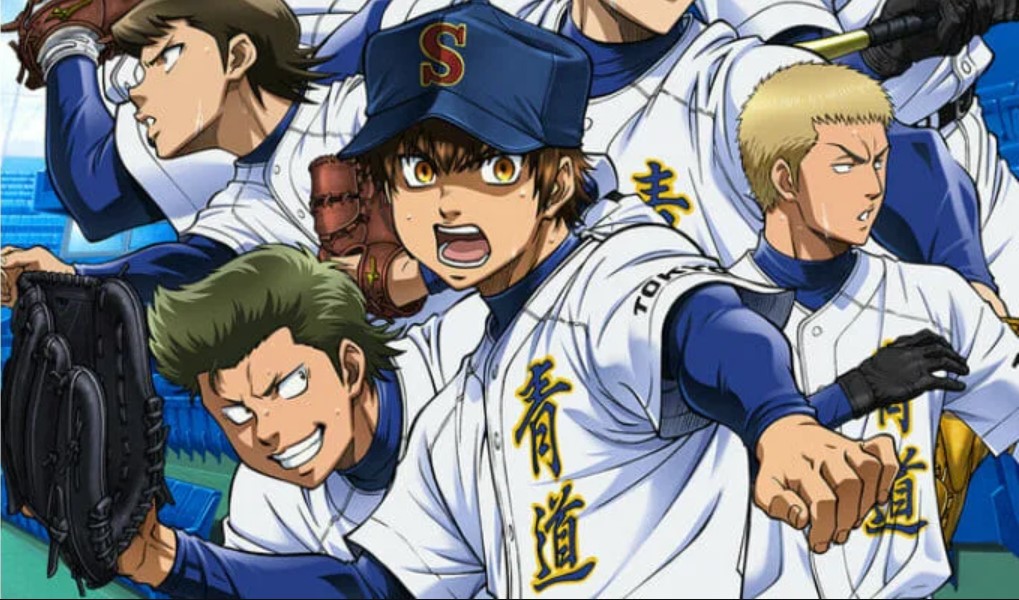 Genres: Comedy, Sports; Theme: School
Date aired: October 2013  to March 2015
Diamond No Ace focuses on the journey of Eijun Sawamura who wants to be a great baseball player. Having a unique way of pitching, Eijun was noticed by a scout and was offered to go to Seidou High School, a prestigious high school in Tokyo with a pool of talented baseball players. 
When Eijun accepts the offer, he gets submerged in an environment that requires him to put in a lot of effort to keep up and be considered the ace of the team. 
While baseball isn't a sport that originated in Japan, it is one of the foreign sports that Japan has embraced as its national sport and has quite a handful of animes and mangas about it. 
Diamond No Ace is a great sports anime recommendation to watch to be able to better understand why baseball is a well-loved sport in the country.
5. Japanese History: The Ambition of Oda Nobuna (Series)
Genres: Comedy, Romance; Theme: Historical
Date aired: July 2012  to September 2012
Yoshiharu Sagara, a high school student, wakes up in the middle of a battlefield without a clue as to how he ended up in his current situation. When the hero who saves him passes away after saving him, Yoshiharu does his best to ensure that he won't disrupt the course of events from that point onwards. 
It is only when Yoshiharu meets Nobuna Oda, does he realize that he's in an alternate universe where his country's fabled warlords and significant historical figures are women. 
In comparison to the animes in this list, The Ambition of Oda Nobuna is probably the most accurate one of them all in showcasing an aspect of Japan's culture. In relation to history, this particular anime is realistic to a certain extent, featuring a 16th century Lord from Japan's feudal era. What makes this historical themed anime slightly inaccurate is its portrayal of renowned historical figures as cute girls
6. Education & High School Life: A Silent Voice (Film)
Genres: Drama; Theme: School
Date aired: September 17, 2016
A Silent Voice is an animated film that realistically portrays the life of high school students. When Shouya Ishida was in middle school, he and his friends bullied their newly transferred deaf classmate, Shouko Nishimiya. 
When Shouko's mother finds out about it and reports the incident to the principal, all the blame was put on Shouya which resulted in him being outcasted by his peers. 
Years after the incident, Shouya is still haunted by his actions and decides to look for Shouka and apologize for his past actions.
As depicted in a handful of animes, Japan's education system is quite different as compared to western systems. A Silent Voice was able to accurately depict the hardships faced by students along with the reality of the impact of bullying from the perspective of high school students. 
With the difficulty of high school life, not everyone has it easy and this anime recommendation sheds light on that reality. To add, the film was able to accurately depict how Japanese people struggle to directly communicate their feelings to others.
7. Festivals or Customs: Mitsuwano (Film)*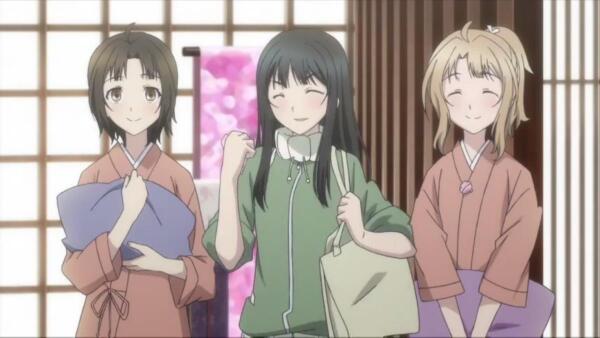 Genres: Slice of Life
Date aired: March 12, 2014
Mitsuwano is a short video animation that depicts the journey of three young girls in becoming a maiko or an apprentice geisha. When an announcement of an upcoming festival comes up, the group of friends find out that only two maikos will be accepted for each house, causing the girls to drift apart from each other as they each strive to make themselves noticeable and worthy of the role.
Geishas or geikos are traditional female entertainers who are well-versed in various Japanese arts, like traditional dances and songs. These professionals have long been around for generations and are still active in various cities. With its popularity amongst locals and tourists, certain districts in Japan have even been labelled or known to be geisha districts for the number of geisha houses situated there. 
Mitsuwano, albeit a short animation, gives viewers an insight on how young girls grow to become geishas along with the skills and talents they need to harness to become a maiko or an apprentice geisha.
8. Religion: Princess Mononoke (Film)
Genres: Action, Adventure, Fantasy
Date aired: July 12, 1997
An early Ghilbi classic, Princess Mononoke is about a prince who was on a journey to find a cure for the curse in his body from a demon boar that attacked his village. When the prince arrived at the Iron Town, he was faced with the conflict between two people about preserving the environment. 
Lady Eboshi wanted to continue the ongoing deforestation of the forest surrounding the area, while Princess San was furious at the humans for the damage they were causing to the forest. With this, the prince tried to find a way to diffuse the conflict between the two powers while finding a cure for his curse.
Shinto is an indigenous religion that originated in Japan that believes in divinity or supernatural entities. According to these beliefs, the kami  ("gods" or "spirits") have the capability to inhabit all things. In Princess Mononoke, some notable scenes reflect references of Shinto beliefs and influences. 
An example of this would be the presence of spirits seen in the forest in the film. In the conflict between Princess San and Lady Eboshi, we can see the enraged spirits who have been enraged and are fighting against the humans for destroying their homes. 
9. Life in Tokyo: Usagi Drop (Series)
Genres: Slice of Life
Date aired: July 2011 to September 2011
Usagi Drop, also known as Bunny Drop, is an anime recommendation of ours that depicts the life of a young man who decides to care for a child despite having no prior experience in caring for one. When Daikichi's grandfather passed away, he and his family found out that his grandfather had an illegitimate daughter. 
Unfortunately, no one from his grandfather's side showed any desire to take in the young girl, going as far as being cold towards her. Out of anger and disbelief, Daikichi took it upon himself to care for the child.
Usagi Drop is a warm and wholesome anime that accurately depicts life in Japan. As we know, it's quite difficult to encounter animes that are able to perfectly represent reality without mixing in something quite extraordinary. However, Usagi Drop is able to do so without much of a problem, showing the reality of fatherhood and daily struggles without exaggeration.
Anime doesn't always have to accurately depict the reality of life just like how Western television doesn't always portray reality as truthfully as we'd hope.
When it comes to understanding Japanese culture, or any culture for that matter, it always will require extra effort and an open mind to be able to truly comprehend and appreciate culture. 
We hope this recommended list gives you a good start on your way to learning about Japan and Japanese culture.