🔖
7
min read
Events and trends from the 1980s transformed Japan into the eye-catching, dynamic and exciting society we see today. The 80s marked the death of Emperor Shōwa, the creation of Super Mario, and Japan's desire for economic prosperity, to name a few. 
From the 1950s through the 1980s, Japan had an exceptional period of economic success, showcasing a single square foot in Tokyo fetching as much as $140,000.
To put things in perspective, the whole state of California was worth less than the Imperial Palace in Tokyo. In addition, the property market in Japan was four times as valuable as that in the United States during the 1980s.
Despite all this, the decade saw Japan let loose and party like 1999.
As the "free-thinking" stages of the 1970s had just been established, music and fashion changed as the Japanese discovered their dancing shoes as the nation was about to enter their most exciting period. The people juggled the nation's economic success, mixed with a delicious spread of Westernized pop culture as the decade long party got rolling.
To comprehend what living was like in 1980s Japan, one must first understand how the nation became the world's second-largest economy.
After World War 2, the Japanese economy was in disarray, which sparked a recovery mechanism among the people of Japan to work hard, save money and bring together moral obligations to thrive on work ethics and community.
The Japanese economy grew by 9% annually between 1955 and 1973. The period 1973 to 1990 had an annual growth rate of 4%, which labelled these striving decades as Japan's "Economic Miracle."
Manufacturing, agriculture, and construction went through the roof for economic growth. As a result, increasing wealth became apparent as Japanese families paid a high price for a good living.
Compared to the following decades, Japan's unemployment rate was 4.9% which was relatively low. Production companies, particularly within the manufacturing sectors, were striving to the point where Japan found itself second in the world of manufacturing output, behind the United States. 
Industries such as construction and the automobile industry were soaring, which produced record-breaking salaries and employment opportunities. 
During Ronald Reagan's presidency, the US restricted the importation of Japanese automobiles to protect the American automobile sector, which accounts for a significant component of the US economy.
Japan was like today's China for comparative purposes, where most manufacturing and output came with the stamp – Made in Japan.
Japan's 1980s Bubble Burst 
As the western world experienced the phase of pop culture, mixed with the evolutionary wheel of music, fashion, and TV, fresh attitudes and social norms made their way into Japanese society with a fresh coat of paint.
After the signing of the Plaza Accord in September of 1985, the Japanese Yen swiftly strengthened against the US dollar. Because of this, the Bank of Japan dropped interest rates to a record-low 2.5%, hence becoming the lowest global interest which opened up credit like never before. As a result, every man, woman and dog were flocking to Japanese banks for easily obtained loans, which sparked the country's economic bubble.
Both corporate and domestic companies, including working citizens and families, obtained more wealth as the 80s rolled on, which sparked a significant increase in spending on leisure, nightlife, and luxury goods such as high-end fashion, cars, and company gatherings.
During this peak time in Japan, the world's consumer market was well-stocked with Japanese vehicles, tools, and every device imaginable, with a steady stream of wealth flowing into an already prospering economy.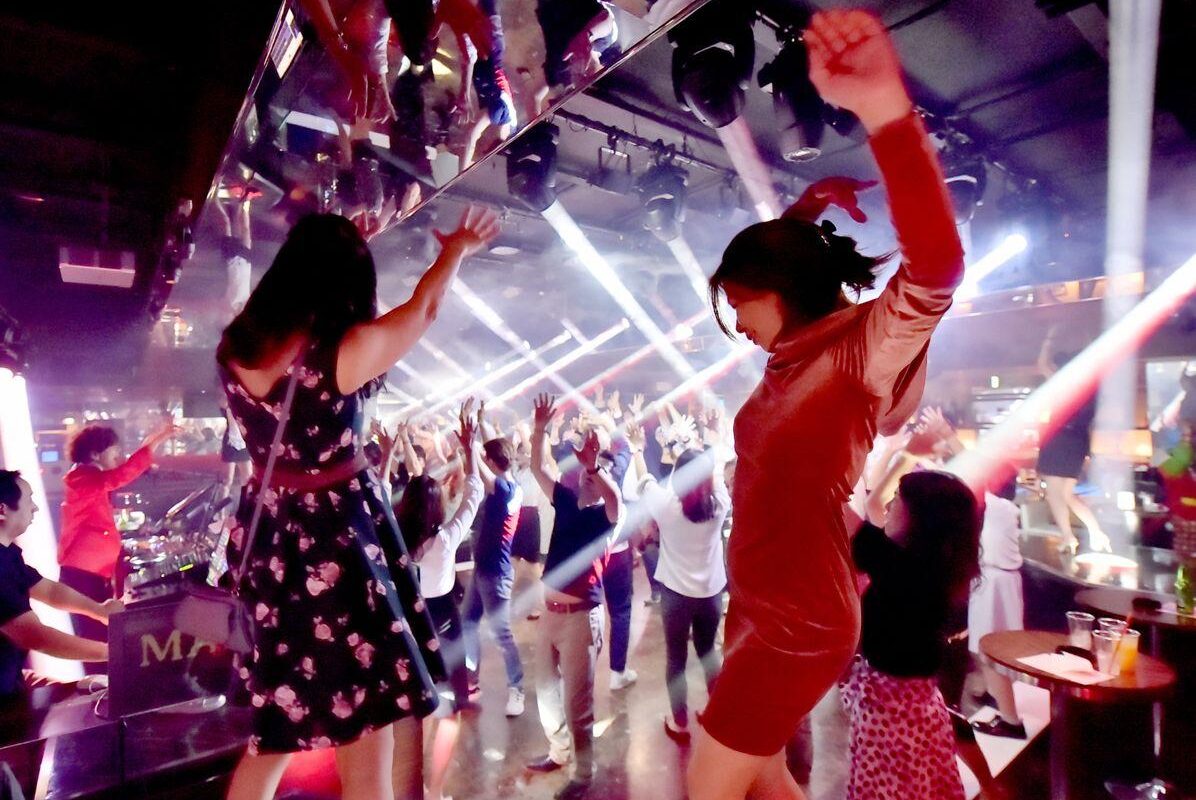 Let's all give a hand to Sony's Walkman!
The world witnessed the release of the first portable cassette player. Sony's success was record-breaking as over 200 million cassette players were sold.
The release of the Walkman meant music was no longer a selected setting, meaning sounds could be enjoyed anywhere at any time. However, during Sony's first production batch, only 30,000 units were made, referring to the brand's lack of confidence regarding impact and sales. 
However, in the first seven months of the Walkman's availability, Sony realised their sound engineers had developed something truly remarkable, with over 140,000 units sold. As the internet wasn't even on the radar, Sony's Walkman was a ground-breaking introduction throughout the world, which changed music forever.
The Birth of City Pop & Fashion 
To accompany the new lifestyle brought forth by Sony's Walkman and cutting-edge car entertainment systems, Japan stumbled upon an exciting, fresh sound tailor-made to the nation's economic success story –  City Pop ( シティ・ポップ )
As a result of this post-war "economic miracle," Japanese citizens were ready to celebrate by splurging on Western-themed extravagances as Tokyo's nightlife scene went off.
Although titled pop, this new, exciting genre was a combination of various categories like Funk, Soft-Rock, Jazz, Boogie and R&B.
Artists from the '80s City Pop movement in Japan finally gained the international acclaim that they so richly deserved from 2010 onwards, mainly due to online music platforms such as Youtube and Spotify.
Sony's Walkman allowed Japanese listeners to take their favourite City Pop rhythms wherever they went, as these sounds were waving through Japanese radio, including city life bars and clubs. 
For Japan's decade-long celebration, City Pop supplied the soundtrack, inspiring a time of nostalgia still celebrated today.
Anri - Remember Summer Days
The 70s marked Western culture's "free-thinking" phase, where young people explored openness and social change. The decade also witnessed the rise of Japan's fashion craze, with Western influence being showcased front and centre throughout fashion hubs like Shibuya, Harajuku and Shinjuku. 
Fashion joined the celebration by adding a unique element to the 1970s free-spirited approach. It introduced new looks that went well with city nightlife, which complemented Japan's 1980s fashion trend known as BODIKON (ボディコン) – Body Conscious.
The term emphasized women's clothing as a well-fitted tread style that showcases the female figure. Although well-tailored, the style was not tight fitted, in the sense of modern-day dress styles which highlight hips and natural curves.
Bodikon and disco went together like bread and butter during Tokyo's 1980s club scene
Districts like Ginza and Shinjuku were Tokyo's playground. The Japanese youth showcased among the many nightclubs catered to this newfound subculture of disco lights, revealing clothes and fresh disco beats. 
Adding to Japan's newly Westernized culture,  the practice of Hollywood A-listers appearing in commercials shot in other countries was common throughout the 1980s and 90s. In such decades, commercials from Japan would have been invisible to their US and Western audience before the internet's globalization.
As Japan's pop culture continued to expand, famous faces became apparent on Japanese screens. Celebrities like Arnold Schwarzenegger, Tommy Lee Jones, Brooke Shields, and Claude Van Damme, to name a few, have featured in Japanese commercials while promoting everything from Shampoo to Energy Drinks.
Even in Japan, the commercials from previous decades are bizarre. For example, in regards to the Alinamin V Energy Drinks, Big Arnie finds himself riding a bottle into outer space while promoting the product. 
Rarely do we see Hollywood A-listers featuring on Western TV commercials. Celebrities tend to gravitate towards larger-scale projects like feature films and popular television programmes after their star status rises.
Old Japanese Commercials with Western Celebrities
Why was Japan So Popular With Hollywood A-Listers?
Money talks and Japanese ad firms were eager to partner with Hollywood faces to promote their products and brands. Although some commercials seemed downright nuts, Western models and actors were willing to appear, as we mentioned before, because of the lack of exposure to their primary audience and, of course, receiving a hefty paycheck for their services.
For a long time, Japan's advertising sector was one of the biggest in the world. So naturally, advertising agencies were willing to write hefty checks to Hollywood's finest for dancing around like monkeys.
Even Francis Ford Coppola got in on the action while promoting Suntory Whiskey!
Following Japan's pique season during the 1980s, the nation was about to experience one of the worst economic disasters in financial history. 1991 marked the year the Japanese economic bubble burst, bringing an end to the nation's consistent annual growth.
As a result, stock prices plummeted by 60% between late 1989 and August 1992. Throughout the 1990s, prices continued to plummet, resulting in a 70% drop by 2001.
Consequently, Japan's economy developed at a GDP growth rate of just 1.14% per year between 1991 and 2003, significantly behind other advanced economies.
Many Japanese residents responded by saving more and spending less, negatively influencing total demand, resulting in low inflation and falling prices.
Japanese central banks hoped to avert the impending problems by reducing interest rates on active loans. However, low inflation had already taken hold of the country by the early 1990s, resulting in less employment and lighter pockets among salarymen throughout Japan.
Of course, the economic crisis meant Japan's 1980s party was well and truly over. Lifestyles began to change, and social gatherings became less among the regulars of Tokyo's iconic nightlife.
The disco lights dimmed, and the good times dried up as Japan's economic woes became apparent. Of course, the memories were still there, but individuals had to deal with more pressing issues than deciding which Ginza nightclub to enjoy or which pair of designer shoes to wear next.
However, the 1980s left an eternal impact on the country's identity as the fascinating culture we continue to explore today. The 80s witnessed everything from technological miracles and musical icons to a revolution in social change and pop culture. 
Japan Nakama decided to dig deeper into this revolutionary period that profoundly impacted Japanese society and many aspects of our own daily lives, especially in today's on-demand, digital world.
The iconic decade is filled with memorable experiences for those lucky enough to enjoy such a fruitful period, creating nostalgia among our cherished readers as we explore this unique land and culture.
Let's leave you with a City Pop classic from 1980s Japan
Plastic Love - Mariya Takeuchi